We hatched out some chicks from our own chickens that we got last year at the feed store. Father is a black australorp, and mothers were either black australorps or easter eggers. They hatched Feb 4-7... after a week, there were 5 left (1 died ... heart defect assumed).
All 5 chicks are eating well, growing new feathers including at the tail, and trill and roost and such. But they ALL have a "zipper" on their undercarriage. Practically from tip to tail, down the center, they have no feathers and it's hard, like their spinal column is on the underneath instead of the top. But it's not.
Here's a pic we took last weekend or the one before. But it's still valid. Used computer program to draw the red "box".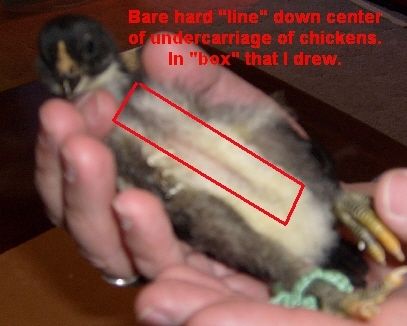 Any clue what this might be? Should I be concerned about it since it doesn't seem to affect them?