I currently rent a house and the homeowner has changed her mind about having chickens in the backyard (as she is getting ready to sell the home). I've had them as little chicks since April 2018 and they are all laying. Would prefer they go to the same house or at least in pairs as they're all the same flock and I know moving is already going to cause a lot of stress for them. I've loved and spoiled them and this is truly heartbreaking so really hoping they go to a good home. I live in San Jose, California but would be willing to meet to drop them at a loving home.
Shadow - black australorp; brown eggs (docile and top of the pecking order)
Ms. Frizzle - Black frizzle cochin bantam; cream colored eggs (small and a little noisy because she likes attention and treats)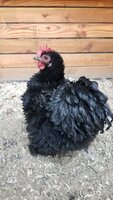 Powder Puff - Silkie bantam; cream colored eggs (bottom of the pecking order and a total sweetheart)
Ginger - Rhode island red; brown eggs (smart, loves food and to fall asleep in laps)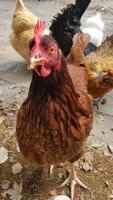 Please help!