Feb 16, 2017
4,917
23,152
872
My 8 year old son has recently been around my moms pair of cockatiels daily for about 3 months. Her birds are aged 11 y/o and about 2.5 y/o. She has raised the 11 y/o from baby and the 2.5 y/o since he was 6 months old.
Neither of them are friendly AT ALL, which has kind of scared me off cockatiels.... however, kiddo fell in love with having indoor birds. (We have chickens, which he fully participates in the feeding and care of).
We have a cage we bought for my moms birds that remained at our home when she returned to FL. It's quite large: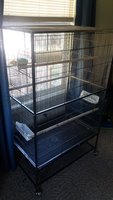 I'd like to get him 1-2 birds that he can hand train. Can y'all recommend a few different breeds that I can read up on? I am not looking at pricy or rare breeds. I'd like them to be trainable, friendly, outgoing, able to imprint on more than one human (both of my mom's birds BARELY like her, hate everyone else), won't live 150 years and are pretty to look at.