I recently got chicks, in the start of May, and I was supposed to have three golden laced wyandottes and three plymouth rock chickens... Well two of them are accurate, but the rest.. Well I made speculations but It'd be great to have some help figuring out their breed!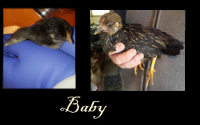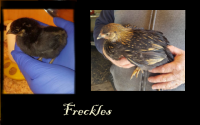 These two are definitely my golden laced wyandottes so i'm not worried about breeding them, just figured i'd post all pics.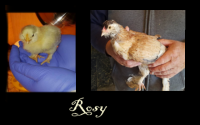 these three look pretty similar so i'm not very worried about them being different breeds. These were supposed to be my plymouth rocks but I'm thinking they're probably Favorelles. If so, are they specific type of favorelle?
updated pic of Heiney with puffy cheeks:
Those three all have moppy feathered feet and puffy cheeks.
Then my biggest mystery chicken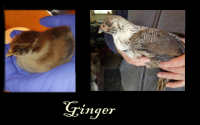 Ginger has been quite the hard one to figure out. She used to look like my wyandottes but more red. I thought she'd look like them but with a red outline rather than black. However, she started to change way, way different. She's my biggest chicken, has three-black toes, and large, standing tail feathers. She has one extra long tail feather so she's probably a he but I got used to the female pronouns. She's very intelligent, she knows her name and knows when she's being scolded. Her face looks like a hawk. I was thinking she may be a partidge wyandotte or silver pencilled wyandotte but they don't have the same legs. Is she perhaps a mix? Any help would be greatly appreciated! Thank you! I can also send extra photos.
PS: Sorry for the messy backgrounds. I take pictures of them before i clean them up so I don't get germs all over my phone.