Apr 26, 2007
4,255
59
274
Just picked up three Sebastopol goslings this morning. i am so thrilled! They are so adorable and so sweet. i've never raised geese before, just ducks, so if any experienced geese people want to throw any advice my way, it would be greatly appreciated. Right now i've given them greens and mashed hard boiled eggs. They love the greens, not so crazy about the egg. Going to the feed store in a minute to get Mazuri Waterfowl for kids. i have some Flockraiser in with them now, and water of course. Anyhow, wanted some input on their possible sex.
Chick #1 This first one came from white parents and is 11 days old. Girl?
Chick #2 This one is 7 days old and came from white parents. Girl?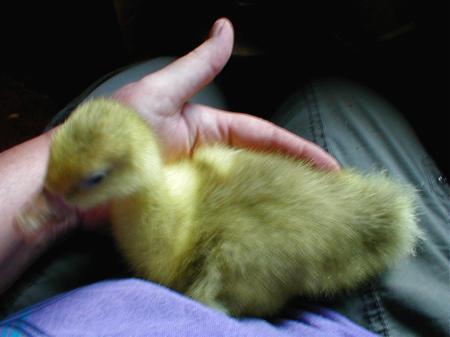 Chick #3 . . . and this one came from lavender parents and is 3 days old. Boy?
Thanks for any advice or input.

Last edited: