_This space intentionally left blank_
Aug 8, 2019
6,926
37,467
897
My Coop
This started in a private chat and I'm cut-n-pasting all my viable data here and now:
This was posted at 10PM last night:
Well HELL…. Surprise, RiR girl is likely egg bound…. Outta the blue she was laying on the floor in a recent repeated egg laying spot for other girls. Lifted her up and the belly was like a bloated balloon & she had poop covered vent feathers.
discovered that just before 9pm.
Got bowl of very warm water, paper towels & scissors then, returned to coop and turned on flashlight…
fed her some pieces of tums
trimmed away poo covered feathers
Wiped her with the warm wet paper towels
could not feel an egg
Came inside and quick searched for and found this article: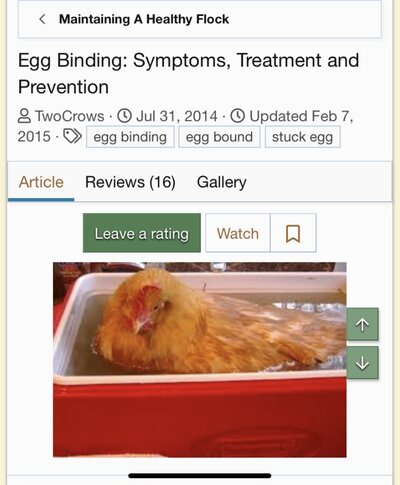 brought her inside…
Put her in the small wash tub of very warm water with Eason salt in it
she almost feel asleep twice over the last 30 minutes still feels balloon like. Trying another 15+ minutes in fresh warmed up water.
hope to "feel for the egg" in a few.
**** don't have latex gloves OR petroleum jelly for poking the finger in the vent safely for inspection *****
dang it…. So here she is, bathing almost asleep again. This is her one good eye side view.
Next post is will be from this morning's update before I went to work.