Chicken Addict
Premium member
Jul 23, 2017
3,707
9,242
647
This is Bill(Cull Bill), as you can see he has at least two major silkie detractors(Feathering, and his deformed beak). However, he is the cockerel with the nicest disposition and I have two in the breeding pen at present with 12 hens. As you can see he has some issues eating, but at 7.5 months of age gets an adequate diet. He has the best ears, comb, coloration and generally other Silkie features of all of my cockerels. The other cockerel in the pen has a nice color comb, pure silkie feathering and an ugly big fat engourged tick like comb and washed out color ears.
Should I do anything to trim that beak to ensure he eats better or just go the if it ain't broke/don't fix route? He was artificially incubated so potentially that is the cause of his deformity?
One final note: My silkies all get their heads shaved due to the increased raptor threat in winter usually in summer as well. I can't imagine going through life with a FOV of less than 5 degrees. Next time I post silkie pictures of Bill I should probably traumatize him with a bath so people can see his true colors.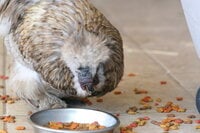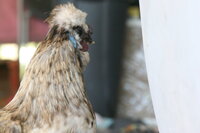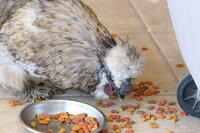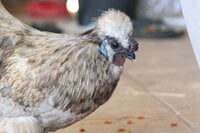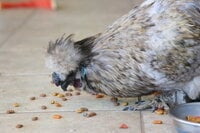 Last edited: