I made this myself, which is pretty good, considering I have no building skills.

It is 8'x4' and 2' tall. The coop part is 4x2. Way to small for 6-8 adult chickens I know, but perfect for growing chicks!

This is not something I would keep them in during a MN winter, but I was able to get a small shed for $80 that we will be converting into a coop over the summer.
I used coated, small hole chicken wire. I suppose a very determined dog could tear it, but I do have a privacy fence around my whole yard, and very rarely even see strange dogs in the neighborhood. (I have never seen a racoon here in 6 years that we have lived here.)
The roof is corrugated plastic. It is thicker than the cheaper stuff that I had considered first, but went with this because it seemed a lot stronger, and was only a couple bucks more.
I haven't added it up, but over all I think I spent just over $100 on materials (almost all new.)
Here it is, almost finished. I want to add wheels and maybe a handle, for ease of moving.
It has three doors on top, and one from the coop to the run, and one from the coop to outside. I had only planned on having one door opening on half the coop part, but realized I couldn't really reach to the back corner. If I had been thinking, I would have just made it all one door on top the coop, instead of two. Oh well, it was a learning process.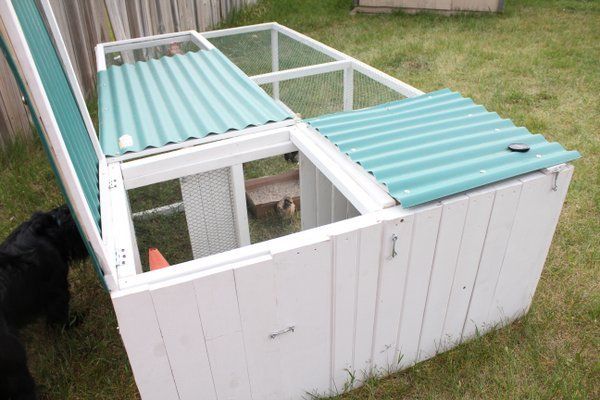 Looking into the coop from the run..
Roost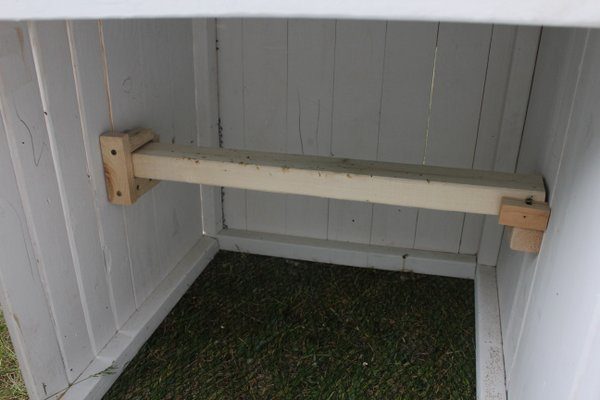 The chicks enjoying being outside (and their sand box.)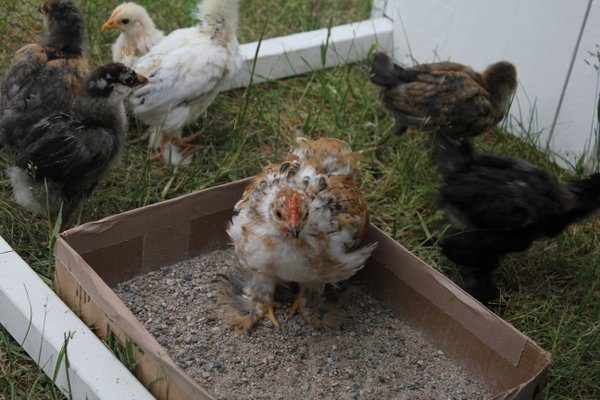 What I would do differently:
Make the door over the coop part all one.
Make the door to the outside just a bit smaller. I fit it perfectly, and it doesn't always close easily, and I have to adjust the whole coop to get it to shut.
Instead of putting the chicken wire right on the bottom of the coop, I would have raised the wire off the ground a bit. I take my chicks in the house at night, so have only moved it when they aren't in it, but I am wondering how I am going to move it when I keep them in it. I don't want a toe getting crushed in there when I move it.
Last edited: