8+ Large Fowl Mottled Java Hatching Eggs - 24 Hour Auction - SHIP WEDNESDAY
My beautiful Large Fowl Mottled Java's were hatched from eggs from onthespot. We have our beautiful rooster, "Mr. Coffee" in with 5 lovely hens... they are such sweet girls.
Here are some pictures of our Mottled Javas... eggs, chicks and all grown up -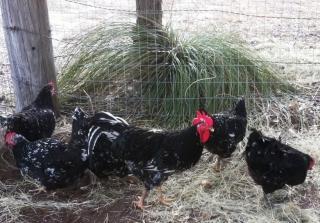 The eggs will be sent via USPS Priority Mail. They will be individually bubble wrapped, packaged with tons of care and extras will be sent. I will do my very best and I will package them the way I would want to receive them. All eggs will be clean, unwashed & fertile when shipped. Due to so many variations in incubators, hatching practices, the Post Office, etc I cannot guarantee the hatch rate.
Please Note - before bidding that when you bid on these eggs you agree that, if you win, you will SUBMIT YOUR PAYMENT VIA PAYPAL WITHIN 24 HOURS OF THE AUCTION ENDING so that eggs can ship out in a timely manner. Also, be sure to check your Private Message Box here on BYC to see if you won the auction... just recently, I had a customer not realize that she had won because she didn't get a copy of the email forwarded to her regular email.
If you have any questions / concerns / or are interested in pre-ordering / reserving eggs, please send me an email at (
[email protected]
) or PM me.
Thanks so much for your interest! Amy

Last edited: