A few pictures of the new accommodations for everyone (well, almost everyone). I think my 4 adult hens were jealous at the new space that all the teens & babies were getting today!
Our coop is 10x10 (because any bigger and the town adds taxes to your property!) and was originally designed for our pigs that we had. When we got chickens we converted 10x5 of the back side for chickens - adding roosting bars & next boxes. This year, with all the chicks I have, DH needed to add a space for the teens when they got too big for their garage box. That came rather quick and today we built a 5x5 space for them inside the coop, next to the big girls. For less than 2 hours worth of work I think he did pretty good!
These pictures were taken today.
The Barred Rocks are 6 weeks old, the Wyandottes are 5.5 weeks old and the Buff Orpingtons are 2 weeks old.
Here's a pic when standing in the doorway of the "big" coop looking at the new teen coop. Welcome to Sorority Row!!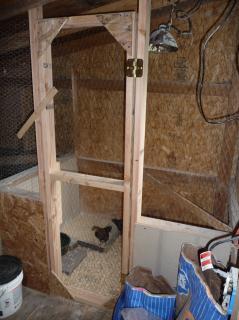 A view from above. Even though they were a little shell-shocked at the new digs, it didn't take long for them to start running around, finding food and enjoying all the space!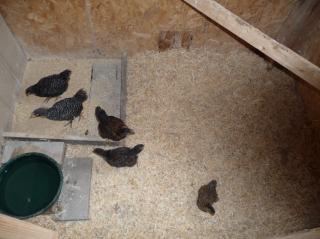 Gotta throw an "awkward teen photo" in there somewhere!! (I know she's thinking, "Thanks a lot Mom!!
)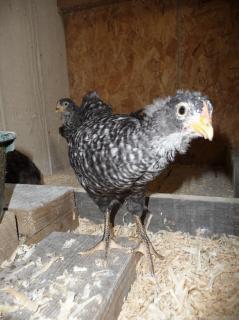 I'm 98% sure (and have thought so for the last few weeks) that this little guy is a rooster! It took me awhile to figure out that I'd finally have to grab him to get a good picture of his face. He's too cute, super protective, absolutely gorgeous and I hope he really is a rooster - I think he would take good care of his ladies!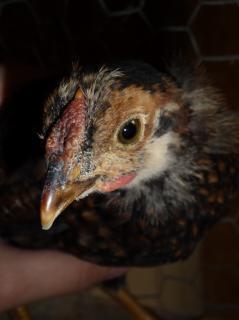 These are my babies - the BO girls. They got moved out of their nursery box and are in the adolescent box. I'll give them a few more weeks before they get to move out to Sorority Row.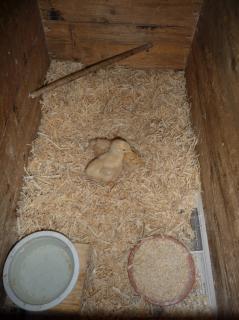 They're already super friendly & settle right down in the palm of my hand when I pick them up.

So sweet!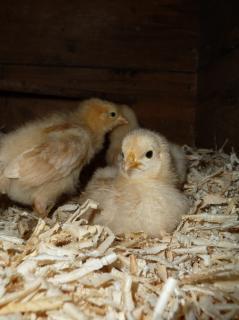 Thanks for looking!