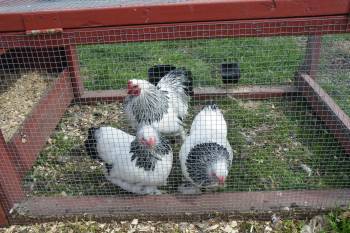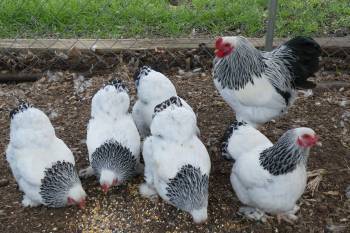 I have decided to sell one dozen of my Bantam Light Brahma eggs. I CAN NOT hatch all of the eggs they are laying. I don't have the room for that many chicks. These eggs are from the exact two breeding pens that I hatch/raise/condition my Fall show birds and breeder birds from. I will mark eggs with date layed and pen number( 6 or 7). If you toe punch or wing band that will be valuable information for future matings. I will ship eggs that are four days old or less. That way they should be a week or less old when you get them. I will ship eggs on Monday the 14th.
I have NEVER shipped eggs before. I have ordered eggs and I am familiar with which methods work best. I have also read several threads and articles on the best ways to pack and ship hatching eggs. I will individually wrap the eggs in paper towels, pack them in egg cartons pointed end down, and pack the box with materials to cushion the eggs and keep them firmly in place. My reputation is VERY important to me, YOUR success is MY success. That being said, I make NO GUARANTEE as I have NO control as to how the eggs are handled after the leave me.
Continental U.S. ONLY. Money orders ONLY.
Thank you for looking!!
Tim Lindenborn
Last edited: