Crochet Granny "Square" Swap
~
Sign ups Open until Tuesday July 31, 2012
Theme:
Jewel and Earth tones ~ Think of the beautiful colors that come from the Earth. Bright jewels mixed with rich earth tones. Sapphires, rubies, emeralds, pearls (Ok these come from the sea but they look so pretty with other jewels) and amethysts. Mixed with colors of sand and stone these jewels stand out and shine. Choose any two or three colors from the list below, pick any 6", 12" or 6" x 12" pattern (when complete all will fit in a 6" grid pattern) and start crocheting!
Important info:
OK besides the unique sizes there is another important difference in this latest swap. Some participants of earlier swaps have requested that we choose colors and brands ahead of time, that way folks that live in rural areas can just order their yarn on-line from the list. No hours at the store trying to decide what works best. Pick your favorite(s) from the list below (all are available at
joann.com
and all are under $5 except for the Red Heart Super Saver in Café Latte) then go on-line to your favorite pattern site (I like this site
http://www.crochetpatterncentral.com
but there are lots of sites out there), pick a pattern or two (or more) and start crocheting! Don't forget to check in with us once you sign up to let us know how you're doing.

Size:
6 " squares (6"x 6"), 12" squares (12"x12"), or 6" x 12" rectangles.
Pattern:
Any Pattern (As long as the finished squares/strips measure 6", 12" or 6"x12")
Yarn:
Acrylic worsted weight (4)
Colors:
Listed below
Number:
As many as there are participants in the swap!
Dates:
LAST DAY to sign up is (Tue) July 31, 2012!!
Completion Deadline:
Sept. 30, 2012 ~ All Squares or Strips must be complete and ready to mail!!! That gives everyone 2 months to complete their squares.
Here are the color choices for this swap...
Caron Simply Soft Party
in -
Royal Sparkle
this yarn has metallic spots of color in it.
Caron Simply Soft
in -
Bone
a neutral, polished color that sets off other colors beautifully.
Caron Simply Soft
in -
Plum Perfect
a rich deep purple reminiscent of the deepest colored amethysts which are used to promote healing.
Caron Simply Soft
in -
Lav Bluee/Lavender Blue
a soft color that mimics the lightest colored amethysts.
Lion Brand Vanna's Choice
in -
Pearl Mist
a beautiful soft off white with a hint of warmth.
Lion Brand Vanna's Choice
in -
Cranberry
a gorgeous super rich red, a favorite!
Red Heart Shimmer
in -
Shamrock
this yarn has metallic spots of color in it.
Red Heart Shimmer
in -
Ivory
also with metallic spots of color, nice against bright colors.
Red Heart Super Saver
in
Café Latte
not available in small skeins but a nice rich neutral.
This is the best example I could find (courtesy of Canesisters who found this pic) of the mixed sized squares and it doesn't include strips but just imagine it with 3 different sized "squares" and some earth tones added and this will give you an idea of the look we are wanting from this swap.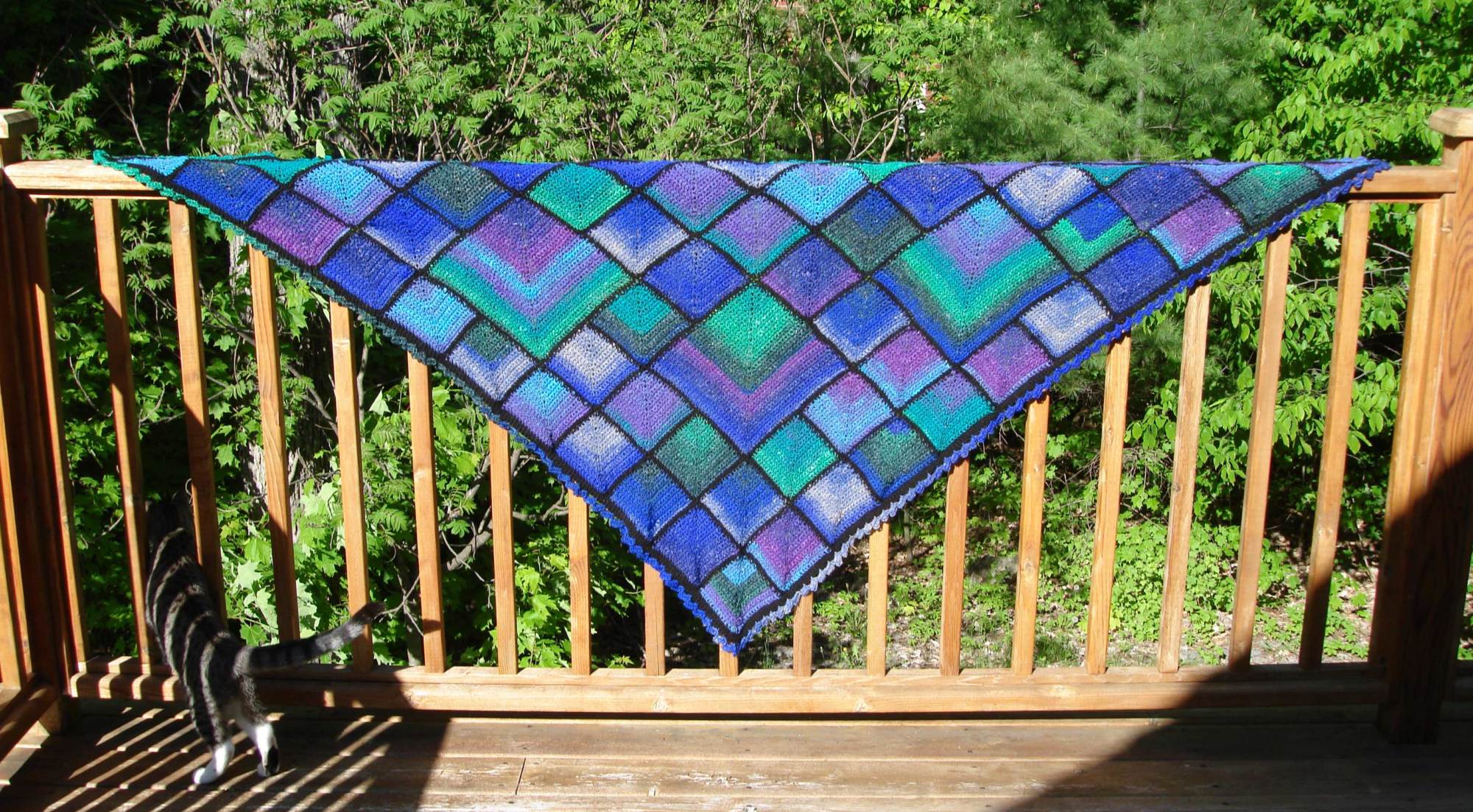 New folks are encouraged to visit with us here on this thread and post and get to know us! We are always happy to have new friends here and welcome beginners and long time crocheters! We have had so much fun during past swaps and have forged friendships that have lasted well after the swaps have ended. We'd love to have you join the fun, join the swap or any other projects that we have going on!!!!
When you have finished your Squares/Strips, send me a pm and I'll send you my address so that you can mail in your work.

I ask that ALL squares be labeled with your user name & real name and placed in individual ziplock bags. In addition, you will need to send return postage!!
Mail the cheapest, most efficient way that is easiest for you and I will return your squares the exact way you mailed them to me.

So grab your hooks, tell all your friends and let's get hooking!!!!
Please click here for the list of participants:
https://www.backyardchickens.com/a/summer-2012-granny-square-swap
Last edited by a moderator: