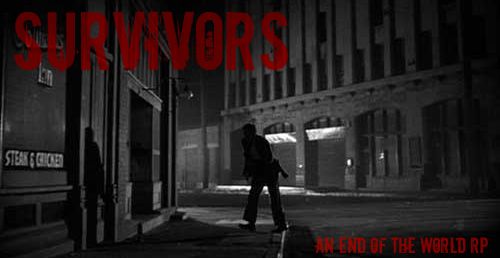 The year is 2056.The end of the world is coming. Meteors are crashing, fires blazing, and radiation is streaming. Worst of all, there are poisonous gases, and yes, zombies. There may not be many, but they are still there
. About 90
% of Earth's population are dead. Now, in the remains of New York, a group of 15 people live together, surviving. They are in close contact with another group of 9, but they can only talk through radio. Are you a survivor?
​
The Green Survivors, have 15 people. They are in New York City, NY. You can have no more than 2 people in the group. The ranks are Leader, who leads the other 14, Deputy, who helps leader, 2 scouts, who talk with other groups on the radio and look ahead for danger, and then the squad, which is 11 people, who use the weapons, tools and find food, shelter, etc.
​
The Orange Survivors is made up of 9 people and is located in Atlanta, GA. You can only have 1 person per member. There is 1 leader, 1 deputy, 2 scouts and there are 5 people in this squad
.
​
Joining Form:
Name:
Age:
Gender:
Appearance:
Weapon:
Group:
Position:
Personality:
History:
Crush/Spouse:
BYC Username:
Weapons~


Everyone has a gas mask, radiation Detector, radio, and a pistol with unlimited ammo.
​
They also choose ONE of these
Sniper Rifle
Machete
Baseball Bat
5-set of knives
Radiation Detector
Med Pac (Unlimited bandages, antiseptic spray and 3 virus pills.)
Bow and Arrow
AK-47

You are allowed to trade weapons ONCE.​
The zombies can be taken down with any gunshot or damage to the head. The rest of their body is invincible. If you get close enough to a zombie, it may scratch or bite you. If that happens, you will get the virus. The symptoms are fevers, your bones feel like glass and yes, death. If this virus is not treated, the victim will die in 1 day. There are three pills in the med pack to cure the virus before it's too late. Shortly after death, the virus will reactivate the part of the brain that lets you move, and the victim becomes a zombie.
​
If you are in the Green Survivors, you must post in GREEN!
If you are in the Orange Survivors, you must post in ORANGE!
​
If you wish to just make a statement, talk in BLACK and in brackets
​
Mi
nt-
18 year old male who is extremely short for his age, but is fast, agile and strong. His flowing blond hair, which goes down to his shoulders, sometimes cover his minty green eyes. He is extremely handsome. He uses a set of 5 knives, and is kind, flirty, loving and curious. Mint had led a band of other survivors, consisting of his sister, his baby neighbor and the babies father. Oddly enough, the baby was scratched in a zombie invasion, and transmitted the virus through biting his father, who in turn scratched Mint's sister. Mint watched all 3 become zombies, shot each with a pistol and ran, until he formed the new group, Green Survivors.(44Wolves)
Deputy
Leader Chooses
Scouts

OPEN
OPEN
Squad

Jadyn- 15 year old female who is Tall and slender, but muscular. Her dark brown hair has a few blue streaks, and her grey eyes have flecks of blue and green. She uses a Sniper rifle and is Kind, likes to laugh, will fight for what she loves.She had survived with her brother, but her brother got scratched by a zombie and she didn't have any medicine for him. She had to run away from him, and that's when she found the other survivors. She has a crush on Mint.(LittleLady98)

Finnie- 8 year old female who is very short for her age, and is not to attractive with pale black eyes and dull brown hair. She is very weak from exhaustion, and has asthma. She uses the Med Pac, and can supply whoever needs anything medical that, as long as it is a bandage, antiseptic spray or if infected, one of her 3 precious virus pills. She is very emotional and has that "Deer-in-the-headlights" effect on any of the disasters. She only survived as she was in a secret tour to space. The rest of the people on her flight went to Europe, even her parents.

Eclipse- 17 year old female who has brown eyes. She has black hair, while wearing a tank top and shorts. She has a back pack with her supplies in it, including a jacket, sweat pants and sweat shirt. She uses a Bow and Arrow. She's very mean at times, and she has alot of anger although she is very quiet. Her parents were killed by the zombies so she took her anger out on the zombies. Her older brother watched her but then mysteriously disappeared, and to this day she suspects the zombies did something to him.(IMMASHEIK)

Sarge-14 year old male who has dark, near black eyes, straight black hair, and oddly enough, whitish skin. He uses a 5-set of Knives. He is quiet, and will not talk about his history, no matter what. Not much is known on his backstory, except he worked for a corporation called ZMA Tech. His family was seen infected by zomies.(SuperChickenDude327)
OPEN
OPEN
OPEN
OPEN
OPEN
OPEN
OPEN

Leader

Yomjima (Yom) Ring-20 year old female with almost black eyes. Her hair is dark brown, shoulder length and frizzy. Her skin is dark. She is tall (6'2"), thin and athletic. She uses the bow and arrow, and is Strong and determined. She is kind to the members of her team. She doesn't have a sense of humor, and takes everything seriously.(NixNoodleNumbat)
Deputy

Leader Chooses
Scouts

Day, or at least that's what he tells everyone. Only his closest friends know that his real name is Daniel- 20 year old Male who is tall, dark, and handsome. Standing around 6', Day has a dark complection that compliments his dark eyes and ruffled hair. He carries his pistol most often, and sometimes his prized posession, his AK-47 and is loyal, quiet, ambitious, and confident. One of his down falls is he is very strong-willed, and doesn't usually agree with anything unless he is persuaded.(Broken)

Hannah- 19 year old female with Dark brown hair, really deep green eyes with a pinch of hazel. She's tall and very beautiful. She uses her Pistol/Bow and arrow, and is very nice and outgoing. She is strong and courageous. She loves nature and animals.She used to live with her dad and sister. Her dad got scratched by a zombie and taken away when she was 8. Her sister vanished and her whereabouts remain unknown.(<3ChickenForever)
Squad-

Roxas Biggendon-19 year old male who's His hair is fairly short and brown. His eyes are brown and his skin is olive. He's kinda tall (5'10") and lanky. He uses a Machete. He's Calm, considering the circumstances. He likes to joke around.(LouisIsCool)

Ekibe Wassenaten- 17 year old Female with Hazel eyes and blonde hair. She has a fringe (bangs) that almost covers her eyebrows. Her hair is very straight. Her skin is fairly pale, and she is quite freckled. She uses a 5-set of knives. She's mature when she needs to be, but she likes to have fun when she can. Her family fled by foot, as their car wasn't working. She was left behind, and was forced to live in the cellar where they had stored canned foods in case the zombies did come. Lastly, She might like Roxas. She's not really sure.(Yoki)

Jenni- 29 year old female with green eyes and black hair. She has a dark tan. She uses a bow and arrow, and is very nice to others. Her husband is dead.(Guinea and Chicken raiser)
OPEN
OPEN
Last edited: