Hi all you wonderful chicken people. I have a chick that I suspect has heat exhaustion, but I wanted to run it by this awesome community since I have learned so much from you all recently:
It has been hot here the past 3 days, with temps in the mid to high 90s and lows in the mid 60s. Humidity is not particularly high, around 40%.
Yesterday, our 6 week old EE (I'm pretty sure; they said she was a blue Ameraucana but I'm skeptical) was looking pretty hot and miserable, panting a lot, but eating and drinking and keeping up with the other 2 birds in the flock (different breeds, same age, all vaccinated for Marek's). They had cold water freely available, and frozen snacks throughout the day, and plenty of deep shade and dirt.
This morning the EE came out of the coop looking lethargic and sluggish. She nibbled some chick starter and then sat down inside the small run where we keep them for the first couple hours of the morning. I let them out to free range around 8AM, and she came out with the other 2 (different breeds, same age). She scratched around a bit and tried to keep up, but was much slower than usual and kept sitting / laying down. Eventually she just laid down in some deep shade and didn't move. I hadn't seen her drink any water up to that point, so I mixed up a little electrolyte solution. She wouldn't take it on her own so I dripped a little at a time into her beak. I also noticed that her left eye has been almost always shut all day, even when her right one is open.
By about 1pm I was seeing no improvement and getting very worried as it was just getting hotter, so I brought her inside and gave her a cool bath. She's been roosting on the side of their old brooder ever since (it's 7pm here now). She has eaten some cold scrambled egg made soggy with some plain water from my hand now and then, and seems hungry when she does. She also nibbled a little watermelon. She still won't take fluids on her own. Just about 20 minutes ago she was panting again (first time since coming inside), so I gave her another quick cool bath. She's back on the side of the brooder with a fan pointed at her.
Poop has been very watery with some greenish solids. See attached photos. I'm including a photo of my sad panda here too; she's damp in the picture so her feathers look a little funny.
Housing/bedding: 42" x 72" coop/run combo, with the coop being about 42" x 36"(all they do is sleep in that part). They have been in the coop/run for about 2 weeks, and have been allowed to free range for the past 3 days on about 1/8 acre. Bedding inside coop is pine shavings; run floor is mulch consisting of dried leaves and pine needles from the property to a depth of approx 4" (we're trying a deep litter method in there).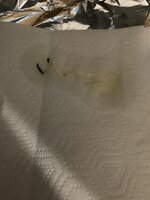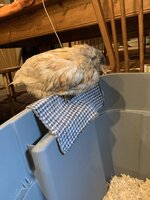 Is there anything else I should be doing? My plan is to keep her inside tonight and see how she is in the morning; other than that and continuing to give her fluids regularly and some food once in a while I'm kind of at a loss. Thank you for any help you can provide!