_This space intentionally left blank_
Aug 8, 2019
9,369
46,538
987
My Coop
So does everyone know, "pic's or it didn't happen"?
(Pauses for the heads to start nodding)
Okay,good. So here is 2 cases for making extra of the Thanksgiving item so there is "leftover" for these yummy solutions....
First was a salad idea I had the day prior and shared in a seperate thread then realized I ought to share in the foodie zone as well....
So here is that "deviled egg salad"
I used the ziplock bag of deviled egg mix and about 1/2 the bag of the kale salad mix (including the pumpkin seeds & craisins). No dressing needed once it's stirred up. And a nice amount of smoked peprika - to your taste....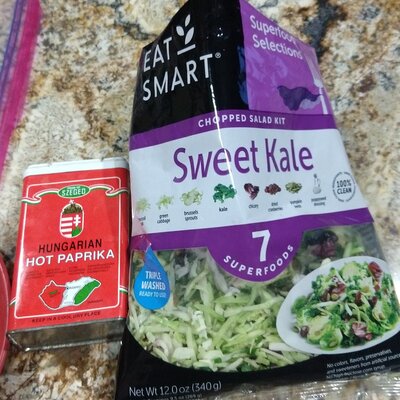 Second was brunch today.
Leftover stuffing omelette
This ended up with 6 eggs in it.
I spray olive oil on pan for starters.
Stuffing was the bread crumbs route with bell peppers, raisins and craisins, mild sausage, onion....
Ohhh yeah. This is also a repeater!
It needed a little over 6 minutes in the toaster oven to boot.