The Chicken Princess
9 Years
Apr 24, 2010
8,334
13
261
тнe 2nd oғғιcιal вyc colorιng вooĸ conтeѕт!
Hello! It's time for BYC's 2nd Coloring Book Contest!
As always, this BYC contest is brought to you by our sponsors. Please visit them and thank them for their support of BYC:
https://www.backyardchickens.com/LC-supplies.html
We have a LOT of very creative and artistic peeps as members of BYC. We knew how successful our first contest was, so we decided to do another one! We hope this one will be just as fun for everyone!

This contest will end on September 30th 11:59 EST unless decided otherwise by our Project Managers.
As of now, you have less than a month to get your submissions in! Be sure to enter as soon as possible! Nobody wants to miss the chance to win a GFM!!!
The 2nd Official BYC Chicken Coloring Book Contest!
We want everyone to submit a line art drawing that we can add to a BYC Coloring Book that can be freely downloaded, printed, and colored. The drawing can be as simple or complex as you want it to be. We'll collect all the submissions and then we'll award some free GFMs as prizes!
PRIZES: BYC will be donating a 12 month GFM to the first place winner and a 6 month GFM to the second place runner-up!
To qualify for having your drawing entered into the book and the contest:
1) You may only submit ONE drawing per person!
2) The image needs to be black and white.
3) The image should have clear lines (like most coloring book images)
4) The image can be of anything related to BYC. Fancy or fun drawings of chickens, ducks, coops, etc. Have fun but keep them appropriate for all audiences.
5) You must include the letters "BYC" or "BackYardChickens" into the image. If not in the drawing, then at least close to it. Also include some short text on the image... maybe a title, something about the drawing, your username, whatever.
6) By submitting you art, you give BYC unlimited and perpetual rights and permission to use and distribute the work however we want
7) You must scan your drawing for best picture quality.
8) Upload your image using the
BYC Image Upload Tool.
Make sure your image is very good quality and size and when uploaded DESELECT the "resize" box. Please post your entry here for everyone to see!
9) Also, don't forget to sign your entry so you can get credit for your work!
Make it your best. Your first entry will be your official entry!
IF YOU DO NOT HAVE A SCANNER:
1) Clean up the drawings and go over the art in pen for maximum contrast and clean lines
2) Send them to someone with a great scanner, or take them to someone's house that has a great scanner.
We plan to take about 10-15 entries and use them for the book.
The project managers for this project are: ChickLover98, FireTigeris and zookeeper15133. If you have any questions, feel free to shoot one of us a PM.

A great example of an image that was included in the first book is TUDY, our BYC mascot: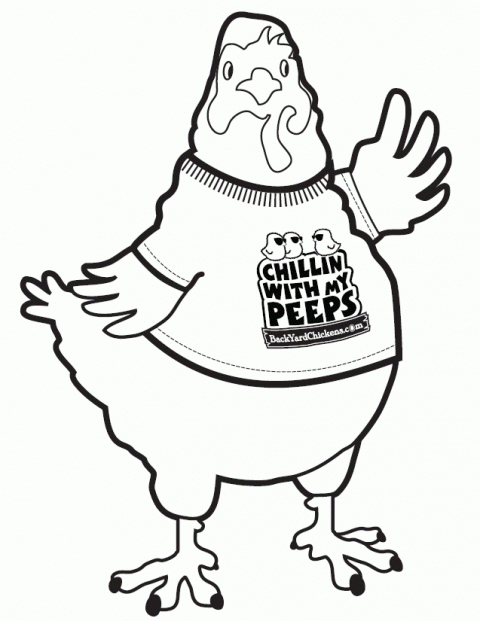 Here is the coloring book images that you can print:
https://www.backyardchickens.com/images/gallery/index.php?album=BYC-Coloring-Book
Here is the official coloring book that you can download. (500KB PFD):
https://www.backyardchickens.com/media/byc-coloring-book.pdf
We hope we get a lot of participation in this fun contest. If you know a BYC friend that has some artistic skills, send them a note and make sure they submit something! We can't wait to see what everyone comes up with!
UPDATE: Here are our WONDERFUL entries so far. Don't forget to enter yours!
idybityprettylidy
https://www.backyardchickens.com/forum/viewtopic.php?pid=6779812#p6779812
little
blue
https://www.backyardchickens.com/forum/viewtopic.php?pid=6802075#p6802075
farmerChef
https://www.backyardchickens.com/forum/viewtopic.php?pid=6805616#p6805616
mdbokc
https://www.backyardchickens.com/forum/viewtopic.php?pid=6810171#p6810171
Leia's
Chickens
https://www.backyardchickens.com/forum/viewtopic.php?pid=6810230#p6810230
ChickLover98
https://www.backyardchickens.com/forum/viewtopic.php?pid=6836715#p6836715
Smittenroade
https://www.backyardchickens.com/forum/viewtopic.php?pid=6854565#p6854565
DinosRBirds
~not avaliable???~ ((POST #70))
Symphony
https://www.backyardchickens.com/forum/viewtopic.php?pid=6933714#p6933714
iluvsedward
https://www.backyardchickens.com/forum/viewtopic.php?pid=6981594#p6981594
BovieVei
https://www.backyardchickens.com/forum/viewtopic.php?pid=7037193#p7037193
sunket77
https://www.backyardchickens.com/forum/viewtopic.php?pid=7068483#p7068483
DuckLover179
https://www.backyardchickens.com/forum/viewtopic.php?pid=7096736#p7096736
horselover98
https://www.backyardchickens.com/forum/viewtopic.php?pid=7107368#p7107368
Pioneer
Chicken
https://www.backyardchickens.com/forum/viewtopic.php?pid=7167476#p7167476
FowlWthrFriend
https://www.backyardchickens.com/forum/viewtopic.php?pid=7171034#p7171034
smarquis86
https://www.backyardchickens.com/forum/viewtopic.php?pid=7473802#p7473802
Last edited: