I've been working on this off and on for a while now. Never having built such a thing before, working full time, winter hours of dark when I get home, and single mom of a 5 yo all conspire to working just on the weekends with massive interruptions when it's not snowing and/or other pressing things to come first. Pardon the construction debris. Didn't wanna get rid of anything until I was completely done.

And I'm not quite done obviously. Need to finish putting up siding on the one end, some paint, finish poop trays, and I have trim and vintage windows to put in. The ladies are sheltered though and that's what counts. It's 40" W x 11 ' L X 6'-ish H and an 8'x 24' run will be attached in the spring. Right now they free range the yard since I haven't done anything with the backyard landscaping (fixer upper house).
Everything was pretty much salvage...free Ondura roofing, free siding, free pallets, $30 for 5 gallons of exterior paint in the bargain bin at Home Depot, dirt cheap vintage windows. I bought 4 sheets of plywood and some 2x4s and screws and the plastic when we had an unseasonably nutty snowmaggedon at Thanksgiving, which is why the siding isn't finished...the snow is STILL on the ground from that. Otherwise foundling materials...and that adds to the finish and timing as well.
I'm hoping the ventilation is adequate/appropriate??? I did a lot of reading beforehand on that. I have soffit vents all around for all year and then a window either end and one on the north side to the right of the main door (lined w plastic at the moment). The roosts are at 30-36" off the floor,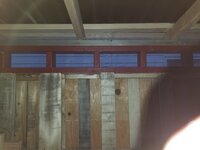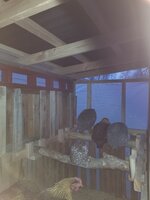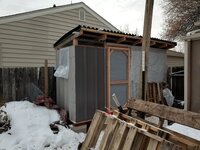 so they're not in the path of breezes and gusts for winter, but nice ventilation and cross breezes for summer. The main door is screened in 1/2" HWC - just covered in plastic for now. The vents and windows are all screened in HWC as well. The 14 ladies seem comfy when I check on them at night. Certainly better accomodations than they had while it was being built. With the vents up at the 5'+ level and the roosts at 3'-3 1/2' max level this should work, yes? I can make winter covers for some of the soffit vents if neccessary.