Jan 30, 2012
1,867
133
178
This time last year Mama ( my horse ) and I packed up and moved across the country. We have since returned home to Texas after realizing we were better off here. For the first time since we got home safe, Mama and I hit the trails today. It was fantastic. We went down into the creek and followed a few hog trails, Holly ( dog ) has fantastic trail manners. My seasoned trail dogs were leaving Mama and I to our thoughts while Holly stayed right by us and checked in with me every two minutes or so. "Hey mom, did you smell that? Oh did you SEE that rabbit?!"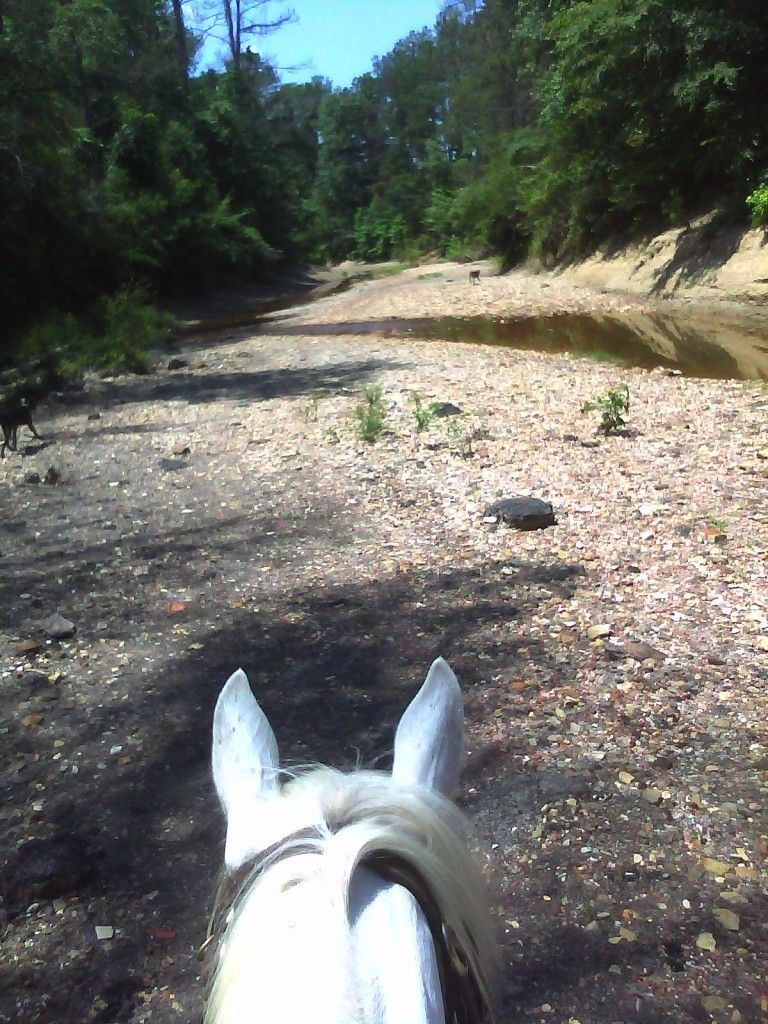 Here you see Holly just a steadily trotting along in front of us while we take a break at the creek. We walked about 2 miles or so through the creek before we came across a group of hogs. Nothing says lets get out of here like a 400 lb sow and some piglets daring you to get closer! The blur you see up ahead is Blue, he has excellent trail manners as well... But he will get a LOT further from you the further you are from a road. On the road side, he will be right with Holly at our heels.
I was quite pleased on how Mama did on the trails today considering she hadn't seen them in over a year, yet she knew exactly which direction we were heading. I'm thinking tomorrow before work we're going to run down to the cemetery and possibly do a short 10 mile loop. We only rode for about 2 hours, but covered at least 10 miles of trails. Going to have to remap, though, as I see new animal trails popping up I would like to follow. Anywho, here are some pictures and whatever from todays ride.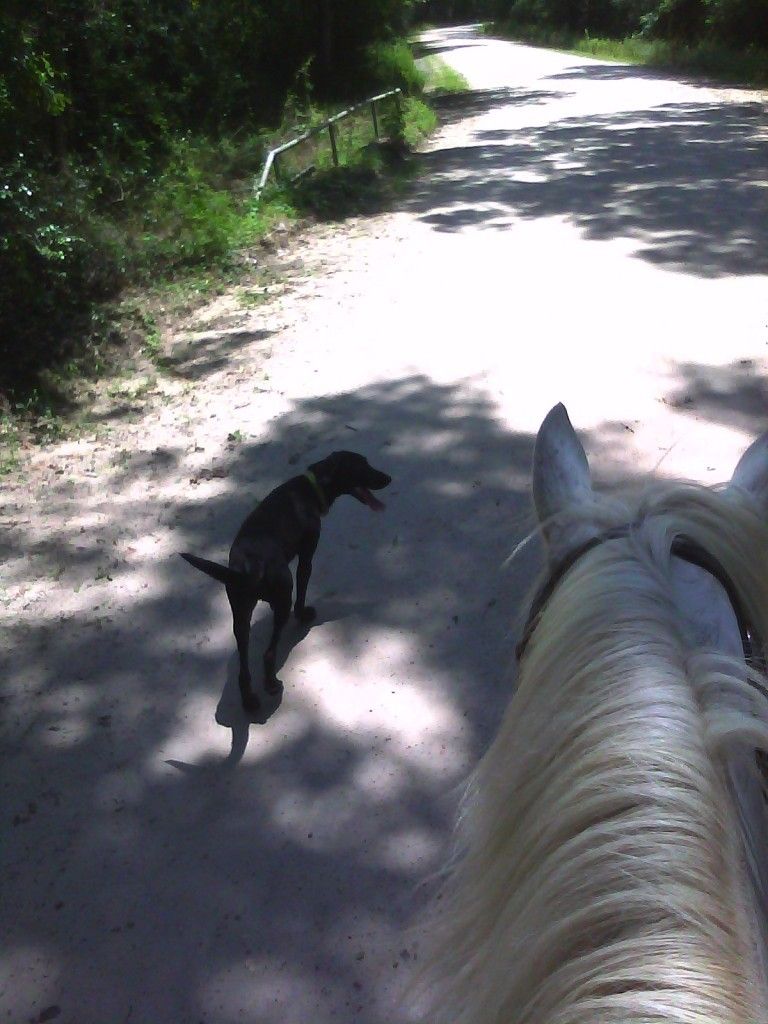 Here's Holly, trotting along beside us. I have never in my life met a dog that would just TROT. Doesn't matter if we're doing 5 mph or 10, Holly is steady trotting. She can 'canter' and runs like the wind, but she prefers to trot right beside Mama. Mama has MUCH longer legs, and is a MUCH larger animal so I just do NOT understand how Holly keeps up with us at that speed. As you see in this next picture, she's a trotter.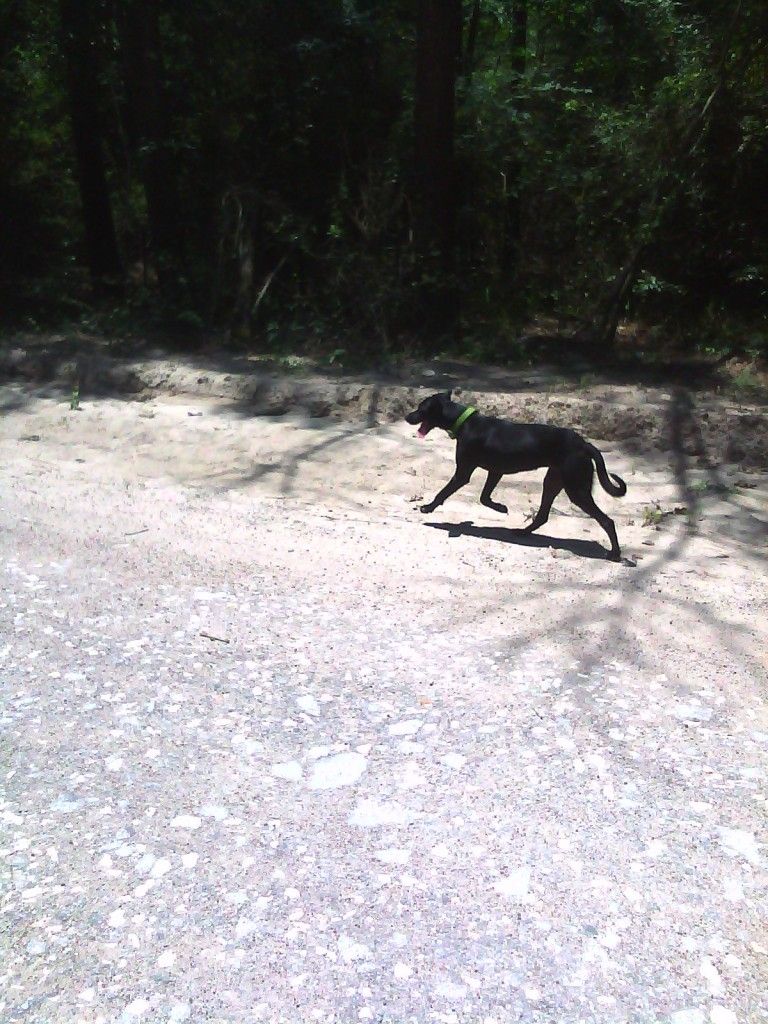 This photo, according to my GPS monitor, was taken at 12mph. My mare was at an extended trot, and Holly was barely stepping up into a canter type movement then. We covered quite a bit of ground, if I haven't said that all ready. Holly was the only dog out of the four I left the house with that stayed with me the whole time. Titan, the old man, went about five miles before he gave up. He waited on the side of the trails until we passed back by on the way home an hour later. Trixie gave up less than a mile from the house, her hip just wouldn't let her continue. Blue never gave up, but he got mad at me for calling him out of a pasture for the fifth time and turned around for home after we came up from the creek bed. He beat us back and was waiting on the porch as we walked down the fence line.
All in all, today was a good day back in the saddle. Six months of R and R for both Mama and I seem to have helped... although I think she sprained something on the creek, she doesn't seem lame but it did swell. Going to let her continue to relax for a bit until we get conformation from the vet on if she is bred or not. .Don't want to stress her too much if she is. This foal means a LOT to me.
For more information on Mama and I, our back story, or anything in between check out my latest blog post. We're coming up on Mama's 11th birthday! Getting closer and closer to celebrating 8 years together.