Treats every day in my opinion is not a treat anymore but a regular meal at whatever time it is. Some say they offer a treat daily in the morning and then an additional one in the evening. OMG. How could that in anyway, shape or form be a treat. A treat is offered as something special like when grandpa and grandma came over with a treat that we ravaged. So When does a treat stop becoming a treat and considered a regular part of the chickens meal? I feed on occasion like this morning hot rice and hot oatmeal mix bc we are in the high 20's a warmer up for the kids, however its what it is an occasional treat. If I was to put down a regular morning or morning and evening meal it would not be just things they devoured and loved but I would do it with purpose. It would have to be like the foods I get regularly from my local market. Ashley gives me once a week a wheel barrel full of fresh vegetables consisting of all of them and I separate out all the hard ones they can not eat like carrot unless they are boiled and mashed and for some reason will not eat anyway. I feed them all the leaf and soft leaf they can eat and the other things he provides is fruits which I put a bit at a time bruised or not in a food processor and make small chicken size chunks they pick at with glee. In addition to regular foods I feed the girls flax seeds and boss. I will at times boil tomato's they love and put DE on them as well as melon that I chop from my produce managers barrel.
So to my questions.
When does a treat become a regular meal or just a treat for you?
Why not make a daily meal a wholesome meal and call it that not a treat or is the daily treat a meal substitute?
What foods do you give that are proteins and good foods not just fillers like rice and oatmeal types of carbohydrates?
What regular vegetables do you feed the flock?
What regular fruits do you feed you flock?
What proteins like ground chicken meat or pork do you give them regularly as a meal substitute?
Do do you offer like nut based foods such as flax seed, boss, or ground nuts mixed in the food bowls?
Do you feed them grown leaf like basil, seasonings and fresh grown grass on and regular basis and how do you provide that?
Do you feed other foods such as hard boiled eggs or raw egg mixed into or on your portions of morning or prepared foods to your flock?
Are you just a hard core pellet feeder and scratch only provider?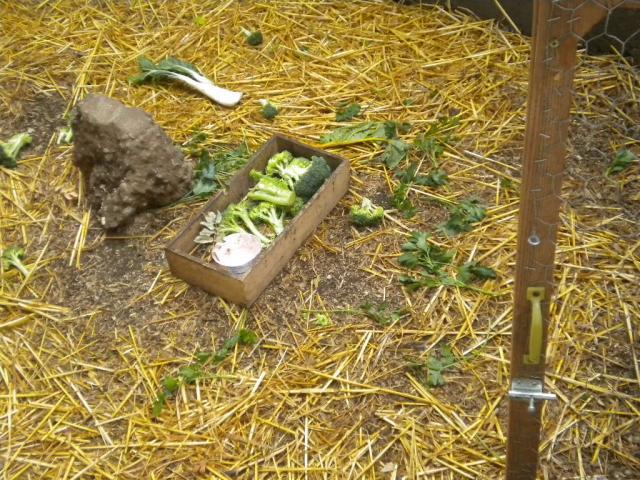 Last edited: