Seriously Downsizing (NOT)
11 Years
My turkeys are laying really well and fertility is already 100% in my incubator, so I am offering these eggs for $4 each and shipping is minimum of $12 (shipping increases with weight and distance). I always include extra eggs.
Unfortunately, most of my toms have ragged looking tail feathers. I thought it might be from sparring with each other, but I never see them fight. Now I remember I had them all in the same pen with a bunch of chickens during the winter, and I remember seeing chickens on higher roosts biting the toms tail feathers

These turkeys are still absolutely beautiful, healthy birds ... even though their tail feathers are broken.
The Narragansett turkey is Named for Narragansett Bay in Rhode Island, this is the oldest turkey variety developed in the United States. Narragansett turkeys originate from the breeding of native wild turkeys in New England to domesticated species brought here by European settlers. They are a rare, multicolored, medium-sized breed with hens weighing up to 17 lbs. And toms up to 30 lbs. Their body plumage is primarily black with bands of steel gray. The tail is dull black, regularly penciled with parallel lines of tan, edged with steel gray. They are known for being calmer than most and are good mothers.
The Royal Palm is a medium sized turkey and one of the few "original" breeds that wasn't heavily used for meat production as they were developed along ornamental lines. The toms are about 20 pounds and the hens 14 pounds. One of the smallest turkey varieties, the Royal Palm is a beautiful ornamental bird. They are active and excellent foragers and good flyers. Royal Palms are superb for the small family farm for production of meat and are also great birds to help control insect population.
Bourbon Red has a rich dark red to brown plumage and white flight and tail feathers.
They became popular in the early 1900's and were promoted as the turkey from Bourbon
County, Kentucky. They were accepted into the APA Standard in 1909. We find the
Bourbons to be the most curious and friendly of our turkey breeds. The toms are about
33 pounds and the hens about 18 pounds.
The Blue Slate variety is thought to have been derived from the black turkey known as the Spanish Black in the United States and the Norfolk Black in England. The Slate or Blue Slate variety is named for its color, which is solid to ashy blue over the entire body. The flecks throughout are to be black. The Standard weight for a young tom is 23 pounds and 14 pounds for a young hen.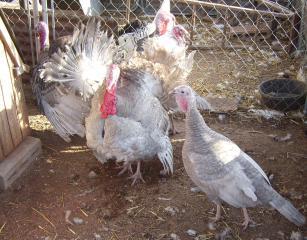 Last edited: