Hi there, this has probably been gone over several times. I did make an attempt to search through other posts and couldn't quite find a situation like mine. I am just trying to understand what I am dealing with, sorry if this is a repeat!
My husband gifted me a pair of young Bourbon red turkeys last fall. Whoever hatched/raised them must have loved them. They were so sweet and the Tom loved to be pet. He also LOVED the hen, a little too much! LOL! To give her a break we searched for another hen. At the time the only thing we could find nearby and in our price range was a 4 month old hen. She is a cross between a Royal palm Tom and a Narragansett hen. She was gorgeous! She had red/bronze and blue striped feathers. As she has gotten older I am not sure what color she is? She looks kinda buff, but a little grey too? Would like a classification on her if anyone knows!?
The hens started laying early spring this year and I hatched out some eggs. I got some beautiful pure Bourbon Reds, and some? Well, not sure? At first I thought they were looking like narragansett, now kinda like bronze? The young hens feathers are very striking in person. Very metallic and showing all colors of the rainbow with gold "glitter" around her neck and back. The feathers at the base of her tail have a strip of gold to rose gold with the same gold flecks throughout the feather. I don't think photos could do it justice? Was wondering if anyone has ideas of what they are classified as? Maybe there are some weird recessive genes at play here? I have never seen a hen with this much color. The Tom's are beautiful as well!
mother hen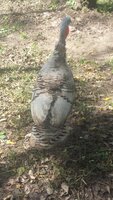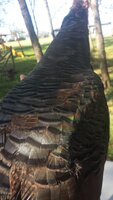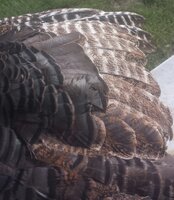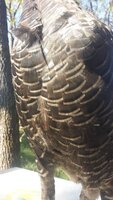 breast feathers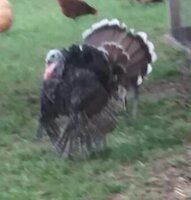 tom, got cloudy and could get a good photo of him.