Hi there kind BYC peeps. If you have chickens/ducks or any pets at all then you're my kind of people. I only found this website recently and when I'm down all I do is log on and I find joy and support on such a basic level that it actually translates to all areas of my life.
I saw the notice at the top of this thread about prayer requests.
I was wondering if someone kind might pray for me? I'm currently going through my 4th cycle of IVF after 4 other treatments. I have lost 3 babies and hope and dream I might hold my baby in my arms one day.
I let my little silkie Lulu hatch eggs when she goes broody and I'm a sucker for finding my ducks/canaries and other pets a little partner. I think it's because of my own issues I haven't the heart to deny them their instinctual desire to have babies too.
Next week I have my eggs taken out (MY eggs, not my chooky's eggs) and then put back in a few days after that. I'm getting to the end of the road with this and without telling you all my tragic story please just understand that I've had so much pain I'm not sure where I'll find the strength to go on sometimes (even outside of the baby thing).
I'm not meaning to whine when I know we all have our crosses to bear, but please pray for me? As many of you as can find it in your hearts for this stranger in another country?
Even if things don't go the way 'I' in my 'wisdom' think they should, prayers might help me deal with what is meant to be for me.
Thank you from the bottom of my heart.
Anne
P.s. As a thank you and for your viewing pleasure, here's a picture of one of my baby guinea pigs with his mother Peaches. He was fathered by the oldest Guinea Pig in the world, Sweetie Pie (14 years 10 mths old). He is 2 weeks old today. Oh, and why not....also a picture of Lulu with her adopted brood (she taught me your children don't have to be genetically your own for you to love them like life itself)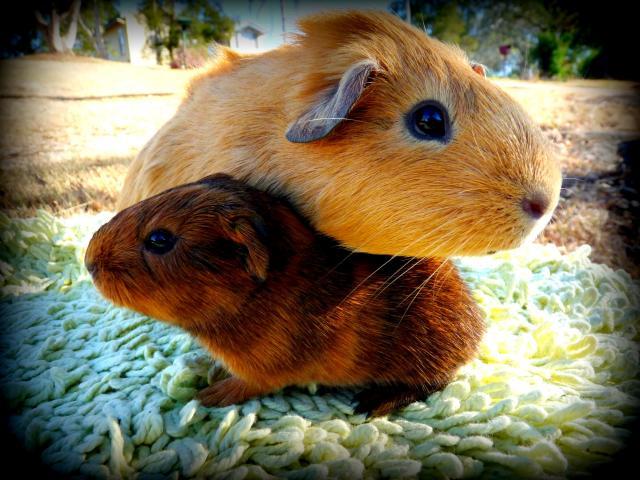 Last edited: