I went into the coop early this AM and found Nit, a 1-2 year old Easter Egger, laying on the floor of the coop with her legs stuck out behind her. She had been on the roost, 10 feet away, last night. When I picked her up, she seemed a bit listless, could only move her legs a little, and could not stand. A quick once over revealed no obvious signs of injury or pain. I put her in a kennel (in the coop) and gave her some food (layer pellets) and water within reach. She drank some of the water. I noticed a bad smell, but didn't have time to investigate if it was from her or if the nearby broody had just let fly.
When I got back this afternoon, she was alert, might have eaten a little food, had knocked the water over, and had pivoted in place. I refilled the water, which she then drank. Both her back legs appear to be paralyzed. She is using her wings to stabilize herself and to pivot around, although they appear to be weaker than normal. She has poop stuck to her feathers by her vent that may be the source of the foul smell. (The body and head end smell fine.) While I was gone she laid an egg! It had a VERY thin shell. Her last egg was a week ago & normal. (She is my only olive egg layer so I know when she lays.) Again I found no signs of injury or pain. She had a little food in her croup, but it wasn't huge.
She is in a 40' x 20' coop with a 20' x 20' attached covered run with 29 hens and 1 rooster (lucky guy!). There is straw over concrete in the coop and sand & gravel in the run. They get free access layer pellets, oyster shells, and crushed eggshells. They free range in the yard at least every other day for 1-4 hours. They get scratch, garden/yard greens, and kitchen scraps daily. All the other birds appear healthy, with the exception of a 2year old Buff Orphington that started to limp about 2 weeks ago and seems to be getting better slowly. I have noticed 3 broken thin-shelled eggs (wrong color to be Nit's) in the nesting boxes & coop floor in the last 2 weeks.
If anyone has any ideas/suggestions, I would greatly appreciate your input. I have no idea what is going on, but would hate to lose her. She is my 5 year olds chicken; hence the odd name. I am going to keep her kenneled and provide pellets and water in the meantime. Might give her a bath tomorrow if her condition is unchanged (or better) and get a better idea about the smell. Here is a picture of Nit when she arrived about 3 1/2 weeks ago. I'll get one of her in the kennel ASAP.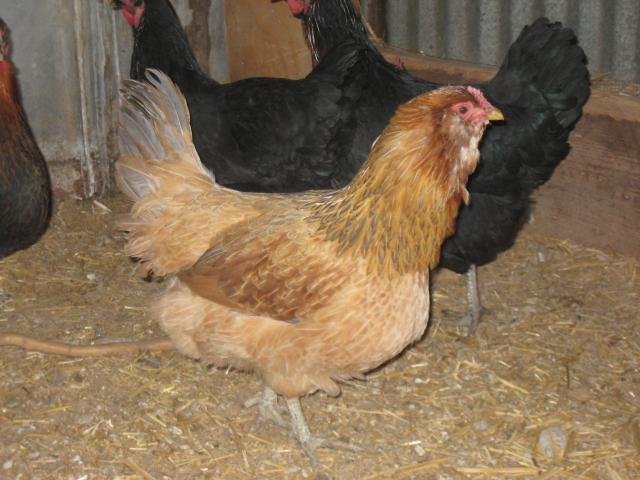 Last edited: