Baited a live trap last night (the night of the massacre) with the Layena pellets the marauder seemed to enjoy. The culprit returned to the scene of the crime. Look was waiting for us this morning: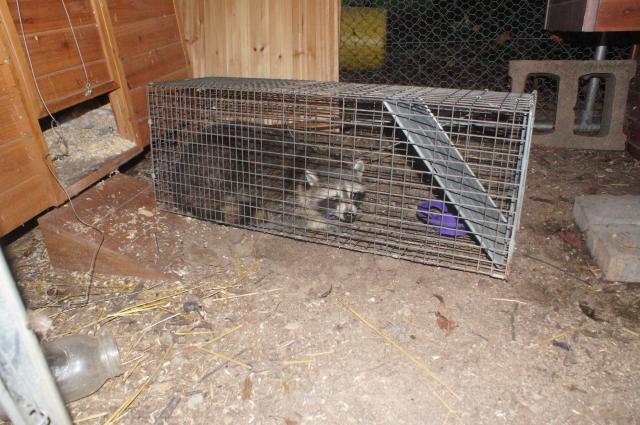 He was tried, found guilty beyond a reasonable doubt of poutryslaughter, and sentenced to death by lethal injection...of lead.
Re-set the trap again tonight but really (really) hope he was a solo act. As I mentioned below I am afraid I find it very sad to have to kill a wild creature that was just doing what came naturally--I know a lot of folks on BYC have no problem killing the predators that exist in their locales, and I agree with that, but only if they have crossed the line and I've done my part in trying to protect my feathered charges. I did, he did and now he's gone--still makes me sad, but somewhat relieved knowing he was the culpit. Why can't they just leave my girls alone?
Farewell Tia and Tess...you will be missed.
Rest in Peace, Pip and Sasha--you were special girls.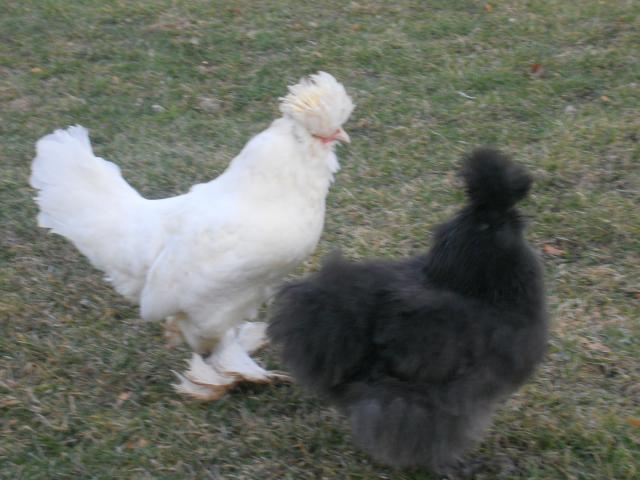 Guessing it's a raccoon that devastated my 13 year old dd this morning--came upstairs sobbing as she'd gone out to check on the 'girls' before school, only to find our "fun pen" had been invaded. Slaughtered and left in the coop, our favorite White Sultan, "Pip," who was one from our first batch of chicks three years ago, and "Sasha," a beautiful sq blue Silkie pullet my dd had purchased with her own hard earned money at the National Show last November....
Missing, the two (1) year old mottled black and blue bantam Cochins, "Tia" and "Tess," who'd been broody for 2+ weeks so far. No bodies, only feathers.
Horrible way to start the day (or end the day...)
What's really frustrating is the fact that whatever caused this chaos and heartbreak not only climbed over an 8' high fence (yes, it was open but this is for the main run for the big girls, they are in the big coop at night), then pushed open the door into the chain link dog kennel fence (which was covered by wire and tarp and also had a second layer of chicken wire 2 feet high and another foot in the ground), and THEN managed to lift up the guillotine door to the small coop and go in and destroy the sleepy, defenseless girls. Then retrace it's steps and take the two cochins away--couldn't find them anywhere, but we're next to a fencerow and a large soybean field....
Feel awful for my dd--these were her pets, her fun birds....and we thought this was the most secure spot. I know the chicken wire isn't a deterrent by itself, but I guess I thought it would deter inquisitive wildlife...which it did.
Would you believe a raccoon was smart enough to not only push the 'man door' open to get into the kennel/run (no, it wasn't latched), but also lift the pop door? I know it was lifted for a fact as it didn't open smoothly, we had to push it down every evening as it would stick, so it wasn't easy to open, and we found it up about 8" this morning...
Sad day in central Ohio....
Last edited: