I received my Rainbow Egg Layer assortment from McMurray last week, anyone want to give some guesses as to what I got? None have feathers on the legs, sorry for the bad pictures but my ladies were being camera shy tonight

There's one of these
And a close up of the markings on her face, an EE maybe?
A few of these
This little girl, not quite red and not quite yellow, a buff of some sort?
There are some of these, one of the heavier breeds we have.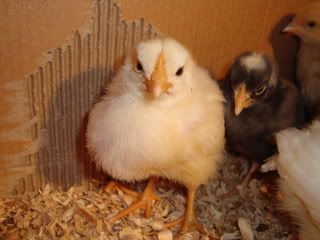 I'm guessing these are RIR.
Three of these, black with a dot on their heads and a little lighter color around the wings.
These little ladies are smaller and lighter than most of the others, hard to see the markings but they are a pretty deep red/brown with white and black markings on their backs and have a ring around their neck that matches the mottled colors on their backs.
Our funny one, I think it's a silver polish.
Here are some randoms....
Thanks for looking!