These pictures were snagged from video (because these babies just don't stand still) last night at about one week old. Some were braver than others about their mugshots being taken, lol. Most of the chicks are actually a day or two older than a week, but close enough! They are all barnyard crosses, test subjects for their lovely breeder who needed to try out her incubator before she starts breeding in earnest. There's possibly Marans (FBC, Wheaten, and Birchen), easter eggers, Crested Cream Legbars, olive eggers, California Whites, and Wyndottes in the mix!
I think it'll be fun trying to guess who's going to wake us up in the morning, who's going to be helping with breakfast, and who's going to be dinner.
#1, Riker, is staying with us no matter what; my husband laid a claim to this baby before he even got all the way home with them. They were hatched from a FBCM egg, and pipped out the wrong end! There was a lot of blood lost and they had an open navel, spraddle legs, and curled toes when they got home at slightly less than 24 hours old. I've spent the past week hand feeding this baby water, then egg yolk, then feed+yolk mash, then finely chopped scrambled eggs until finally they found and ate chick feed without any help yesterday! NutriDrench picked this baby up while they figured out the food situation. Now they're straight-legged, straight-toed, closed-naveled and running with the other chicks full time.
This baby has fluffy cheeks, feathered legs, and is
rumpless
!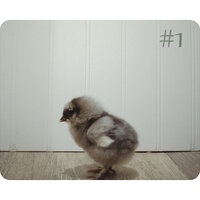 #2 is almost voiceless! Their voice is very quiet and they don't peep at all unless worried. This chick is also the smallest, even smaller than Riker!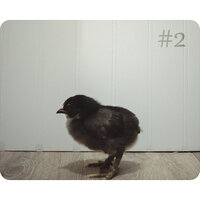 #3 is possibly my favorite, they might become
my
chicken. Very curious and friendly, even from day 1. This chick is the largest of the bunch.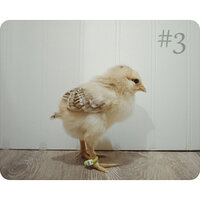 #4 is very bold, I already strongly suspect this one to be a cockerel. Always first to come running to see what I'm up to, always watching me closely, has even jumped at my hand a few times as if to spur when I reached to pick up the other babies! Very swept-back fluffy cheeks and lovely dark green legs.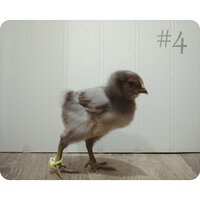 #5 has the fluffiest cheeks of all and beautiful green legs
#6 has just the prettiest copper-speckled wings
#7 has a white spot on the top of it's head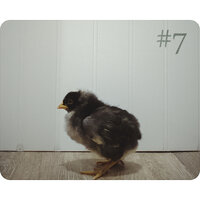 #8 also has a white head spot
#10 has fluffy cheeks and beautiful feathered yellow legs
speckled
with slate, looks like a baby penguin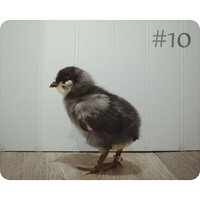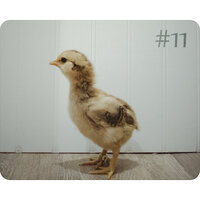 #12 has a white head spot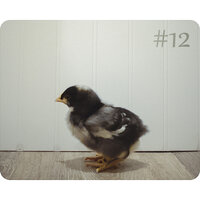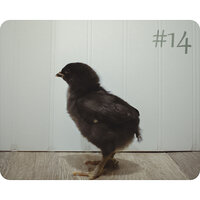 #15 might be rumpless (I have to check again, they didn't appreciate me touching their booty!)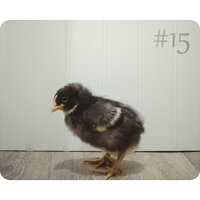 #16 has a white head spot
#17 has a white head spot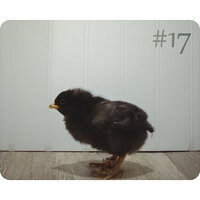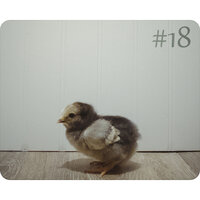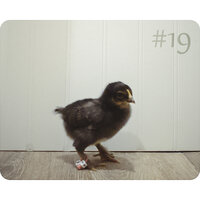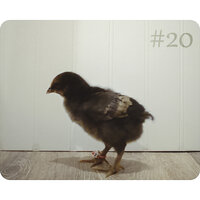 #21 has a white head spot
#22 has a white head spot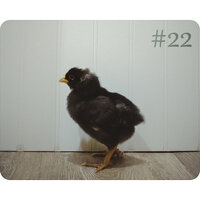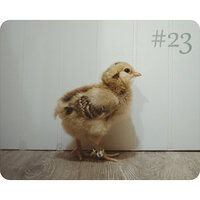 #25 has a white head spot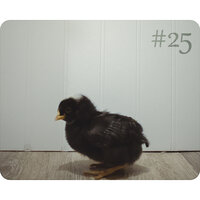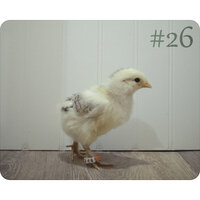 #27 has a white head spot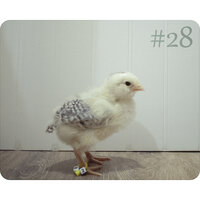 #29 is rumpless!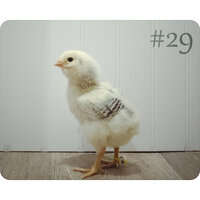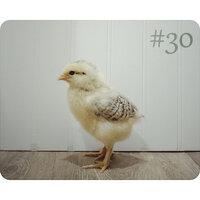 #31 has a white head spot