I was talking with a (non-chicken keeping) coworker today and was telling a story about my chickens. They were speechless... So I got to thinking about all the crazy stories chicken keeping has brought me. And since I know I can't be alone, I was wondering if anyone had any great stories about people who don't know chickens, "crazy chicken person" stories, really any chicken related story you want to share (If you've got a pic, that's great too). (If the stories are about people who don't know about chickens, let's aim to keep it non-hateful, this thread is lighthearted and just for fun!)
The story I told my coworker:
I was gonna be selling some eggs to a new customer, and many of my customers love to see or even meet my chickens. I have a very tame bielefelder that loves to be held, so I was holding him. (Buzz pictured)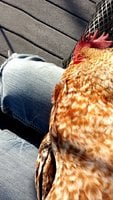 Me: Hi, nice to meet you! I'm chickengoesruff and this is Buzz.
Customer: What's wrong with him?!? (looks at me like he must have the plague)
Me: He's like a cat. He just likes being held and pet.
Customer: (obviously not understanding it's a pet) Is he sick?
Me: (all the while giving Buzz a belly rub) Nope, he is healthy and just really friendly. You can pet him if you want. He won't bite.
Customer: Oh. (pokes his tail feather) Wow, she's so nice!
Me: (thinks long and hard about whether or not to correct them on gender)
He
is very docile, and I try to get my birds as tame as possible.
Customer: (after realizing what I said) Actually this is a girl, you can tell because she isn't biting. I used to have chickens and the roosters would always bite and scratch.
Me: (thought I saw where this was going) Well he has what are called sickle feathers and a more prominent comb (points out as nicely as possible) which are signs that he is a male.
Customer: (nods halfheartedly and pays me for the eggs) Ok, well thank you for the eggs.
As they were walking towards their car, their phone rang. I was just barely within earshot by the door, and nearly lost it laughing when this was how they answered: "I just got the eggs, but that girl didn't know a thing about geese!"
Not sure how anything was about geese, but made my day!