I do not know how to make this listing sophisticated so I am just writing and then I will add a couple photos.
I get three hens from a woman who was keeping them inside her bathroom and feeding them canned kitty food! She said she had been unsure if they were male or female and named two of them male names. (Jeffry and Elvis!) The prior owner offered them to me when she read my wanted ad for some hens, but she cried when I came for them. She is a sweet person and she loved her little pets. I do not blame her. I love them, too, and they are so content out in one of our coops along with 5 other hens and a very handsome rooster! They have perked up considerably being off kitty food and on to chicken feed and fresh veggies and grass and bugs, and so on!
I know that one of the three new ones is a Rhode Island Red. She is small and so very sweet. My mother named her "Darjeeling" because it was a nickname my father game me as a baby! I named the other hens in the group Fauna and Sophia.
The other two are the ones I want to know about. They are nice and big and fluffy. They are a little bigger than my Plymouth Barred Rock and my Aracauna. They are a big as my beautiful big Buff Orphington, which was the biggest one until I got these two. They are shiny black. The pictures show them but it is difficult to get the color right: They are shiny black, and the black has a bit of green in it when seen in bright sunlight. At the chest, one looks sometimes as if she had some gold or copper colored metalic paint spilled on her. She is Sophia. Fauna has more black and less of this golden hue on her chest
They lay brown eggs --large ones.
The first photo is Fauna and Darjeeling and one of our roos named Kingy D.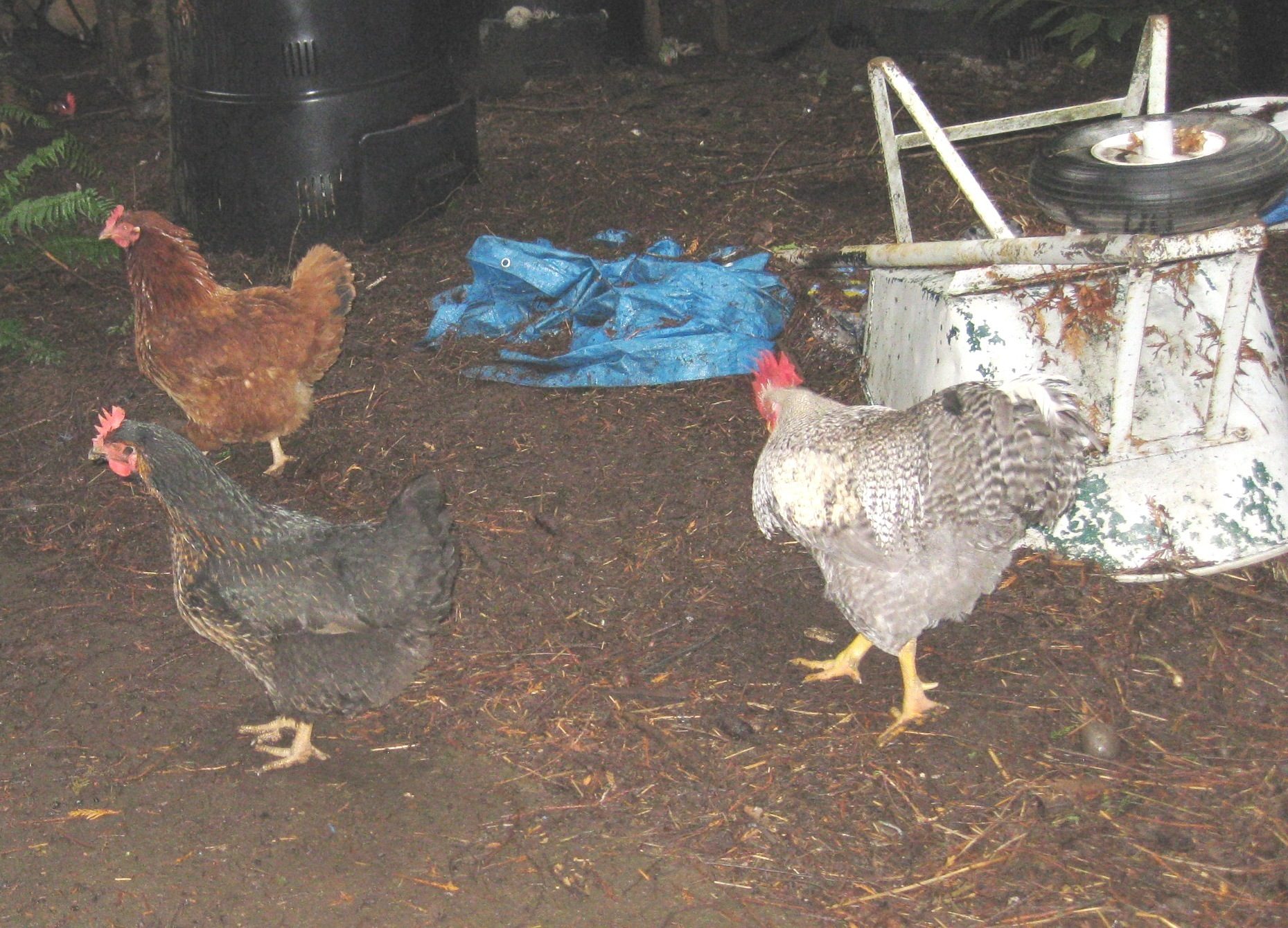 Here is Fauna above and Sophia below or is it vice versa? (I do not think it matters.)