Hello, everyone! I was wondering if anyone could take a swing at identifying or confirming what our little chick that we have affectionately taken to calling "Baby" until we can figure out if it's a rooster or hen, although I have developed a habit of calling it a she haha!
She was in with a mix of chicks and we were told she was a bantam, and shes exceptionally small for sure despite being at least 2-3 weeks old(I actually have another forum question posted to try and figure out why she doesn't seem like she's growing). Her legs are a blackish gray and not feathered at all.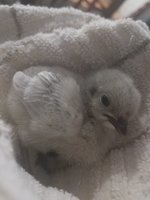 Thank you in advance for any and all help!

**If needed I can post other photos**
Last edited: