This year I am making an attempt to put together a show quality flock of White crested BBS Polish, so I have been buying chicks and hatching eggs from some reputable breeders and some enthusiastic novices (like myself). Of course, more than half the chicks always turn out to be roos and I am only going to keep one of each color. I would love some input on who to keep.
Attached are photos of 2 different young blue roosters. I am sorry for the positioning - they will not stay still enough for a good photo of their posture and carriage. Both have nice blue shanks and are getting some nice dark blue lacing around their hackles. Both have almost nonexistant combs and both probably have too much blue in the front of their crests.
I am leaning toward keeping this guy as he doesn't have a gap in his crest and he seems to have better wattles so far.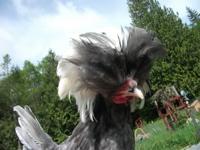 This guy currently has a gap in the top of his crest but he has much less blue in the front
Thanks!