Cows, Chooks & Impys - OH MY!
14 Years
Nov 9, 2007
28,913
417
681
My juvenile coop is my DH's former motorcycle shed. It's water-tight, with a shingled roof. Absolutely no leaks at all.
I want to add a weathervane such as this one to the roof: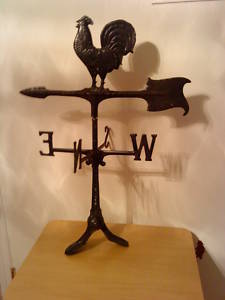 DH said he is concerned that this will cause the roof to start leaking around the fastener holes. I'm thinking that if I pre-drill the holes and then fill them with a sealant - perhaps silicone - before securing the weathervane with screws, that it's very unlikely that it will leak around the screw holes.
What say ye?
My second choice would be a combination cupola/weathervane that Lowes sells, but it would be much harder to install.