These gals are about 3.5 months old, from Atwoods, st run bantams. I am pretty confident they are all pullets. I would love to know what breeds they are though?? I am having a hard time finding a good bantam breed identification source online. Thanks in advance!
#1 has clean, yellow legs, no real comb growth but it looks like a pea comb, and a downward sloping back with small tail. #2 is very petite, clean yellow legs, large upright tail, I'm thinking Dutch Bantam? #3 is large and fluffy, yellow legs with a small amount of feathering to her legs but not her feet.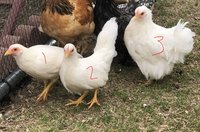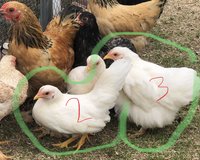 The next is a buff/light brown, no real comb, some of the feathers look barred, thick yellow clean legs, and upright posture.
The last is has mostly double laced feathers with some barred feathers. She had some feathers on her legs but not her feet and her legs are a darker, less bright yellow.