Fisher Cat - Chicken Predators - How To Protect Your Chickens From Fisher Cats
Fisher (Martes pennanti)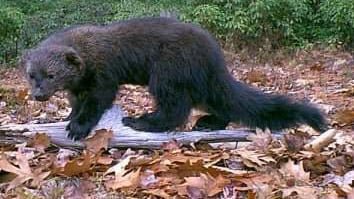 GENERAL INFORMATION
The fisher, also known as the "pekan cat", "fisher cat", or "black cat", is a large, dark, long-haired member of the weasel family. Fishers usually use two types of shelters. Fisher dens used for giving birth to their young typically are found in large trees, high off the ground. They make use of natural cavities frequently found in older trees. They also use cavities in rocky areas. Dens for general cover and protection consist of hollow logs, turned over stumps, brush piles, or ground burrows.
DESCRIPTION
Adult males weigh from 7 to 12 pounds and may be 40 inches long, including their 13 to 15 inch tail. Adult females are smaller, weighing from 4 to 5.5 pounds. Extremely large male fishers may approach 20 pounds, but that is very unusual. They have short legs, small ears, and a long well-furred tail. Their color varies from dark brown to nearly black. Fisher fur is long and luxuriant. The males often have a "grizzled" appearance due to the many tri-colored hairs along their neck and shoulders. Fishers have large feet with five sharp toes, making them well adapted for walking on snow, climbing trees, and killing their prey.
RANGE
Fishers live in a band of forested habitat extending across North America. They do not occur on any other continent. In the east, they are found from Virginia north to Quebec and the Maritime Provinces of Canada. Males' territories are larger than females' and the sizes of these regularly patrolled areas vary according to the availability of prey species. A 10 square mile territory is typical for a female fisher and males commonly hunt a 30 square mile area. Circuits are irregularly patrolled although fishers travel pretty much in a straight line when they have determined to go to a certain location. Males usually pass through a given area in their territory about once every two weeks. Female circuits in winter usually vary from 3 days to a week.
METHOD OF KILL
Fishers are predators that prey on medium sized mammals and poultry. Fishers will raid chicken coops and kill numerous chickens at a time. Poultry should be kept in tightly secured buildings to prevent access by fishers.
BACK to Predators