Merlin and the Wyandottes
When we went to buy our chicks at TSC in the spring of 2010, they had three bins still occupied. One was filled with all sorts of red sexlinks, along with three little black chicks whose faces were splashed in gold. Another was 'assorted' Rhode Island reds (notice that it said assorted, not straight run?). The last bin held just a single straight run Easter-egger chick, a brown one with no distinct markings in its fluff. I took sympathy on the Easter-egger and, resigning myself to the fact that I probably just bought a rooster, I filled the rest of my purchase with some red sexlinks, two Rhode Island reds, and those three black chicks that I just had to have.
Lo and behold, two months later I came to accept the fact that both of my Rhode Island reds were roosters, but at least the Easter-egger (who was labelled much more honestly with the actual words, 'straight run' ) turned out to be a pullet! I had identified the black chicks as Wyandottes by then. I decided to theme the names of the chicks in this brood--they were all named after other bird species. My Easter-egger was named Merlin, as a sort of testimony to the fact that she was the only straight run chick we have
ever
purchased that turned out to be a pullet. The Wyandottes were given the names Sparrow, Raven, and Ani.
It soon became clear that Merlin believed herself to be a Wyandotte. Her entire life thus far was spent with the Wyandottes. She slept snuggled with the Wyandottes, ate and drank with the Wyandottes, spent time preening with the Wyandottes, and, as the Wyandottes did, she found a way to out rank the chicks that were from the same brood when they were old enough to be integrated into the main flock. Thus, Merlin and the Wyandotte Posse came to be.
Merlin has never been a touchy-feely bird. I can remember trying to take her from the bin at the TSC and she fled with such skill that I nearly gave up on her. I was only able to handle her after she began to squat, after which I could pick her up and talk to her against her will.
Merlin has a pretty unique pattern, subtle but sharp. I have yet to see another Easter-egger that looks just like her.
This is an early picture of her about to be stepped on by one of the Wyandottes in her posse: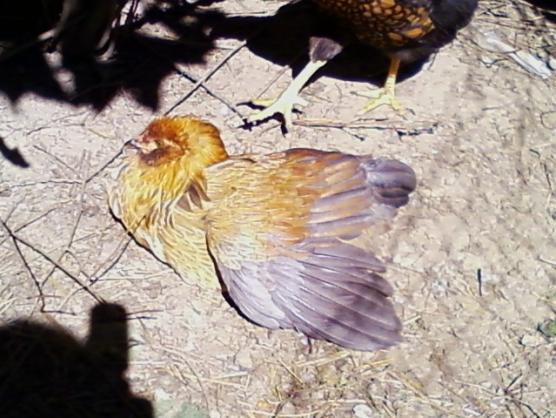 Merlin squats any time she is alarmed. I have been standing easily thirty feet from her and called her name, and she would respond with a squat. Sometimes, I just glance at her and she squats!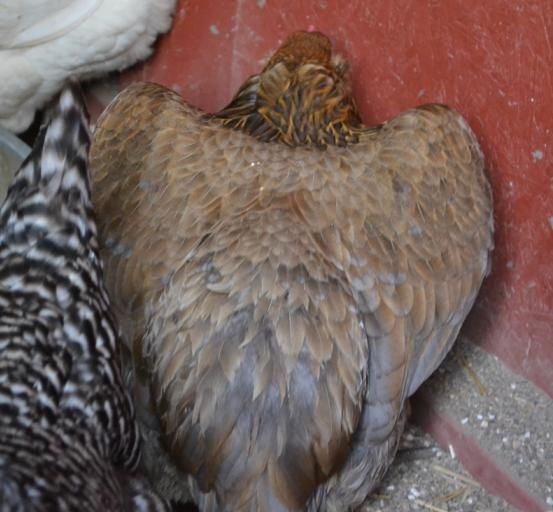 Merlin has quite the beard, which sometimes swallows her enemies whole.
So don't get on her bad side. Seriously.
Ani is the Wyandotte I get the most contact with. She squats almost as much as Merlin does for me, which gives me the chance to pet her or pick her up if I want to.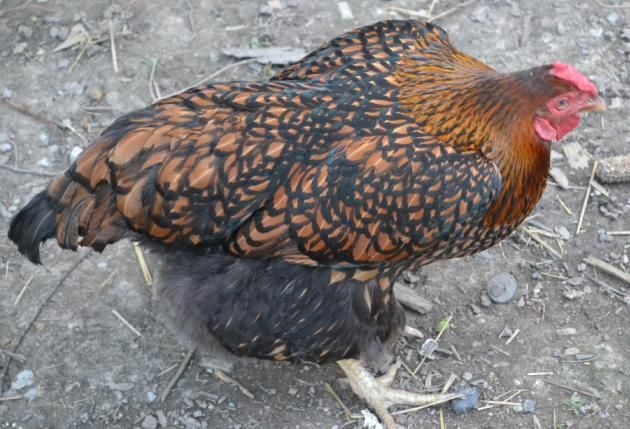 When I pet her instead of picking her up, she gives me a look like, "That's it?"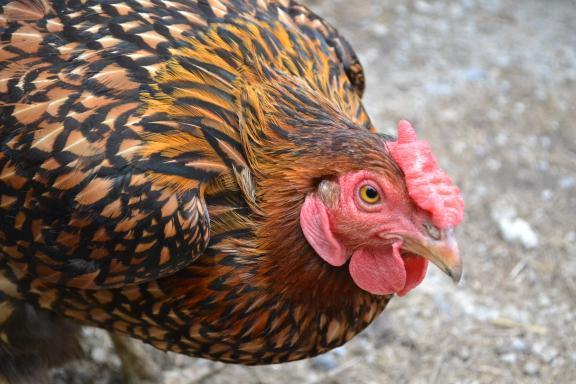 Ani has the characteristic fluff-butt of a Wyandotte. Wyandottes have some heck of a lot of bloomers, don't they?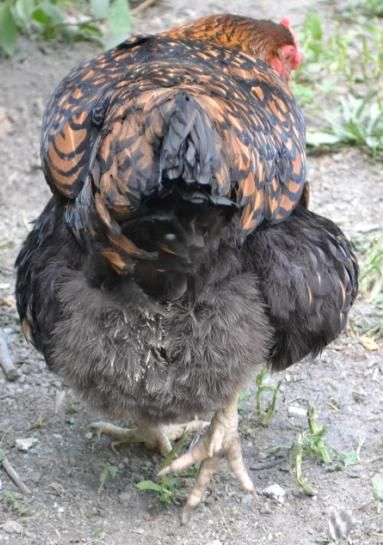 Raven is a pretty girl who infrequently squats, so essentially I am viewing her at a distance.
Raven is fabulous. She makes anything look good.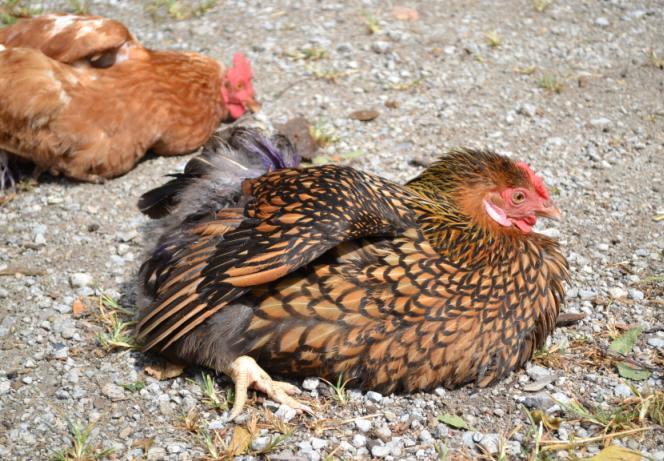 Raven is quiet and distant, rarely making a sound in protest when something happens that she doesn't like. As a prim and proper lady, though, there are quite a few things that she doesn't like. Pictures taken while she is in bed is one such thing.
Sparrow is my broody extraordinaire! More frequently, she is called Miss Broody Wyandotte, which is shortened to Miss Wyandotte if I'm in a hurry. Sparrow NEVER squats for me. If she does, it's almost like a feign. She squats long enough for me to reach toward her, and then when I'm hunched over and too off balance to pursue her, she runs off.
This is a common sight for me: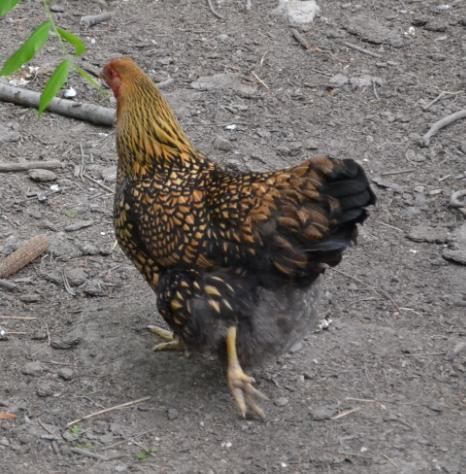 As such a broody bird, Sparrow is often stuck in a broody-away pen. This can either be an old rabbit hutch or a chicken wire enclosure that we made as a playpen for chicks.
Another common sight for me when Miss Broody Wyandotte decides to brood is the broody glare. I remember seeing a bumper sticker with a broody hen on it once that said, "Step away from the eggs and no one gets hurt." This is what I can imagine her saying when she gives me the broody glare.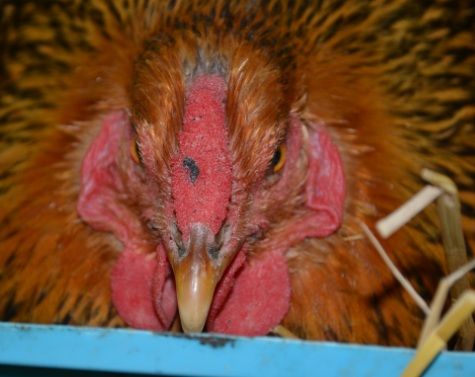 Sparrow doesn't like the snow, but she doesn't like me more. (She would come in, but... a human was standing in the doorway...)
To sum it up...
name:
Merlin
sex:
female
age:
3 years old (born spring 2010)
breed:
Easter-egger
egg color:
blue-green
names:
Ani, Raven, and Sparrow
sex:
all female
age:
3 years old (born spring 2010)
breed:
Golden Laced Wyandottes
egg color:
Tan, infrequently with white speckles
Thanks for reading!