Owl - Chicken Predators - How To Protect Your Chickens From Owls
Owl
General Information & Description
The owl is a carnivorous bird. While most are nocturnal, there are also owls that prefer to hunt during dusk and dawn. Unlike vultures and crows that can prey in flocks, owls are solitary birds that prefer to hunt alone. They hunt insects, mice, rats, rabbits and chicks with amazing accuracy in low light.
Owls have acute visual and hearing senses. The owl can swivel its head over 270 degrees without twisting its body. Owls are also farsighted. Their eyes have a large retina that can create a spatial image even in the darkness. Owls have asymmetrical ear placements which gives them special hearing abilities for easier tracking of prey. They often reach a standing height of 22 inches or two feet.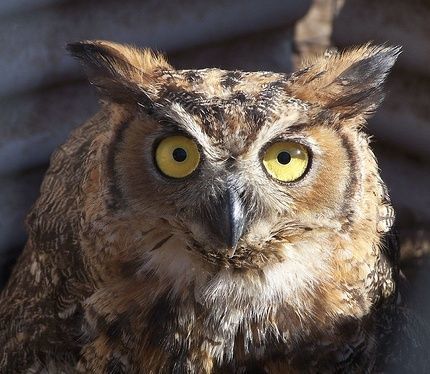 Range
Owls are no different from hawks when attacking their prey. Perched on tree branches, they stalk their prey and swoop in for the kill when the opportunity presents itself. Owls have a natural instinct of stealth and surprise when stalking or hunting their prey.  Apart from preferring nighttime and twilight hours to keep themselves covered, the colors of their plumage also act as a camouflage. Studies show them to be among the quietest birds when in flight due to their serrated wing feathers. This keeps turbulence to a minimum and makes the flight practically silent.
Methods of Kill
If you see dead birds in your area with surgical looking cuts on their necks, you can be sure this was an owl's doing. With a sharp beak and talons like those of hawks and eagles, owls can snap its prey dead with its beak right before swallowing the prey whole. It then regurgitates the indigestible parts like fur, feathers, scales and bones. Owls have been known to snap chicken necks like scissors and feed on them. Chicks are excellent prey, because they can easily cart them away with their talons.

Prevention & Treatment
Owls are intelligent birds and they learn easily from observing your poultry farm at night. If they can get away with a few chicks as spoils, they will do so every night up until you are able to secure the coop. Because they attack at night, it's a good idea to spread out a bird net over your coop or yard as soon as dusk sets in. If the nets are made of meshed fishing lines, the owl won't be able to see or get through when they swoop down with their outreached wings. You can also put in an electrical mesh fence. Others put visual deterrents like wind chimes, ribbons, or even strobe lights. You can also try motion-activated sprinklers. Blow-up owl dolls have also been a reported success. Just be sure not to kill them with a shotgun. Hawks and owls are protected under the law, specifically the Migratory Bird Treaty Act (16 USC, 703-711). If you are reported, you risk paying a steep fine and can even spend a few months in jail. 
BACK to Predators