Red Tailed Hawk - Chicken Predators - How To Protect Your Chickens From Hawks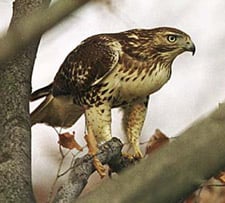 General Information

The Red Tailed Hawk (Buteo jamaicensis) is a bird of prey. Also knows as "chicken hawk" though it seldom preys on standard size chickens. Chicks and smaller chicken breeds are sometimes preyed on. There are fourteen recognised subspecies, which vary in appearance and range. Red tailed hawks is one of the most widely distributed hawks in the Americas. There are an estimated 1 million Red Tailed Hawks in the Unites States and because they are so common, the majority of hawks captured in the US for falconry are Red Tailed Hawks.
Description
Red Tail Hawks are blocky and broad in shape, often appearing heavier than other birds of prey of similar length. Their markings and hue vary across subspecies, but a whitish underbelly with a dark brown band across the belly is present in most colour variations. In younger birds the underside may be covered with dark brown spotting. The red tail, which gave this species it's name, is brick red on top and light buff-orange below. They have fairly short, broad tails and thick, chunky wings. Their legs and feet are yellow. The Red Tailed hawk is one of the largest members of the genus Boteo (buzzards or hawks) in North America, typically weighing from 690 to 1600 grams (1.5 to 3.5 pounds) and measuring 18 to 26 inches in length, with a wingspan from 43 to 57 inches (110 to 145cm). Females are on average 25% heavier than males.
Range
 
The Red Tailed Hawk lives throughout the North American continent, avoiding areas of unbroken forests or the high arctic, otherwise occupying a wide range of habitats and altitudes, including deserts, grasslands, deciduous and tropic rain forests, agricultural fields and urban areas. It's preferred habitat is mixed forrest and field. Unlike most other birds of prey it can live in close proximity to large numbers of humans, thus they can also be found in large cities where they will prey on pigeons and rats.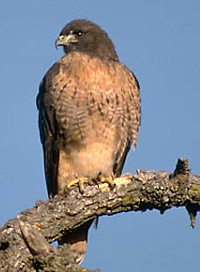 Method of Kill
The Red-tailed Hawk has extremely keen eyesight and can often be seen scanning for prey from an elevated perch site. Once prey is spotted, the hawk will swoop down and pin it down with it's talons, often killing it on impact. They also watch for prey while flying, sometimes capturing a bird in flight. If their prey is too large to swallow whole, it is torn to bite-sized pieces with the hawk's beak.
Prevention and Treatment
Relentless Hawks can be a big problem for chicken keepers. The easiest way to protect your flock from Red Tails and other hawks is by constructing a secure coop with a Covered Run. Roofing sheets, bird or deer Netting, Hardware cloth or chicken wire can be used. Another popular Hawk deterrent that people have had some success with is old CD's hung on string from trees around the chicken's coop and run and keeping a well trained dog with or near the chickens.