Hello everyone!

Half of this will be well though out and the other half may seem like rambling or me talking out loud, so forgive me for making such a long post

I am having an extremely hard time finding any extensive information on the 2 duck breeds I would like to look into possibly owning.

I don't know if it's because they are just not popular as pets or maybe ducks of all breeds or types are just too similar to really require going in further detail or study.

My guess is both, but probably more so that they just aren't exactly your run of the mill pet.

Also, I apologize if the grammar and spelling is not entirely accurate. I am typing this in notepad and will dump it in the post window when i am ready, so please be kind! I tried to preview this at least twice.



If you also just have any kind of general information about the two breeds, please post anything you know, because i would love to read it!



I am putting some very serious thought into building a small duck "palace" in my backyard.

I have been reading several threads for information and they have been quite helpful with giving me ideas and extra things to consider and ask.

First off, here are 2 pictures of the workspace I would like to use: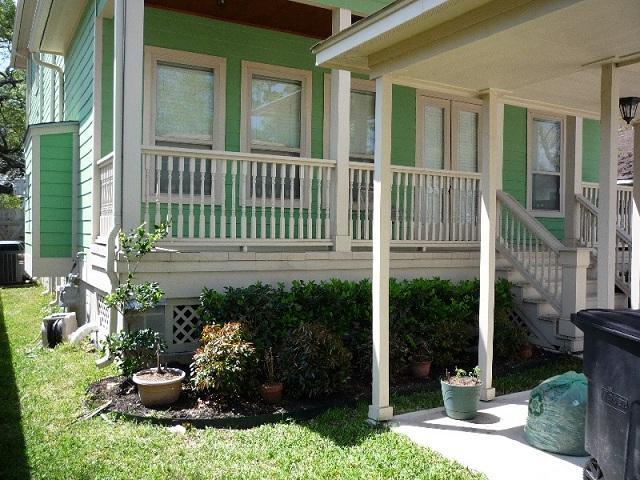 If you look closely in this pic, you can see a metal duck statue peeking from the bottom left bush: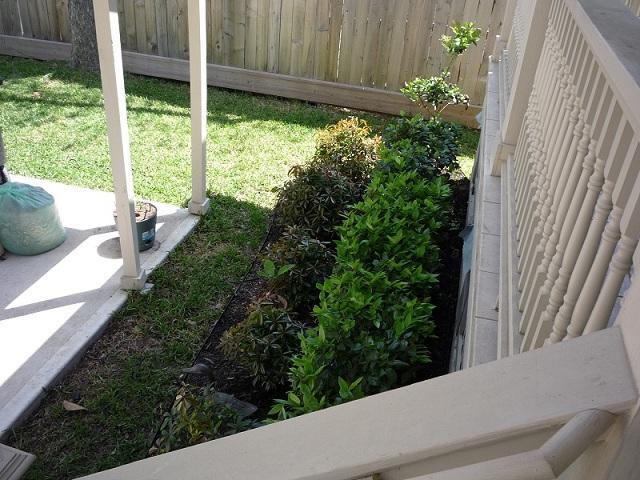 The shrubs, mulch, etc, would all be ripped out and i would plan to put dirt and grass on top of that to start with. I have some more thoughts on the flooring later down this post.

The dimensions for the "palace" are about the following:

6.5' x 11' if i just use the measurements from the back to the back ground driveway.

6.5' x 15' if i use the same measurement but extend to the edge of my back porch rather than the driveway.

It's really about 7 feet, but i wanted to put some space in because the "palace" area would most likely not be flush with the rear driveway.

After talking the dimensions over, we would probably go with something in between 11 and 15 feet for the width.

I hadn't thought about the height, but I figured at least 6-7 feet, enough to go up to the balcony beams in the foreground of the area and for us to walk in to clean and do maintenance.

I believe that would be enough room for 1 pair of ducks.




Costs:
I'm not entirely concerned about the costs of getting everything set up. I  don't know how much money it will cost, but I probably won't be building the housing myself and depending on some of the things to decide further down the list,
I'm sure the cost can easily go into $1000 or $2000?

Location:
I live in the Houston, Texas inner city Heights Area. We don't really have stringent zoning laws and i will double-check on codes and laws later, as I really just want to see if this all would be feasible first.

Temperature:
It seems that freezing temps are not really a big deal for ducks, at least in my area, since it may only dip below freezing a handful of days of the year in my area.
I think the main problem with temps for me would be heat. The area in my pics has only partial sun and is well shaded a majority of the day. Only small sections of the area, like maybe 1/4 to 1/3 at a time will be in full sun only for a few hours a day.

Those times are generally in the early and late hours as area is quite well protected overhead from my roof and the angle of the sun as it progresses during the day. The pictures I took above were taken today at 1130 am.
I'm guessing as long as they have a nice little pond and fresh water at all times, they can easily keep cool in hot weather.



Type of Duck:
I would like to get a Hottentot Teal (preferably 2, so it won't be lonely and hopefully make less noise) or maybe 2 Ringed Teals. I'd much rather have the Hottentot Teal, but I honestly could not go wrong with either as far as the look i am going for in my duck. I would probably prefer to have 2 male ducks, but I don't really know much about social behaviour of ducks and whether the pair would be more ideal as female and male. I also don't really want to breed them. I would just like to have 2 ducks that i can love and enjoy.



Loudness:
The first order to resolve is how loud i should expect the ducks to be.

I just registered on this forum yesterday and have been reading and searching threads on here for quite a few hours both days.

I have found several threads on noise and it appears for as quiet a duck as possible, it is best to get a male duck and/or pairs of ducks.

Unfortunately, Ringed Teals and especially Hottentot Teals do not seem exceptionally popular, because for the 10+ threads I read in searches on noise, I did not see them listed when people posted about noisyness.

I checked Youtube hoping for a good audio sample and found maybe 3 or 4 videos with both kinds of duck in total. I believe I was only able to make out the sounds from one of the ringed Teal videos and they didn't seem too loud.

When I did a search for Ringed Teals on this forum, I did find an example of someone mentioning the female sounding like a dying cat at times. Yikes! We have plenty of cats around here, which i will be talking about later.

Of course, I have a beagle, so what possibly can be louder than that? Needless to say, he is an indoor pet, but my ducks would have to be outside.





Building the Habitat:
I forget the exact thread, but it was one where 1lpoock posted pics of an Aviary construction. I went to 1lpoock's website and was very impressed with the Aviary design.

I was thinking of making mine with either wooden posts similar to the ones for our walkway in the back to the garage, which you can see in the pics, although they might be a little big.

I would need to make a roof, because we have old trees all around and limbs occaisionally fall everywhere in the backyard.

In any case, i would like to build an aviary with some similarities to the one on 1lpoock's website about half the size, since that is the space I have to work with.

Another option I am actually leaning towards is pouring concrete all around the corners/framing perimiter area, because if I just dropped wood posts in the ground or those clever flat planks like 1lpoock used to obstruct viewing in and out at the ducks' eye level, it might encourage termites.

The boards on the bottom would be a must for me because there are stray cats and dogs in the neighborhood. Dogs I am not worried about as much, because our house is fenced in on all sides.

However, the front uses metal fencing and cats and toy breed dogs can slip through.

That brings up the problem of preventing them from digging in.

I was thinking of digging down maybe 1.5 to 2 feet and laying down wire or something along those lines to prevent animals like a cat from digging in.
I just don't know if concrete poured around the perimiter would be enough or if i should just lay down wire down below.



Flooring/Grass:
Should i make the floor of the giant duck cage area grass?
I noticed at the zoo they commonly put ducks in with other birds in caged housing, but a majority of the ground in each area is covered entirely with pebbles.
I have read that ducks love to eat everything and fear they might eat pebbles if i went that route. Plus I am not sure if that would be hard on their feet. My guess is it would be compared to grass.
In addition, I still have no earthly clue how the zookeepers clean the area if the ground is all pebbles other than a spray hose. I'm just worried that might be a little unsanitary.
I believe the flooring for the zoo duck exhibits is dirt with a healthy level of small pebbles completely covering the top.
I believe we have St. Augustine grass in most of our yard. If grass is used, is there any particular kind that should be used or does that really matter?



Sleeping Area:
Does each duck require a little nesting place, like a box shelter or tiny roofed shelter inside the caged area?
If so, what would be recommended for nesting material?
I see Hay, sawdust, and other bedding mentioned in the book i am reading, but it only briefly mentions it.




Pool/Pond:
Is Concrete or Plastic recommended? At the Zoo, I noticed they have concrete pools that the ducks swim in. I just wonder if it is safe for their feet.
Lowes and Home Depot sell plastic ponds that you can drop in the ground.
I'd like to get an idea how deep your ponds are. I think the plastic ones at the home improvement stores are about 1 foot, maybe 2.
Again, I am just not really sure where to go on this. Obviously, concrete will cost more and i read in one thread that if concrete is used, a sealant should be used to make cleaning it easier.
Also, I suppose a filtration system would be recommended if I were to go the route of concrete and I would probably want to put one in a plastic one as well just to be safe.
I am not really sure how easy it would be to clean either and would welcome input on that.


Pests:
Since other animals may sometimes come into our yard like a stray cat or dog, do ducks get fleas or would they simply eat them?
We also have bees and wasps. I am not really worried about bees, because they normally are not aggressive and if i were to build the duck palace, I would of course rip out all of that loverly shrubbage that attracts them.
However, are wasps and bees a threat to them? I know they may come to the pond to drink. I have a small bird water bath in the backyard nearby that a lone bee will frequent every now and then.


plants:
I only got a chance to briefly search this, but i would like to have some plants inside for them to be able to hide by and feel safe and possibly even eat or nibble on. Also I know they like to perch on short objects, so maybe a log or two would be good.  Again, my only fear about that is termites. I guess I could use some ornamental rocks for that instead?



Food:
The book i bought recommends the following fresh greens:
lettuce
chard
endive
watercress
dandelion leaves
It recommends putting them in the water trough to keep them fresher and prevent them from spoiling.

Of course I would plan on buying food specifically formulated for them as well, like pellets, etc.

I have also read they enjoy mealworms and night crawlers and i think i saw a website that sells dried ones.



Books:
If there are any recommendations on Books, specifically about Ringed Teals, Hottentots, or just Teals in general, I would love to know.

I did a search on Barnes and Noble and also on Borders and didn't find anything specifically on them, other than small books with pictures of them.

Amazon turned up the same results that i had on the above 2 sites.

I did find a book at Borders called "Storey's Guide to Raising Ducks" and bought it this afternoon.

I hope to find some of these questions answered in there and I am sure more will come up as i read it.



Ok, I think that covers my initial post. I spent 3.5 hours typing this up.

Thanks to everyone for reading and any replying in advance.