[updated counts]

Hi-

We got 25 rainbow layers + 1 rare/exotic + 4 extras.  Don't know why they threw in four extras, but there are 30 chickens, supposed to be all pullets.

Ones, I think I have identified.

Black and white speckles   - Barred Rocks  X9
White with feet feathers - Light Brahma x1
Gold with black mixed in with feet feathers - Buff Brahma x3
Grey with feet feathers - Dark Brahma x1
Brownish with black or blackish with brown x9 - Easter Eggers?

Ones I am not sure of:
Black on top speckling to white breast and belly x1
All white - White Rock? Leghorn? x2
One of the likely easter eggers might be a roo.
Gold no feet feathers x2
All black no feet feathers x2

So, I am going to start with "Is this a Roo?"

It has the color I am presuming to be easter egger, but it is the only one with dark feet and legs and has the extended tail.

Just above the white in this picture.



Centered in this pic.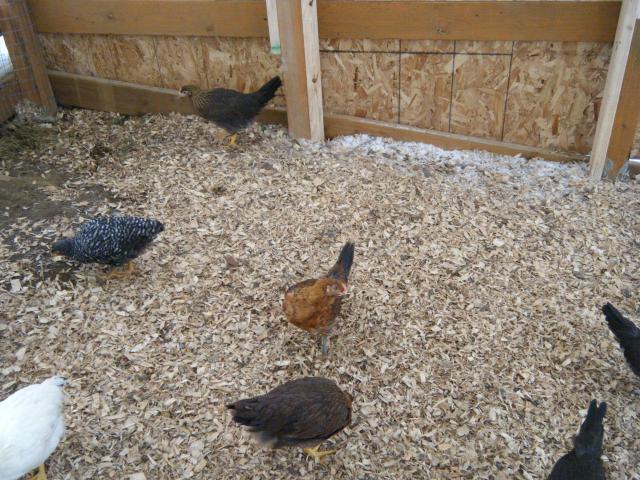 Thanks
Edited by Donner - 11/24/10 at 8:29pm
1 EE Cockerel; 4 Brown Leghorns; 3 Brown???; 9 Barred Rocks;
3 Buff Brahma; 1 Light Brahma; 1 Dark Brahma
1 Black unknown; 1 Black Minorca; 2 White Delaware; 2 Buff Minorca; 1 Ancona
1 EE Cockerel; 4 Brown Leghorns; 3 Brown???; 9 Barred Rocks;
3 Buff Brahma; 1 Light Brahma; 1 Dark Brahma
1 Black unknown; 1 Black Minorca; 2 White Delaware; 2 Buff Minorca; 1 Ancona