EclipseHerd
As some of you may know, the SkyHerd thread once had a unicorn RP on it. Due to its popularity I'm bringing it back, with a few changes to make it more interesting, of course.
----
EclipseHerd is a fairly civilized herd of unicorns, made famous by the wise third lead stallion of the herd, Damon. It is located high in the skies in an alternate land, filled with flora and fauna. The land is eternally spring, therefore trees and flowers are often blossoming and the weather is mild. There are many pools in EclipseHerd, that the unicorns use to watch over the mortal herds. In Earth herd lore, it is said that the unicorns are the ones who control the weather, although they have never seen one their selves. This is true, along with the fact foals who die shortly after birth will be reincarnated as a unicorn.
Although Damon passed through the spirit realm long ago, his offspring still roam the land. One of his granddaughters, Fylliona to be exact, founded Urbem Aurum, a city not far from EclipseHerd that is constructed entirely out of gold. Since then, many have migrated there to seek new opportunities, although quite a few have still remained at EclipseHerd for generations.
----
Gifts
Each unicorn is born with a gift, a power ranging anywhere from being able to fly to controlling fauna. Along with this, leaders are able to transform into a dragon-like beast for up to an hour while fighting. All unicorns are born with the power to levitate, control magic, pass through the mortal realm, and to see through pools.
----
Plot
The land has been ravaged by a terrible being. Unicorns, both young and elderly, have been dropping dead and disappearing without a trace. No one has much of a clue about what has been happening.
It has been suggested that the madman, or rather group of cold blooded killers, are from an alternate universe that had been opened up previously to banish unicorns that were deemed to be dark.
Behavior such as stealing mares, fighting against or killing stallions, and many more actions that the Earth herds the unicorns watch over exhibit would be considered taboo behavior. Those who commit such things are deeply frowned upon, and even shunned. Unicorns are to be taught at an early age that they are a more civilized breed of beasts. Either way, if these do happen to be the dark unicorns that happened to make their way through their realm, their behavior would most likely match those of Earth horse, therefore earning them the rights to be looked down upon.
Rules
* All BYC rules apply
* Keep things at a PG-13 level at the most.
* Be realistic. Just because we're controlling unicorns, it doesn't mean that all senses of realism have been eliminated. For instance, you cannot be impossibly strong, you cannot instant kill, a young foal cannot take over, etc.
* Only one blow per post when fighting.
* NO MARY-SUES (characters that are impossibly perfect inside and out). I cannot stress how irritating it is to roleplay with a bunch of flawless characters. They have the personality of a piece of cardboard. Therefore, all I'm saying is to be creative.
* Have a nice time. Remember, this is just a game.
----
Ranks of EclipseHerd
*Lead Stallion
*Lead Mare
*Elders
*Medic
*Mares (all are mothers and are rarely ever accepted as guards)
*Stallions (all are guards unless injured or disabled, and usually do not have mates unless they please the lead stallion.)
*Foals (unicorns under the age of two)
----
Ranks of Urbem Aurum
*Matriarch (a female ruler)
*Favorite (the Matriarch's companion, usually a stallion, and occasionally serving as a mate)
*Infantas/Infantes (like a prince or princess. They are usually the Matriarch's sons - being the Infante - or daughters - being the Infanta - though they can be from another kingdom)
*Royal Council (highly decorated citizens of Urbem Aurum, whose opinions are deeply valued. They act as the Matriarch's court and meet with her every now and then. Like her, the Infantas and Infantes, they are considered royalty. There can be up to five of these)
*Doctors (up to three of these are allowed, and each are allowed to have an apprentice)
*Soldiers (when not deployed during wars, they either live as citizens or guards)
*Commoners (common folk of Urbem Aurum, who make up most of the population. They must work for a living at the marketplace or by owning a shop)
*Mentors (they teach the foals until they are three years of age)
*Foals (unicorns under three years of age)
----
Joining Forms
Username:
Name of Unicorn:
Gender:
Personality:
Appearance:
Age*:
Rank:
Gift:
Herd:
History (optional)
Other:
*Unicorns live up to 40 years, on average
----

Members of EclipseHerd
Lead Stallion:
Username: Zinnia-Hen
Name of Unicorn: Ailanii
Gender: Male
Personality: Although very protective of his herd, especially with the mares, he is fairly wise and gentle. When needed he will stand his ground. Ailanii can often be found near a pool of water, as he is also quite protective of the mortal herds. Occasionally pushy.
Appearance: A glossy bay stallion, with a long, wavy black mane and lion-like tail, as well as the beard of a goat. Each of his legs has a black stocking, and by the hooves are white socks. His pearly white horn loosely spirals around itself, showing off open gaps.
Age*: 12
Rank: Lead Stallion
Gift: Shape shifting into either a swallow, beluga, or a smaller bear.
Herd: EclipseHerd
History (optional): Ailanii's past remains uneventful. His mother was a simple herd mare, while his father was the lead stallion. It wasn't until his father left while Ailanii was out of the herd that he became the lead stallion.
Other: N/A
Lead Mare:
Username: Jallny
Name of Unicorn: Aurora
Gender: F
Personality: Very kind and gentle, but a strong fighter. Would do anything for her herd.
Appearance: A Bay mare. She is mostly dark brown, her mane, stockings, and tail are black. She has a white dot in between her eyes. She has a golden horn that is a little crooked.
Age*: 11
Rank: Lead mare
Gift: She can make plants grow at will.
Herd: Eclipseherd
History (optional) N/A
Other: N/A
Elders:
Medic:
Username: LittleLady98
Name of Unicorn: Eron
Gender: M
Personality: Kind, caring, peaceful.
Appearance: Solid black, blue eyes. 
Age*: 13
Rank: Medic
Gift: Can fly
History (optional): Doesn't like to talk about it.
Mares:
Username: singingchickenmomma
Name of Unicorn: Jaduen
Gender: F
Personality: Very sweet and nice, although she can be very mean at times
Appearance: Jet black unicorn with startling grey eyes, her black mane streaked with blue
Age*: 9
Rank: Mare
Gift: Can control elements (fire, water, earth, and air)
Herd: EclipseHerd
History (optional): N/A
Other: Kinda likes Eron
Username:  BirdNut
Name of Unicorn: Callisto
Gender: Female
Personality: Shy and timid at first, but warm and friendly when familiar with you. She enjoys company but does not seek it because her history has made her fear other horses.
Appearance: Pristine white with cerulean and rosy pink streaks in her luxuriously long and wavy mane and tail. There is a faint gray wing-shaped marking etched just below her withers, from which alabaster wings with cerulean and pink-patterned flight feathers grow. Her long, twisted, spear-like horn is gold.
Age*: 12
Rank: Mare
Gift: The rare ability to sprout enormous wings from wing markings just below her withers. She has only recently started learning to control them to her advantage, and they still often appear involuntarily when she is experiencing any extreme negative emotions such as sorrow, fear, or rage.
Herd: Eclipseherd
History:  Long story short, she was banished from an old Unicorn herd for being interpreted as a liar and an obsessive attention hog.
Other: By her nature, Callisto still desires more for her life than being merely just another mare, but no longer strives for it in fear of being hated again for trying.
Stallions:
Foals:
----
Members of Urbem Aurum
Matriarch:
Username: Zinnia-Hen
Name of Unicorn: Helena
Gender: Female
Personality: A strong leader, who can sometimes be a bit of a tyrant at times. Although fairly wise for her age, she is snobby and does tend to judge others.
Appearance: Her skin is of iridescent lavender, and her waved mane and tail are pearl-white. Helena's body type is much like an Arabian's. Her feet are also lightly feathered, and her horn is of average length.
Age*: 3
Rank: Matriarch
Gift: Telekinesis
Herd: Urbem Aurum
History: She was born Fylliona's favorite Infanta, and was the first heir to the throne after her mother passed into the spirit realm.
Other: N/A
Favorite:
Username: LittleLady98
Name of Unicorn: Anaru
Gender: M
Personality: Kind, brave, fearless, caring.
Appearance: His coat is a beautiful golden brown with rich black feathering on his legs, and his muzzle is the same rich black. His eyes are a startling blue.
Age*: 9
Rank: Favorite
Gift: Can control life
Herd: Urbem Aurum
History (optional): Was born and raised in Urbem Aurum.
Other: N/A
Infantas/Infantes:
Username: Zinnia-Hen
Name of Unicorn: Artemis
Gender: Female
Personality: A brave mare, and Fyllonia's second eldest daughter. She enjoys spending her time in the forest with the wildlife, rendering her fairly anti-social at times. She dislikes her half sister, Helena, and often claims she should have been the Matriarch after her mother died, as she was the oldest surviving child of Fyllonia.
Appearance: A blue-tinted white mare with a strong, curving stature. Silver armor with a misty blue aura swirling from it plates her chest and legs.
Age*: 16
Rank: Infanta
Gift: To conjure up animals to fight at her side in battles.
Herd: Urbem Aurum
History (optional): Born and raised in Urbem Aurum normally.
Other: N/A
Username: Zinnia-Hen
Name of Unicorn: Ioannis
Gender: Male
Personality: He seems to have taken his personality from his mother. He is stubborn and strong, as well as a good leader. Ioannis does, however, get into brawls because of his attitude.
Appearance: The stallion towers at 18 hands high, and his sleek dappled, periwinkle-tinted coat is rippling with muscles. His mane flows down low into lovely white locks, and his tail drags lightly against the ground. Despite being built like a draft horse, he still has an elegant, Arabian-like neck and head. Ioannis' horn is like his father's; several sticks of crystal poking through his forehead.
Age*: 10
Rank: Infante
Gift: White magic. He can summon basic spells for good, but he cannot use them while fighting against another unicorn.
Herd: Urbem Aurum
History (optional): He was born and raised in Urbem Aurum normally, receiving a full education.
Other: He would have taken over, but Fyllonia wanted the heir to the throne to be a mare.
Username: Zinnia-Hen
Name of Unicorn: Acacia
Gender: Female
Personality: Very shy and quiet, as well as easily offended and sensitive. She trusts very few. Aside from this, she has been getting a good education and has advanced ahead quite a few unicorns her age. This does, however, get her teased a bit.
Appearance: A leggy, iridescent white yearling with a short, wispy mare and tail. Her horn and hooves are of sparkling ocean blue.
Age*: 1
Rank: Infanta
Gift: Telekinesis.
Herd: Urbem Aurum.
History (optional): Fylliona's last daughter, as well as Helena's and Ionnis' full sister and Artemis' half sister. She barely knew her mother, who died during childbirth due to the fact she was an older mare. Therefore, Gaia, a mentor, took her under her wing to raise her. Although this was frowned upon by some of the royal council, it was quickly gotten over once Acacia accepted Gaia as her new mother.
Other: Enjoys reading.
Royal Council: (Open)
Doctors:
Username: chickendiva25
Name of Unicorn: Eithne (Pronounced En-ya)
Gender: Female
Personality: Eithne is a total extrovert, being always in a bright cheerful mood. She loves to be around other unicorns, and hates the feeling of being totally alone. Always willing to help.
Appearance: Eithne has a slender body that is very similar to a Morgan's. Her skin is a very, very light sea green, as are her wispy tail and mane. She has the typical tail of a unicorn (long and thin like a lions), and a small, almost non-existent beard on her chin.
Age*: 4
Rank: Doctor
Gift: She can heal somewhat small wounds by touching them, but not anything big and nothing fatal.
Herd: Urbem Aurum
History (optional) Born and raised in Urbem Aurum.
Other: N/A
Soldiers:
Username: Broken
Name of Unicorn: Shakti
Gender: Stallion
Personality: Shakti is a rather dark and quiet unicorn, never really getting in on a conversation or discussion but rather eavesdropping and putting in his two-cents when he sees fit which is not often. Shakti despises crowds, he avoids them at all costs. However if you pull him out of his shell, which is even rarer then him being spotted at the market, then he becomes a rather wise and caring young stallion.
Appearance: Shakti is Arabian like in appearance, though his body is a bit thicker and his head is slightly less dished. Shakti's coloration mostly consists of a black so dark that he seems to reflect no light at all. Some of his most noticeable features are his small goatee at the edge of his chin and his tail, long and wiry in appearance with a long tuft of his murky black fur at the end.
Age: 4
Rank: Soldier/Guard
Gift: The ability to breathe and control fire. 
Herd: Urbem Aurum
History: N/A
Other: N/A
Commoners:
Username: Singingchickenmomma
Name of Unicorn: Cassiopeia
Gender: F
Personality: Is very sullen and despair ridden. Her gaze is constantly haunted by a terrifying backshadow, as if she's seeing painful memories flash before her own eyes every moment of the day. Sees nothing beyond the negative qualities of herself, cannot see the bad qualities in others, and cannot seem to see her inner self.
Appearance:
Age*: 14
Rank: Commoner
Gift: Her gift was taken from her; but it was to fly
Herd: Urbem Aurum
History (optional): She lived 8,000 feet closer to the sky. Above the clouds, watching the world go by. She was the only daughter born to the pegasus kingdom in a long line of stallions. She would fly down to the real world on the first day, when the earth comes to life again, of spring, when its beauty came to save the world from a scornful winter. She loved to see the 'regular' horses find the world again. No better than a ghost, hardly there, she'd watch the horses explore the land they'd lost in the terrible winter storms. But one day, she'd fallen in love with a regular stallion. Her father was furious, and destroyed him. He stripped her of her wings and flight ability, and sent her plummeting to the earth. She awoke, and was simply a unicorn. Starving and cold, she traveled far, looking for someone to help her. But every time they'd take the halter, she'd flee in terror. No one could tame her, so they tried to exterminate her. Let this be her destiny, to be forgotten from the world forever. Luckily, she survived, and scaled mountain ranges and managed to cross raging rivers despite that biting hunger inside her. She tried to eat grass and plants, but her father poisoned them as soon as she lowered her head. Starving and cold, every night she'd find an unprotected place to sleep, unable to find a protected one that her father hadn't sealed away from her, or sent predators there, to give way to another dizzying night of restless sleep, laying exposed to the world. That's when she found the Urbem Aurum. Now she has to find a mate to rediscover her wings, and rediscover herself.
Other: Likes Anaru, but wants to get to know him better
Username: Zinnia-Hen
Name of Unicorn: Nazarr
Gender: Male
Personality: Quiet and easy going, not the type to get himself into a brawl.
Appearance: Resembles a Suffolk Punch, with large, heavy features. His coat is of cremello, and he possesses dark blue spots on his rump. His plate-sized hooves are of the same color, as is his horn. Nazarr's tail is neatly bobbed, and his mane is kept fairly long, each intertwined with glittering hairs.
Age*: 29
Rank: Commoner
Gift: Endurance.
Herd: Urbem Aurum.
History (optional): Born on the outskirts of Urbem Aurum's land.
Other: Nazarr owns a produce farm out on the countryside, and can often be found at the marketplace selling his goods when not at work.
Username: Zinnia-Hen
Name of Unicorn: Zhenya
Gender: Male
Personality: A huge flirt with the mares, although this sometimes gets him frowned upon by others. Nonetheless, he is a hard worker who has won his father's trust.
Appearance: Giant, towering at about 19 hands high. Built strong like his father, Nazarr, and has a slick, pure cremello coat. Zhenya has a long, flowing mane and tail.
Age*: 9
Rank: Commoner.
Gift: Strength.
Herd: Urbem Aurum.
History (optional): Born in Urbem Aurum, and raised normally by his parents.
Other: He has been pressured to become a soldier like his brother, but he says he would rather not. His farm is his life.
Mentors:
Foals:
----
Maps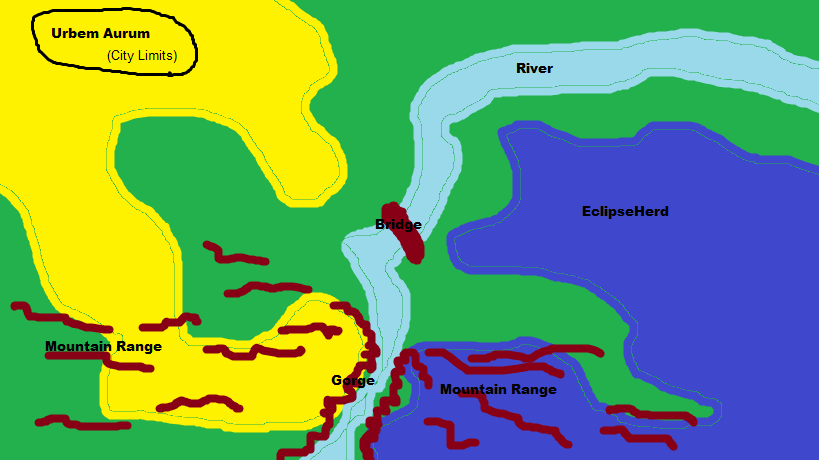 ----
Creatures of the Land:
It is to be noted that unicorns aren't the only beings who roam the land. Due to the realm's fertile soil, and ample amounts of natural resources, many other beasts can live peacefully among them.
*Finches: An assortment of small birds can be found all around.
*Swans: These tend to stick to the shore of the river and by ponds.
*White wolves: Unlike earth wolves, white wolves are gentle beasts who do not prey upon creatures more itelligent and much larger than they. These tend to stick to the gorge where the temperatures are much cooler.
*Dodo birds: Believe it or not, these exist with the unicorns. They aren't very smart, and tend to be the prey of white wolves. They reside by the rocky cliffs of the gorge.
*Wyverns: Small, two-legged dragons who live in higher elevations. The only predator of the unicorns, although it isn't everyday they get to eat one.
*Cockatrice: A small two-legged dragon with a chicken's head. Unlike the Wyverns, they're friendly.
*Leopards: Like the white wolves, leopards of the area stick to preying upon smaller, dumber animals. They aren't incredibly uncommon in the lowlands.
*Foxes: Just your usual foxes. They live all over and tend to be peaceful around those larger than them.
*Stags: The deers of the land come in many colors and sizes, although the ones who span from the territories of the unicorns to the mountain range to the south are small spotted creatures, the bucks equipped with antlers.
*Rodents (rabbits, mice, moles, guinea pigs, squirrels & chipmunks): These little guys are all over, and prefer to make themselves comfortable in underground burrows or in trees. Unforunately, they are often attacked and eaten by the predators.
*Koi fish: Said to have spiritual qualities, and therefore left untouched. Several pools have amples amounts of koi, as well as the river going through the area.
*Faunnes: The only humanoids in the realm. They have the bodies of deer, and the torso up of an elf. Each sexes have antlers, the male's generally larger. Unicorns rarely ever encounter the Faunnes, as they reside upon the other side of the mountain range. Little is known about the Faunnes due to their shy attitudes.
*Black bears: Small bears, who tend to stick to a diet of fruit. Unlike Earth bears, they tend to be very outgoing if left unthreatened.
*Unicorns may also take the form of other species of equine, most commonly as donkeys. Qilin, the Chinese unicorn, and Pegasi (who are never seen) also exist.
----
Edited by Zinnia-Hen - 6/13/12 at 7:52pm
If at first you don't succeed, skydiving is not for you.
If at first you don't succeed, skydiving is not for you.