Friday's always a busy day for the BigGuy - especially when it's payday too. Laundry and a lot of shopping. I like the wife to come home to a house that smells of great food cooking and NO MESS to see... I'm still in training on the "no mess to see part" LOL...

Here's an easy and oh so delicious twist on the traditional corned beef dinner... Prep time is a whopping 15 minutes. From the shopping bag to the table in 3 hours (most of which you can devote to smoking a salamone).

Mis en Place

1 large baking bag (turkey size)
1 2 1/2 to 3 lb. corn beef, rinsed
2 tbls dijon mustard
2 tbls Herbs de Provence
1 Tbls fresh cracked black pepper

1 small head green cabbage quartered
2 medium onions quartered (with yellow skin on !!)
3 carrots, peeled and sliced down their length
1 pippin apple cut in 6 slices (round)
1 orange cut in 6 slices (round, skin on)

Preparation:

Preheat oven to 325. Rinse corned beef and place on cutting board. With serrated knife cut across fat cap in  one inch intervals at an angle. Turn beef and repeat so you have a criss cross pattern cut into fat cap. Now rub on dijon mustard, getting it into the cuts. GENEROUSLY apply fresh cracked black pepper and Herbs de Provence and rub into cuts. Set aside. Open oven bag and place the slice carrots and quartered onions on bottom. Place the corned beef on this (it will act as a raft of vegetables keeping meat off bottom of pan). Place quartered cabbage two on each side of corned beef, now apply orange slices on top of corned beef, then place apple slices on top of cabbage quarters. Place 1 cup chardonnay inside bag, twist bag shut and seal with supplied twisty. Place bag in 13 x 9 inch roasting pan and punch six very small holes in bag (about 1/2 inch each) to release steam. Roast in 325 oven for 2 1/2 to 3 hours. Remove from oven and let rest 15 minutes before opening bag, let rest another 5 minutes before slicing meat on the bias thinly. Discard orange and apple slices. The vegetables taste so good roasted with the meat.

Serve with supplied Sicilian Potato Salad recipe and enjoy.

Please be sure to save the juices in the bag as you can make the most awesome bean soup with this stuff... Also use leftover corned beef and Sicilian Potato Salad for PASTIES (recipe coming soon), these are also known as meat hand pies... OK Gavones, get busy !!!


corned beef BEFORE roasting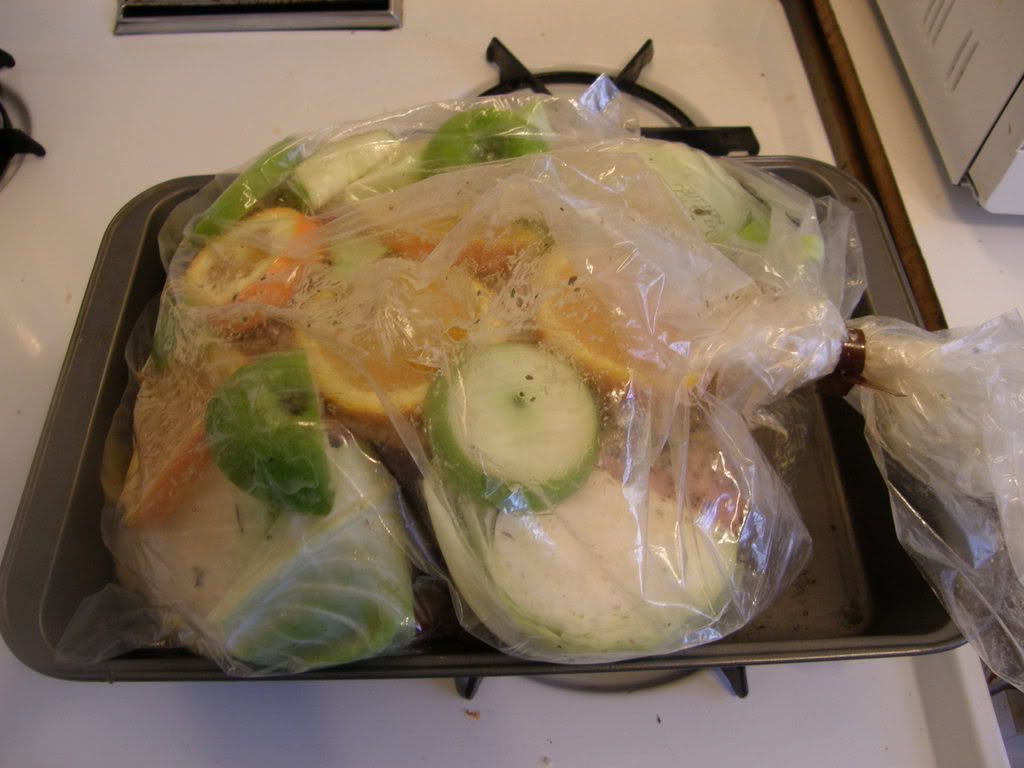 ------------------------------------------
Horseradish Sauce:

1/4 cup sour cream
3 Tbls. prepared horseradish
1 Tbls. coarse Dijon mustard
pinch Salt and Pepper

Combine all ingredients in a small bowl 1/2 hour before service time - serve with corned beef. Delicious...

--------------------------------------------

Sicilian "Potato Salad"

Mis en Place:
3 lb. red potatoes, cut in small chunks
3 Tbls. chopped garlic
1 cup finely chopped flat leaf parsley
juice and zest of one lemon
1/2 cup EVO
1/2 tsp. red pepper flake

Place potatoes in pot of salted water and cook about 15 - 20 minutes until fork tender. Drain and place in medium bowl, while still hot season generously with salt and fresh cracked pepper. Add garlic, parsley, lemon juice, EVO and red pepper flake. Stir until well coated with all. Serve warm. Makes amazing leftover fried potatoes for breakfast !!
Baking Bag Dinnner W/Sicilian "Potato Salad"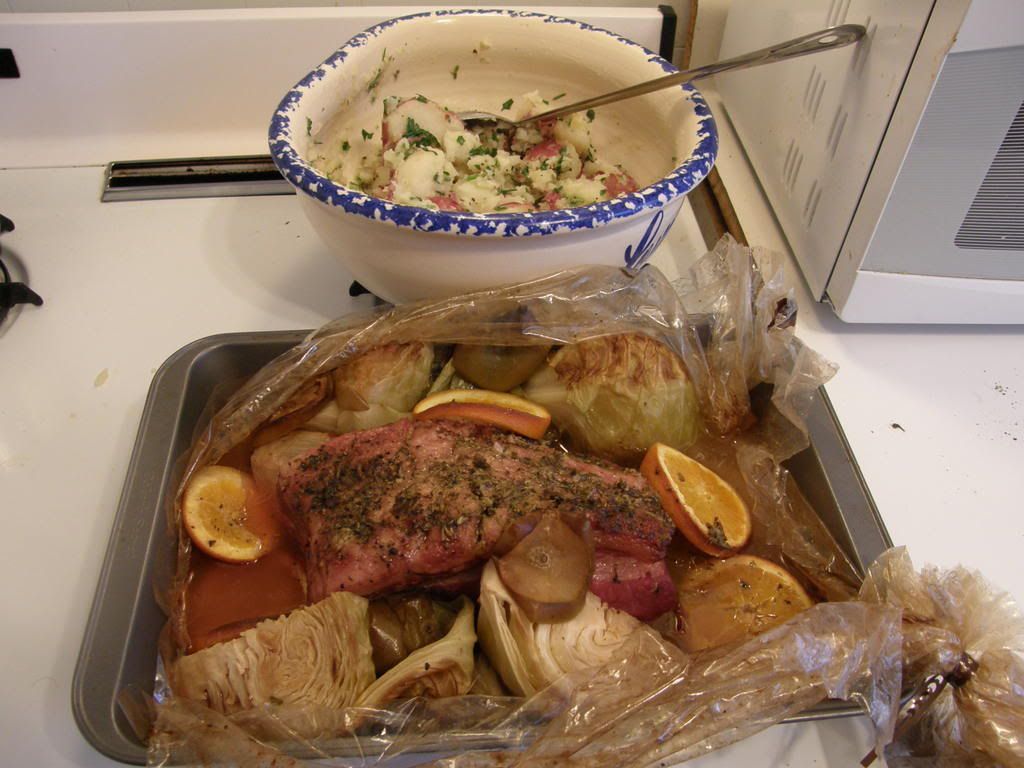 A special meal for a special day: A year ago today I knew I was in love with my sweetheart (now wife) but was too shy to tell her, I didn't want it to sound trite..."
So, a Special Meal to commerate a Special Day.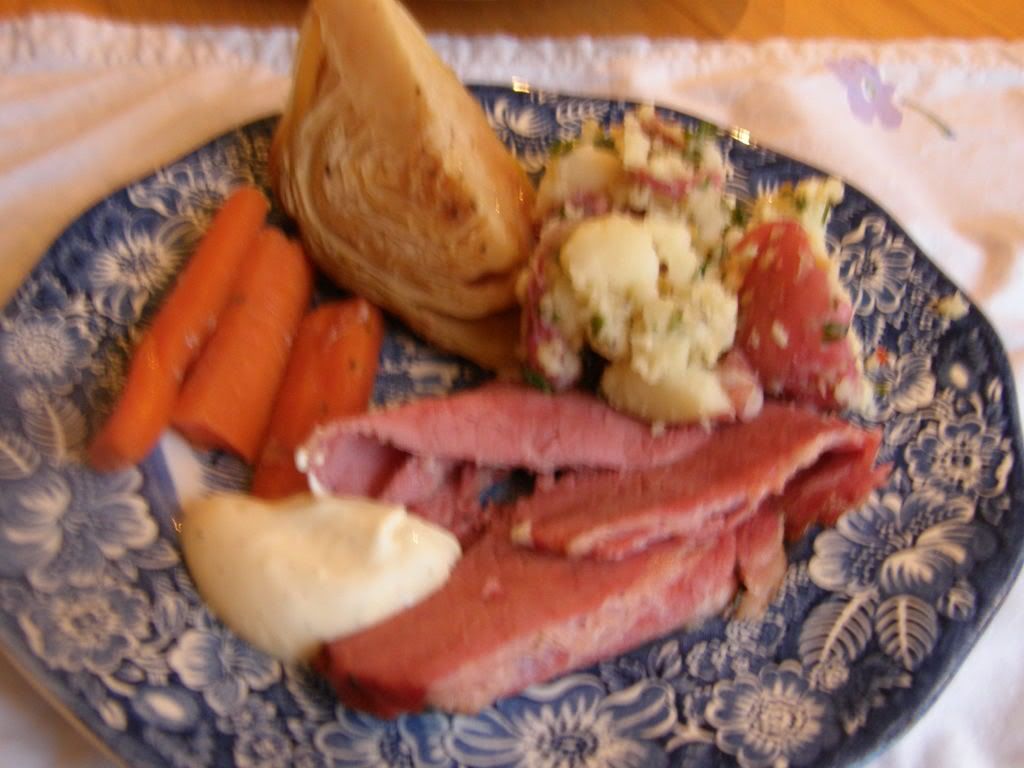 Edited by bigmike&nan - 11/1/10 at 9:20am
Do not be afraid nor dismayed because of this great multitude,
for the battle is not yours, but Gods. 2 Chronicles 20:15
Do not be afraid nor dismayed because of this great multitude,
for the battle is not yours, but Gods. 2 Chronicles 20:15