I have a flock of 19 hens and 2 roosters....they sleep in an 8x8 coop and spend the days out in a fenced half acre yard. The 'head roo' is my black Jersey Giant who is about 10-11 months old. The other roo is my Rhode Island Red (RIR) who is about 9 months old. They have lived together peacefully since summer.....both were fine with me. RIR roo is a scaredy cat with people, no aggression at all. Jersey Giant roo used to be fine and has gotten slowly more and more aggressive. He has flogged strangers multiple times but usually left me alone. He flogged me once or twice but I always punted him afterwards and he would learn his lesson.

Except yesterday when he repeatedly flogged and spurred me over and over. I have punctures on my left leg as well as a big bruise from where his body slammed into my leg (he is a jersey giant so is huge). I kicked him repeatedly, whacked him with the empty waterer on a rope I was carrying, repeatedly....finally had to get a 2x4 and use it like a baseball bat REPEATEDLY to get him to finally back off.

Obviously he is going to be gone within the week. I don't process my own, so have offered him to anyone who wants a nice meal.

So that was yesterday.

Today I get home and the jersey Giant rooster and the RIR rooster are fighting in the back yard. Straight on cockfight, dancing and jumping at each other and just straight up knockout throwdown fighting. I went out to break it up and found them both pretty bloodied. The red was obviously losing.....he was much more bloodied and was panting and exhausted....wings hanging down and just getting whooped. Here is his "good side", the other side was more blood than comb.....you can see the feathers on his head sticking up weird, they were blood soaked as well.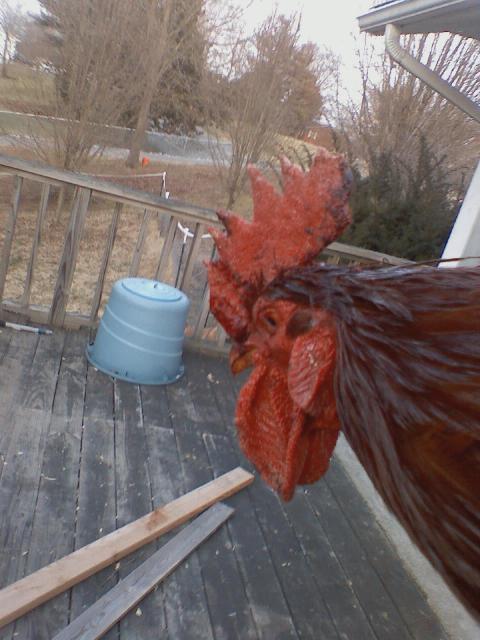 I took the red rooster out of the coop, only because he was the more badly injured of the two. Tomorrow I will get the Jersey Giant roo and stick him in a big dog crate to live until he gets culled....and I figure I will be able to put the red roo back out with the flock....I think he just needs to rest and recuperate.

My question is this......why did the jersey giant rooster get so aggressive so suddenly. I have had some minor aggression issues with him before but it is like a switch was flipped this weekened....the weather just got warm again (it was 60 today) after a long really cold spell....is "spring in the air" and hormones raging?

I have a replacement rooster already.....a blue barred rock that I bought recently. He is only a couple months old, but I wonder if this may be the best time to introduce him....with the Jersey out of the pecking order....

Any ideas?
NPIP #63-390 - Large Fowl New Hampshires - Lionhead Rabbits - Netherland Dwarf Rabbits - Skinny Pigs - Texel Guinea Pigs - Silkie Guinea Pigs
For Sale: German New Hampshire Trio
For Sale: Silkie Guinea Pigs
NPIP #63-390 - Large Fowl New Hampshires - Lionhead Rabbits - Netherland Dwarf Rabbits - Skinny Pigs - Texel Guinea Pigs - Silkie Guinea Pigs
For Sale: German New Hampshire Trio
For Sale: Silkie Guinea Pigs