Today I found one of my BO hens dead in the coop, huddled under the ramp up to the roosting area.

For the past three months shed been struggling with a breathing problem that antibiotics werent helping, and I knew it was only a matter of time before she died. So when she did, I wanted to do an autopsy on her to find out what exactly happened to her, so that I could make sure the health of the rest of my flock was not in danger.

It was both very hard (emotionally) and interesting at the same time, and I thought Id post my findings here to help others who want to be prepared to do this on their own chicken if the need should arise.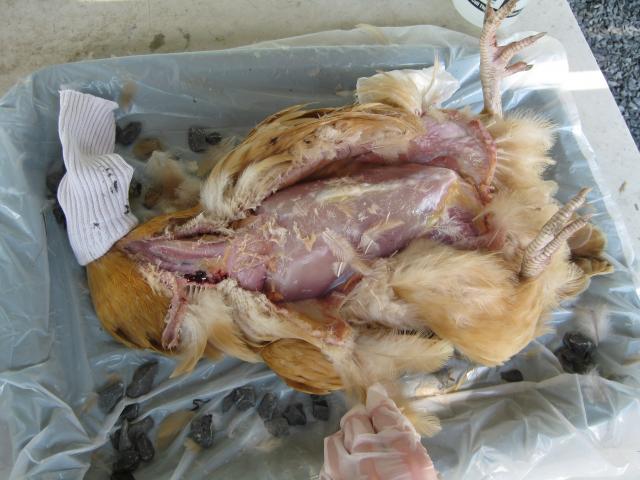 Here she is with the top layer of skin removed. From here I can see she was a good solid weightnot starved by any means. This would make sense, since even when she was sick she ate voraciously.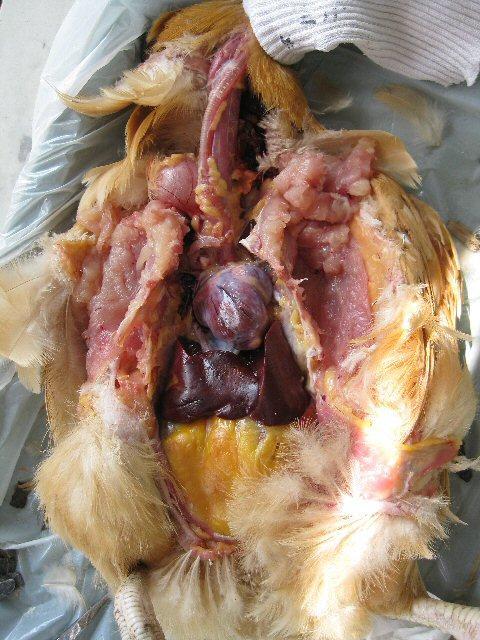 This is after I removed the sternum and began cutting away the ribs. This was by far the hardest part, and I wish I had a pair of strong shears to use for this stage.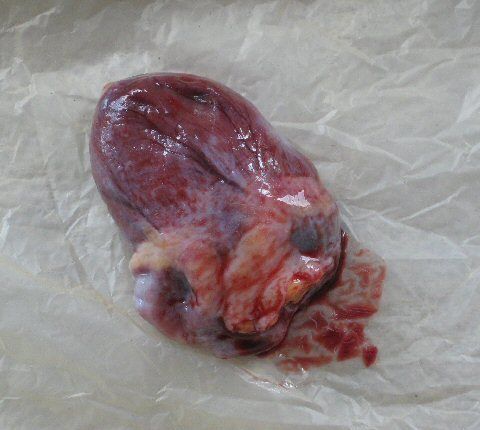 Her heart seems to be in good condition, but I would love input on this. There was some yellow fatty tissue around the heart, but nothing substantial.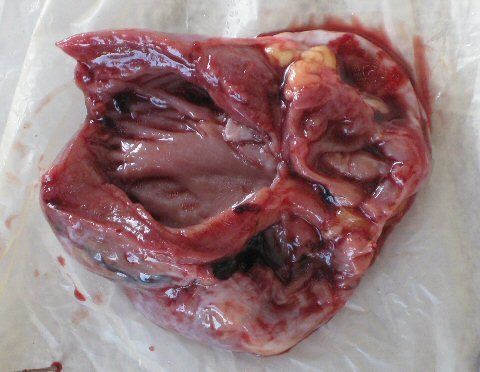 This is the inside of the heart. The ventricles look clear, but one of the atriums was full of clotted blood. Is this abnormal to find in a dead chicken?




A closer picture of the clot that came out of her heart.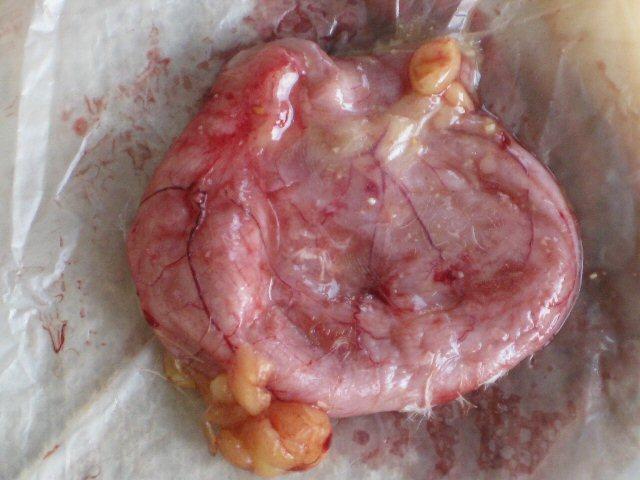 I took her crop out next, and it was somewhat higher on the neck than Id expected.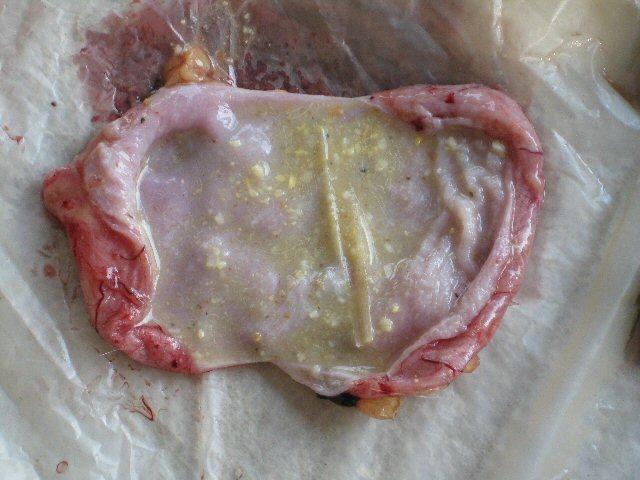 This is the inside of her crop. I suspect she died early this morning, as she was alive when I put her to bed and she appears not to have eaten much yet at her time of death.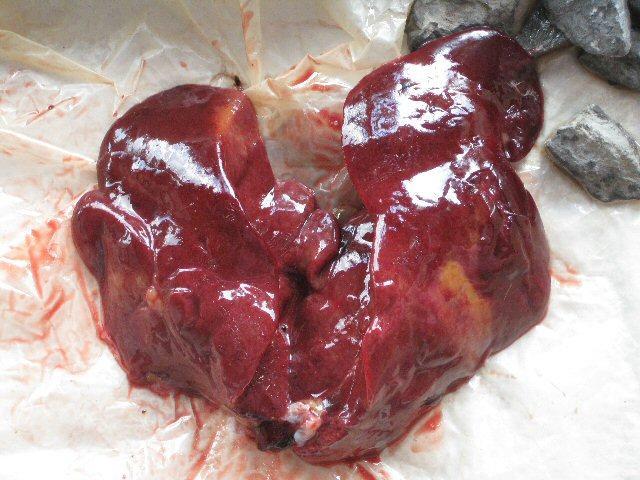 Now this is an interesting part. This is her liver, which appears normal on initial inspection.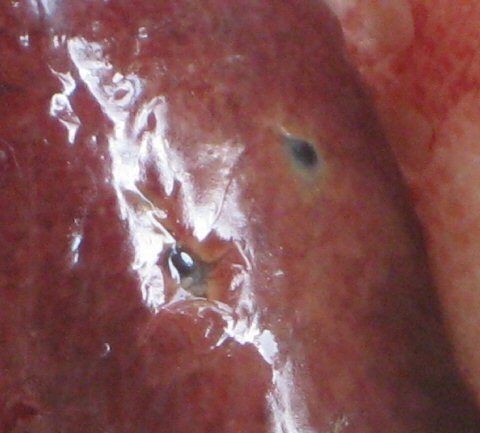 However, I found some suspicious looking dots on the outside of one of the lobes.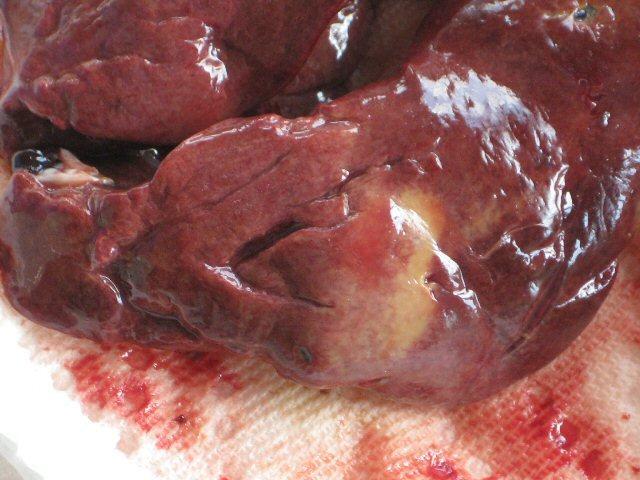 I also found some yellowish discoloration to the outside of one of the lobes. Not sure if this is normal or not. Im guessing there was something going on with her liver.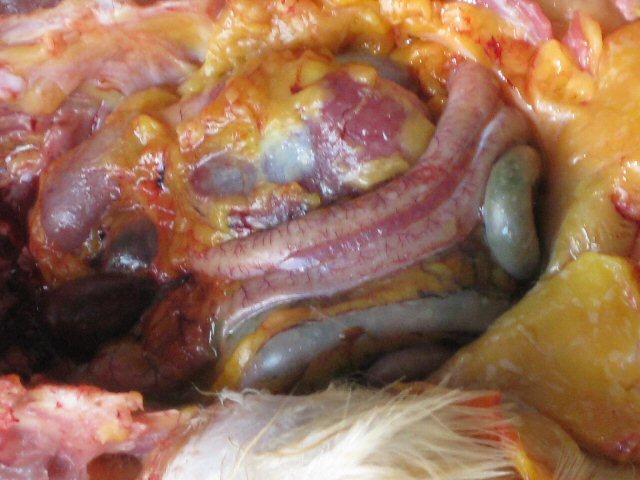 At this point I opened the abdomen, having removed most of the chest organs.




This is her gizzard. I was surprised at how hard it was, but not so much when I actually saw what was inside!




It looks like she had a full meal last night. It was neat seeing what kind of rocks were being used in her gizzard.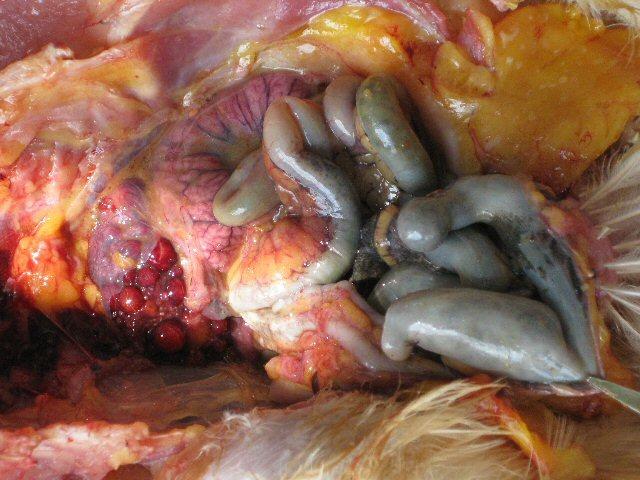 This is a picture of her abdomen at this point.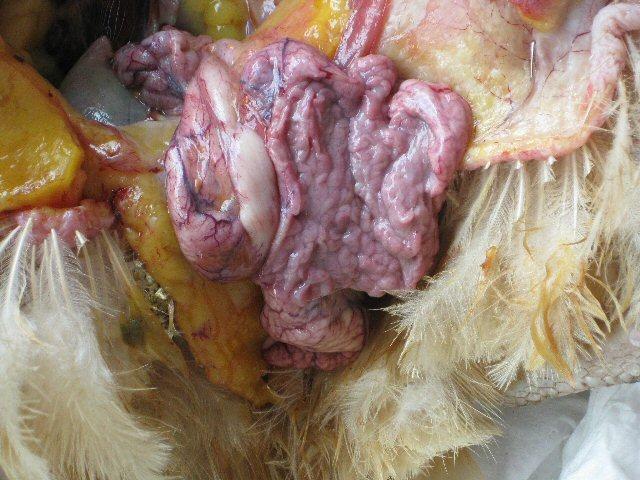 I slit open a section of the oviduct, and the tissue looks healthy. She had no egg in her oviduct, which is comforting. She hasnt laid an egg in a long, long time.




This is a close-up of the ovaries. Its rather strange looking, but I think this is normal for a chicken. Again, looks like she hasnt been producing any eggs.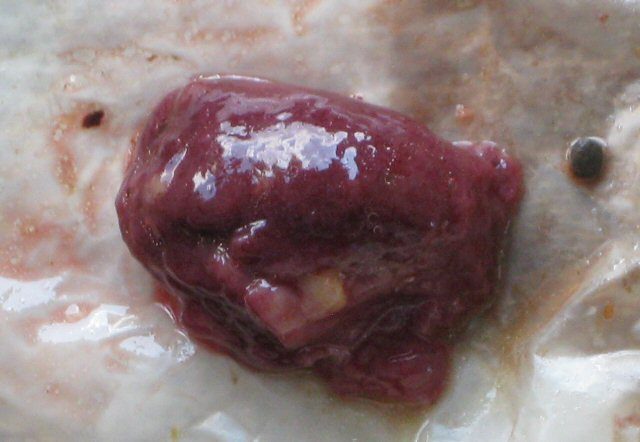 This is the outside of the . . . err, I think right kidney.




This is the inside. It was surprisingly soft. Otherwise appears healthy I think.




At this point I was finally able to reach the lungs. This was the part I was most anxious to reach to see if anything was wrong with her airways or whether her lungs were the culprit. This is half (lengthwise) of one lung.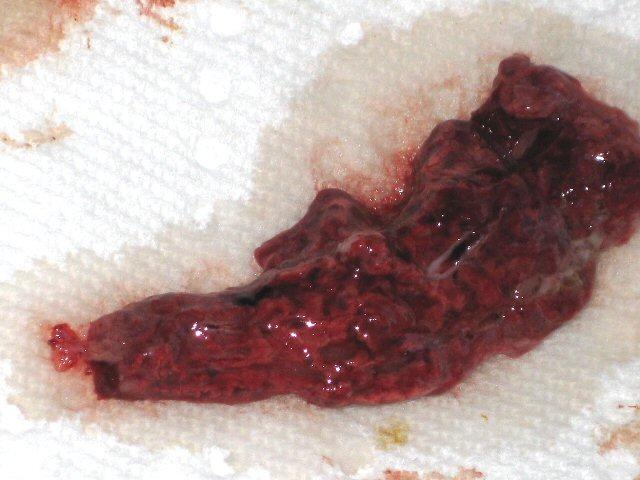 Inside of one of the lungs. See that strange discoloration in the middle? I once saw a lung from a sheep with pneumonia, and this looks like a mild version of that. Perhaps her previous infection damaged her lungs permanently?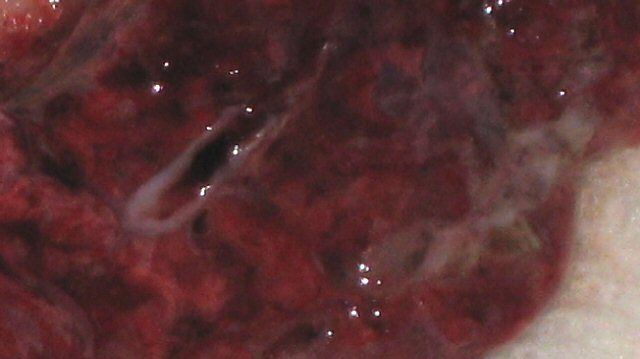 This is a close up of the strange white spots.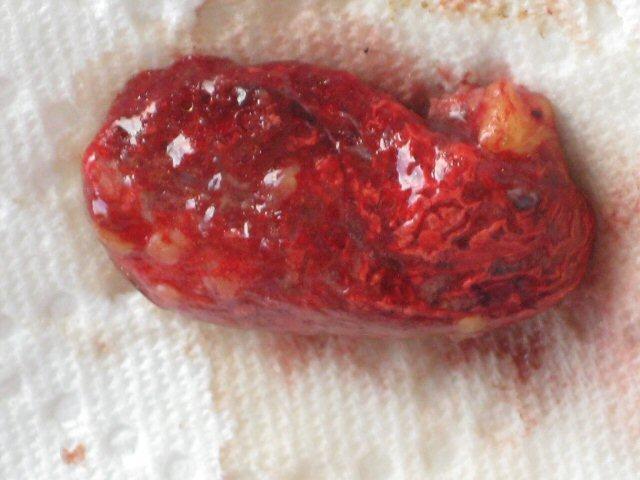 This is the outside of one of the lungs. It appears to have some fatty tissue actually attached to the lung. Not sure if this is normal.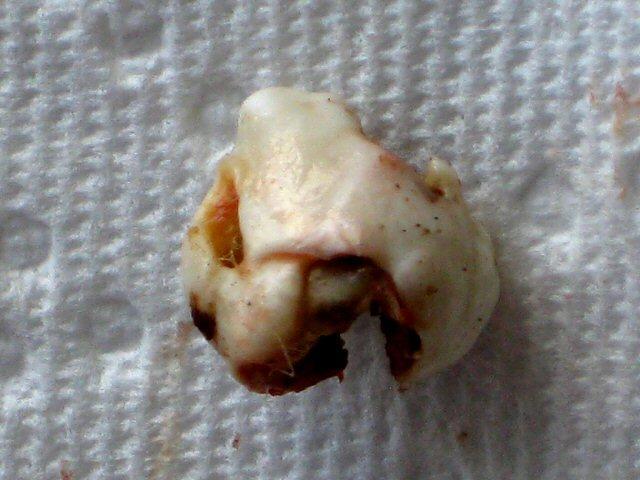 Okay, now for the interesting bit. Inside her chest, I found one nearly free-floating growth-like object near her trachea. This is what it looked like cleaned-up. It felt rock-hard and I wonder if this had been pressing against her trachea, thats why she was gasping so much.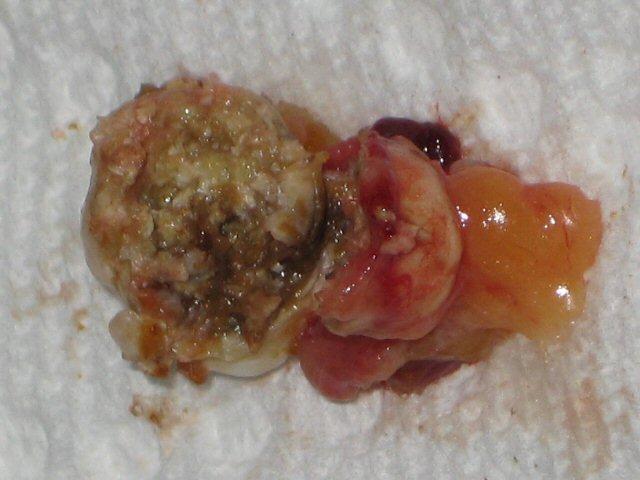 This is the inside of the growth. It looks like hard-packed food, but I have no idea what it is. Could it be a cancerous growth?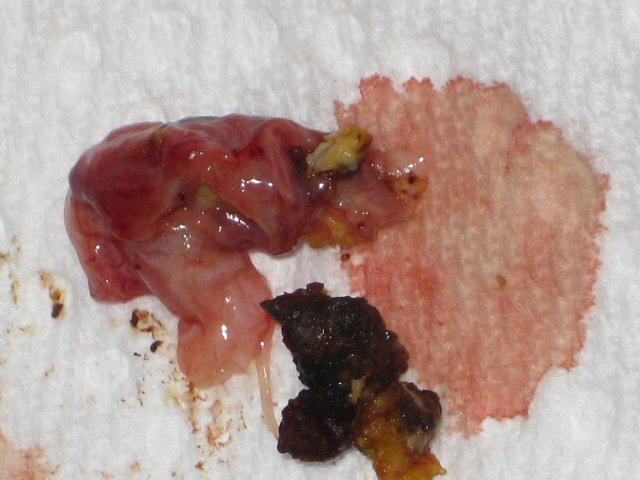 This is a picture of a growth I found also free-floating in (I think) her intestinal area. There was some blackish gunk inside, but it, too, was very hard. I'm pretty sure this isn't the gall-bladder. I think I took that out before this point.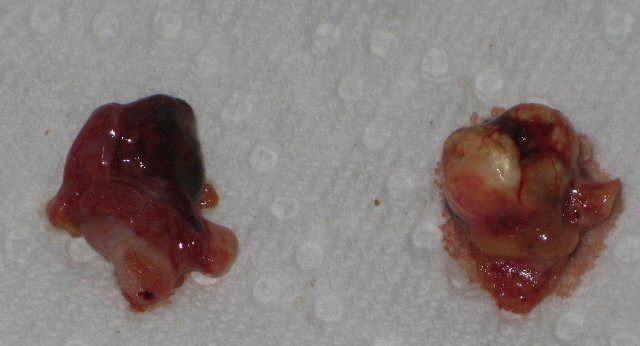 This is a side-by-side view of the two growths.

When I first opened her up I was sure Id find out something obvious that caused her death, but it seems Im left still wondering. Is the clot in her heart post-death, or was it cause of her death? I found a lot of water in her chest, too. Congestive heart failure? The discoloration of her lungs is to be expected if she had a previous infection, but what about her liver? Do those strange spots mean anything? The two growthsare they cancerous? 



Im glad I was able to do an autopsy on herI have a better idea of what went on before her death. Even if I dont know exactly what caused it. I was happy to see that her oviducts were clear (she's 2 1/2 years old), and this probably means the other BO's are doing well.

At any rate, I hope these pictures will be useful to someone.