Hello Chicken fans,
I was going to post a question about egg-bound chickens on Monday, but after typing it all up, the internet connection went, and I lost it all, so I had to try and remember everything I had written. In the meantime, something happened to the chicken in question which I thought I would share with everyone here to see if anyone has had it happen to their chickens before. But before I do that, I will start from the beginning:
Name:
"Thunder"   (Don't laugh, we called her that because we had to tell her apart from her sister "Lightning"!)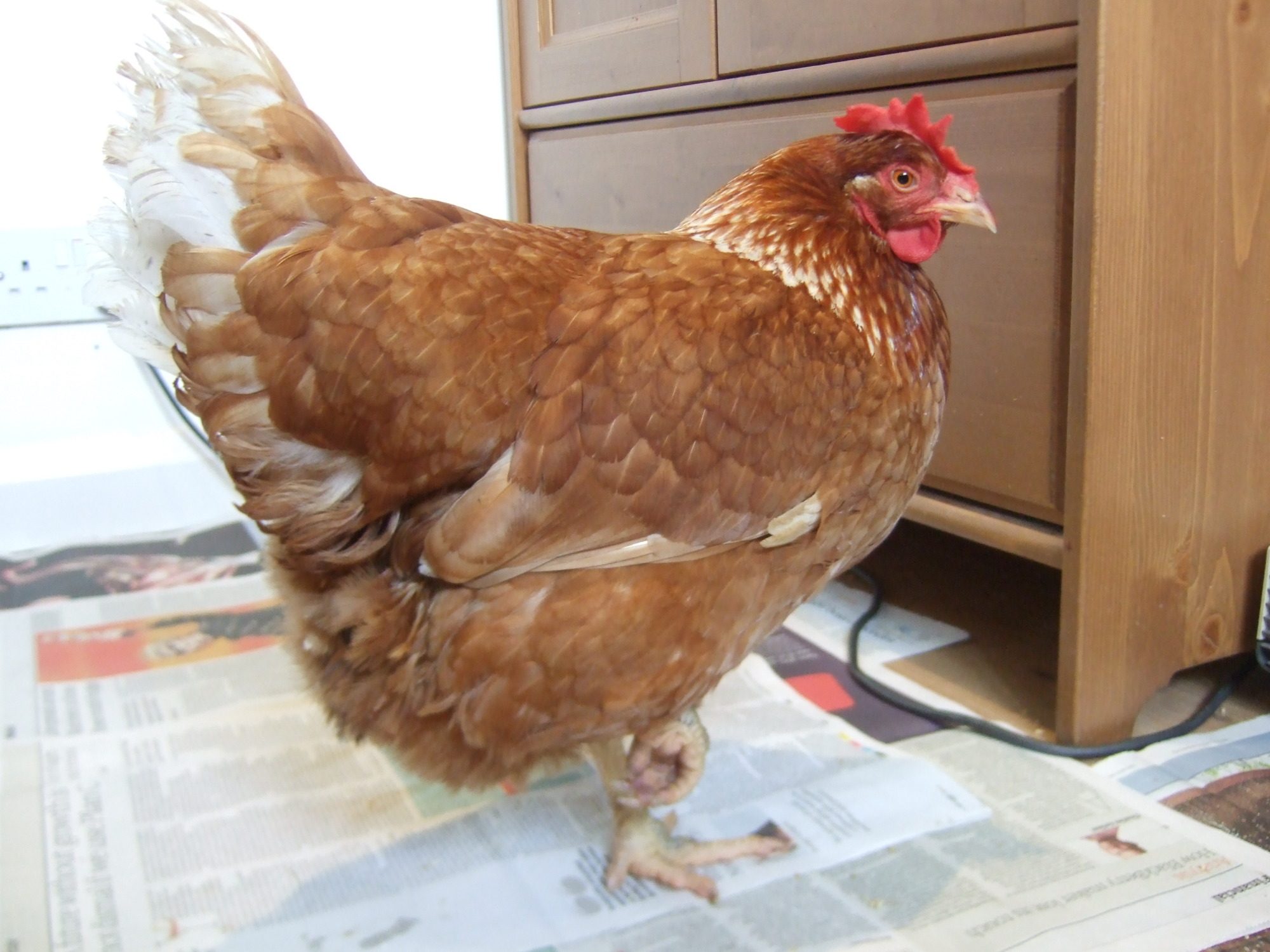 Type:
Ginger Hybrid
Age:
About 4 years old
Context:
     Thunder is one of seven chickens who we have had for one and a half years now. They live in a large coop in the front garden with a large run, and have access to the whole front garden on most days, so we consider them to be free-range. They have organic layers pellets in a feeder, and get fed sprouted millet seed every day, which they love. They also get fruit and vegetable scraps from the kitchen most days, including bananas and their skins, apple bits, onion bits, cucumber and tomato bits, etc.  They have water in a feeder which has apple cider vinegar and a bit of citricidal in it. The water is renewed every day and the feeder is cleaned occasionally. They also get short grass cuttings when I mow the back garden once a week and we collect slugs and snails for them as well.
Symptoms:
     Thunder is a generally quiet hen, who minds her own business. She has had a mucky bottom ever since we got her, and she has had a floppy comb for about a year. We have washed her bottom 3 or 4 times now, but it never stays clean for long, as her poo is runny, and only dribbles out. It catches on the feathers around the vent and builds up into a solid mass attached to her feathers. In this photograph, her bottom looks quite clean because we washed it recently: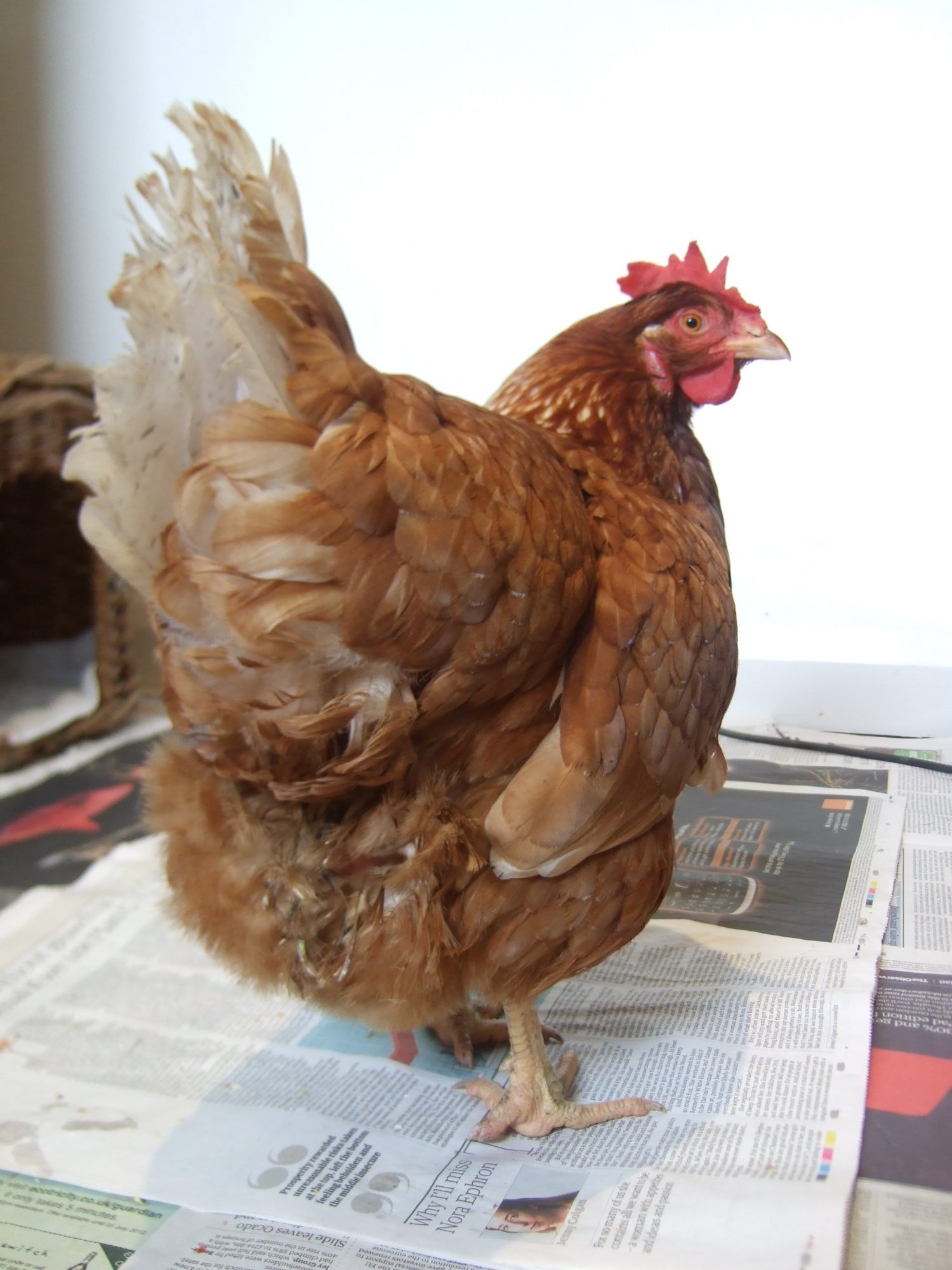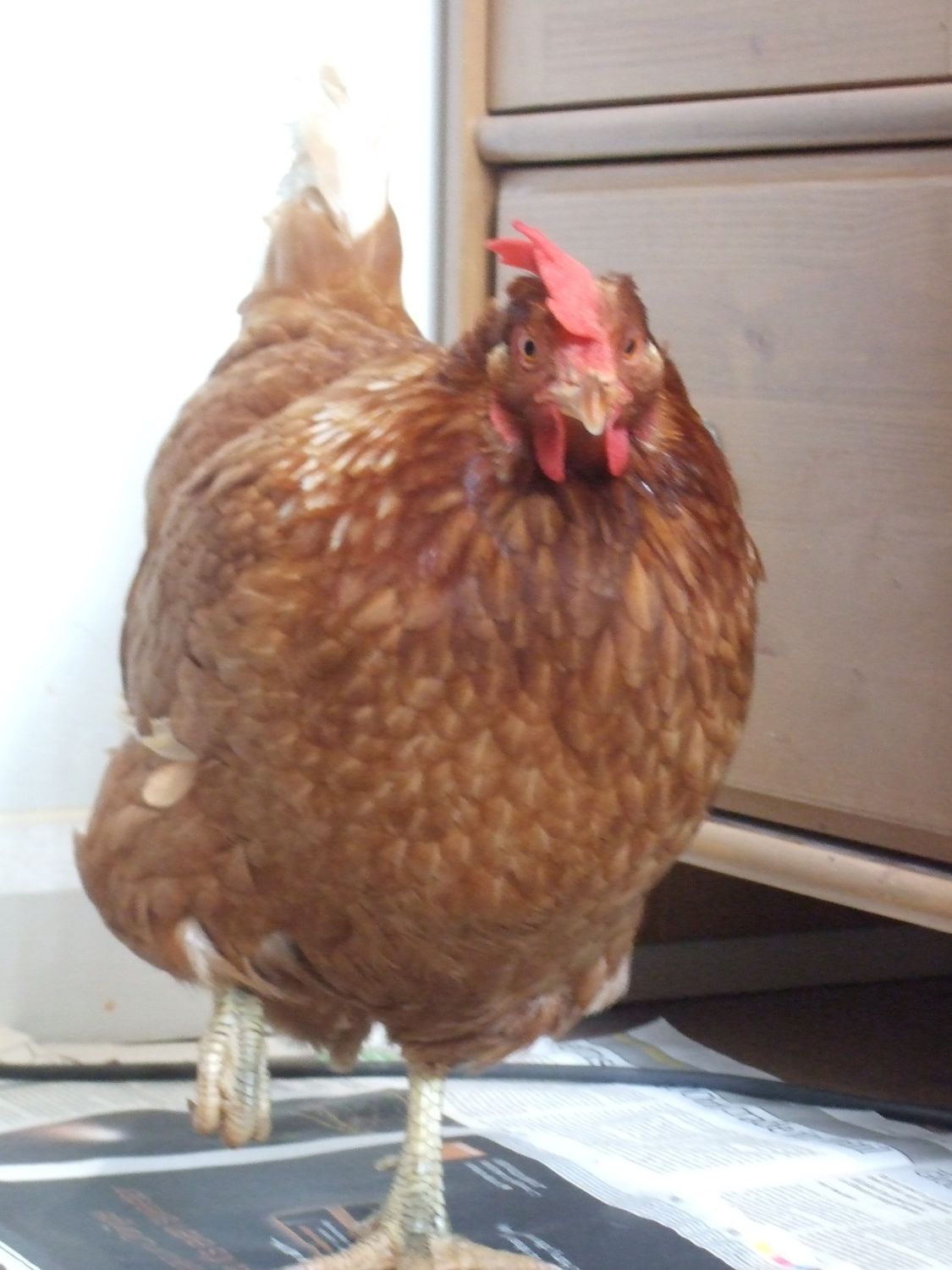 On Sunday, we noticed that her comb had gone a purple / blue colour, and was very floppy and cold. She was also very lethargic, and appeared to be quite thirsty. We immediately took her inside, looked up her symptoms online, and came to the conclusion that she could be egg-bound. Following online advice, we proceeded to give her a hot bath for about an hour, during which her comb considerably reddened and became less floppy. We then took her out and dried her. She vomited a little bit of clear liquid once. We kept her in the bathroom, which was still quite warm, in a cat-basket with a hot water bottle wrapped in a towel.
     When we came back later, she was breathing quite hard with her beak open. We thought that she might be too hot so we opened the window, and offered her some water, but she seemed to have forgotten how to drink from a bowel. She was still very thirsty though, and managed to drink from a syringe. We had previously read online that calcium is very important if a chicken is egg-bound, so we ground up baked egg shell with apple cider vinegar, and left it to soak and bubble. We then added the eggshell-vinegar to the water. As I said, she managed to drink some from the syringe. She didn't appear to be interested in eating anything at all. We then moved her from the bathroom to my bedroom, where we had a fan heater on to keep the place nice and warm. A couple of hours later, she ate some mashed banana in yoghurt and remembered how to drink from a bowel.
      The next day (Monday) she seemed a little better, but her comb was still as floppy as normal, and she still seemed very lethargic and in discomfort (her bottom eye-lid kept coming up). We were giving her water with added ingredients including some of the before-mentioned eggshell-vinegar, some fresh garlic, some citricidal, colloidal silver, ionic mineral drops, etc. She had very sloppy watery poo, and wasn't eating very much at all unless you hand-fed her. In the evening, we turned the fan heater onto her bottom, and she seemed to really enjoy it. We left her like that for a couple of hours, and when we came back, she was standing up, facing the heater. Then we noticed that there was something on the floor beneath her bottom. It was like a mini egg, very smooth and quite pale, but also slightly squidgy or rubbery, and felt waxy. It was not exactly round-egg-shape, but slightly irregular. It's dimensions were about 4.5cm long, by 3cm in diameter. It has shrunk a bit since then, and is now 3.5cm long by 2.5cm in diameter. We cut it open today (Wednesday), and took photographs. It doesn't smell at all. It is weirdly amazing...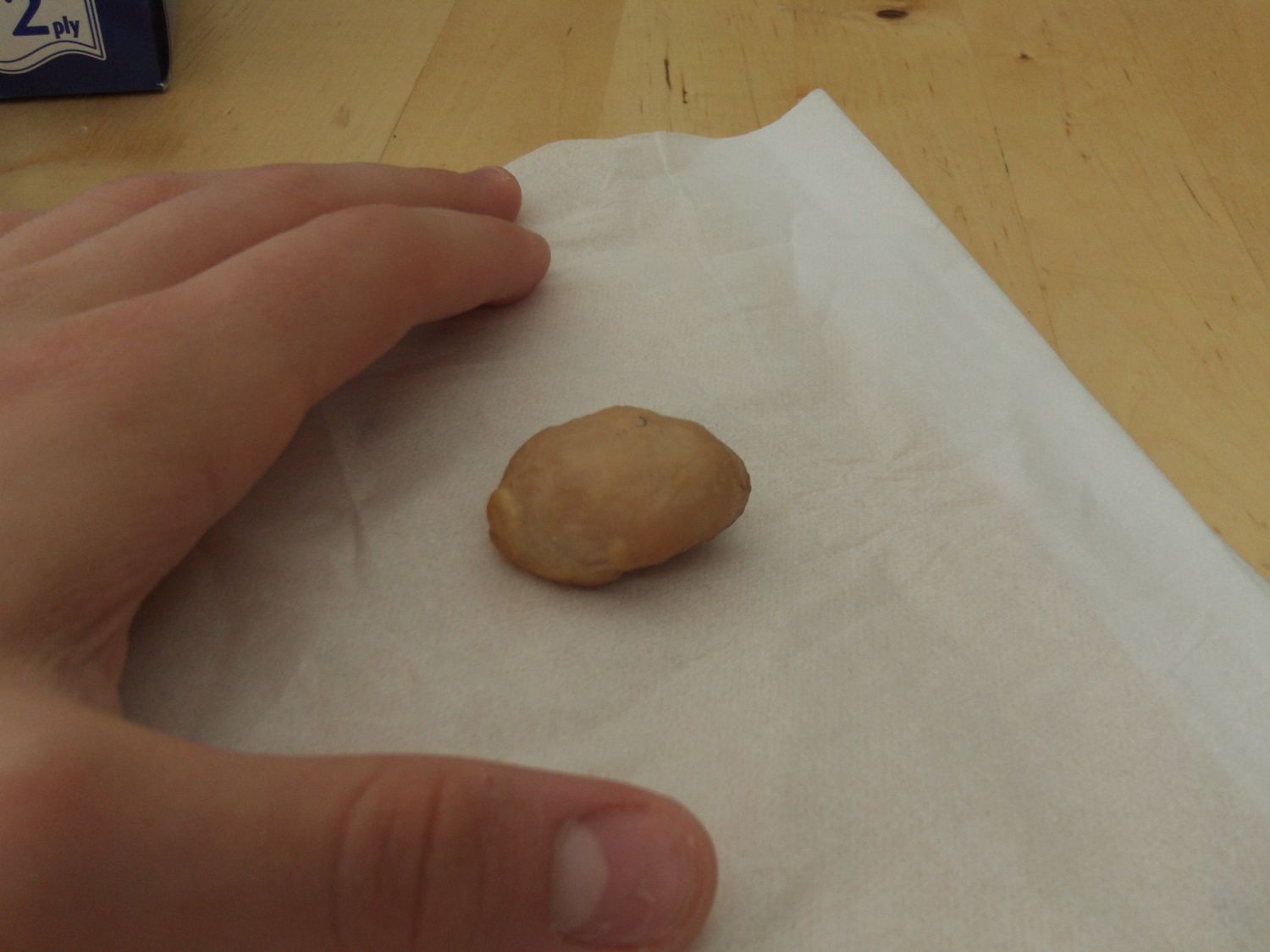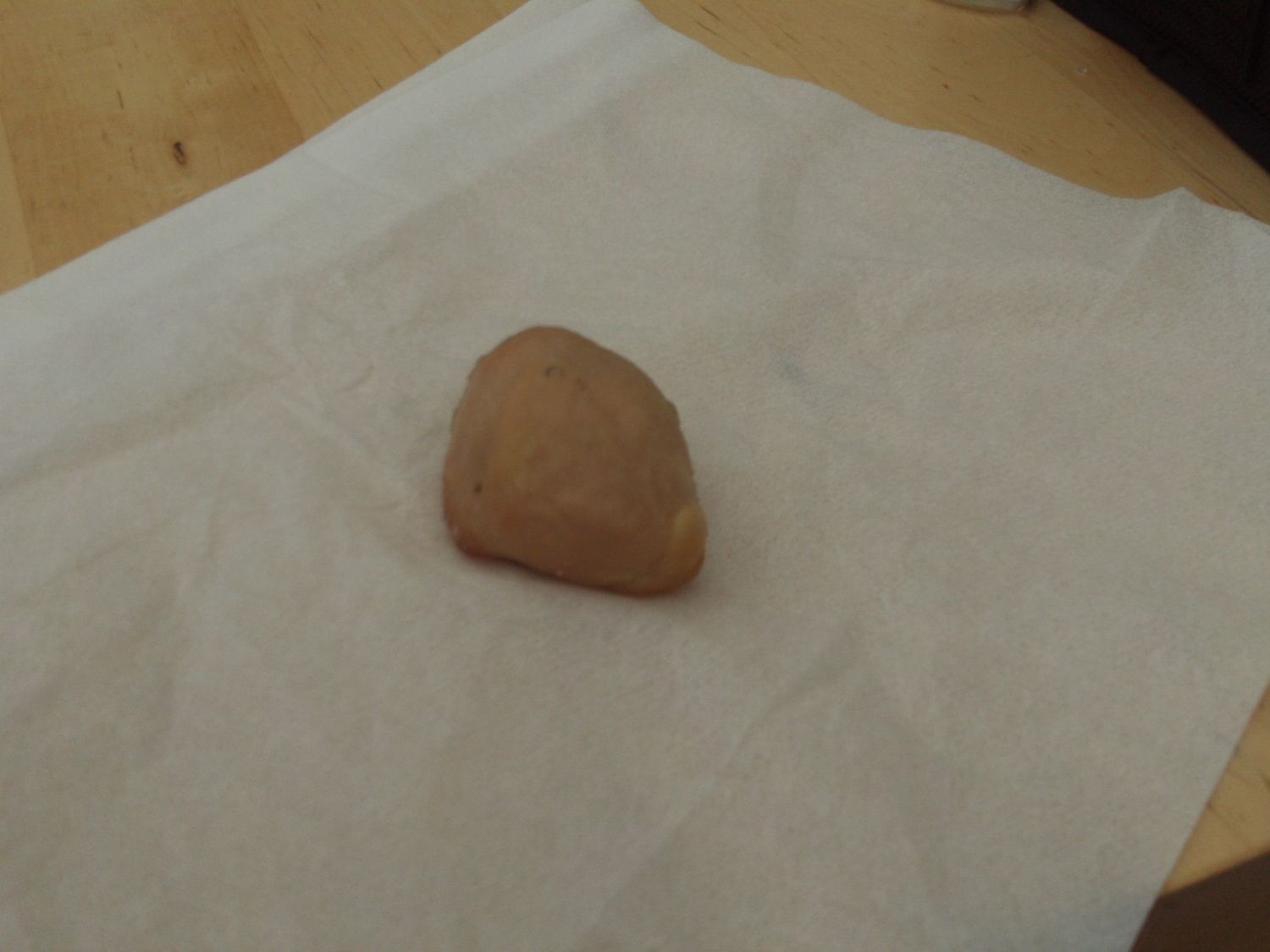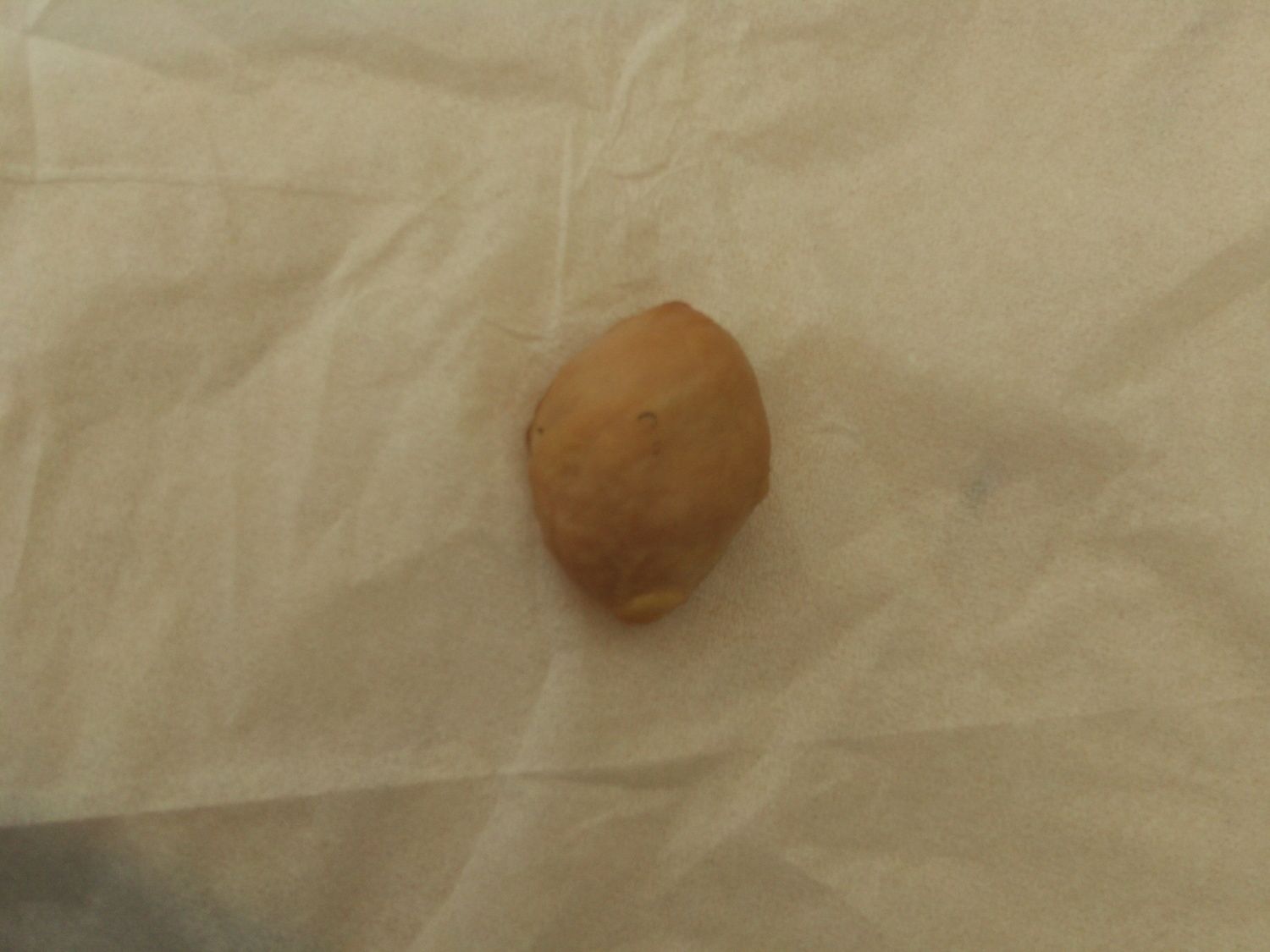 Here is what it looks like when cut open: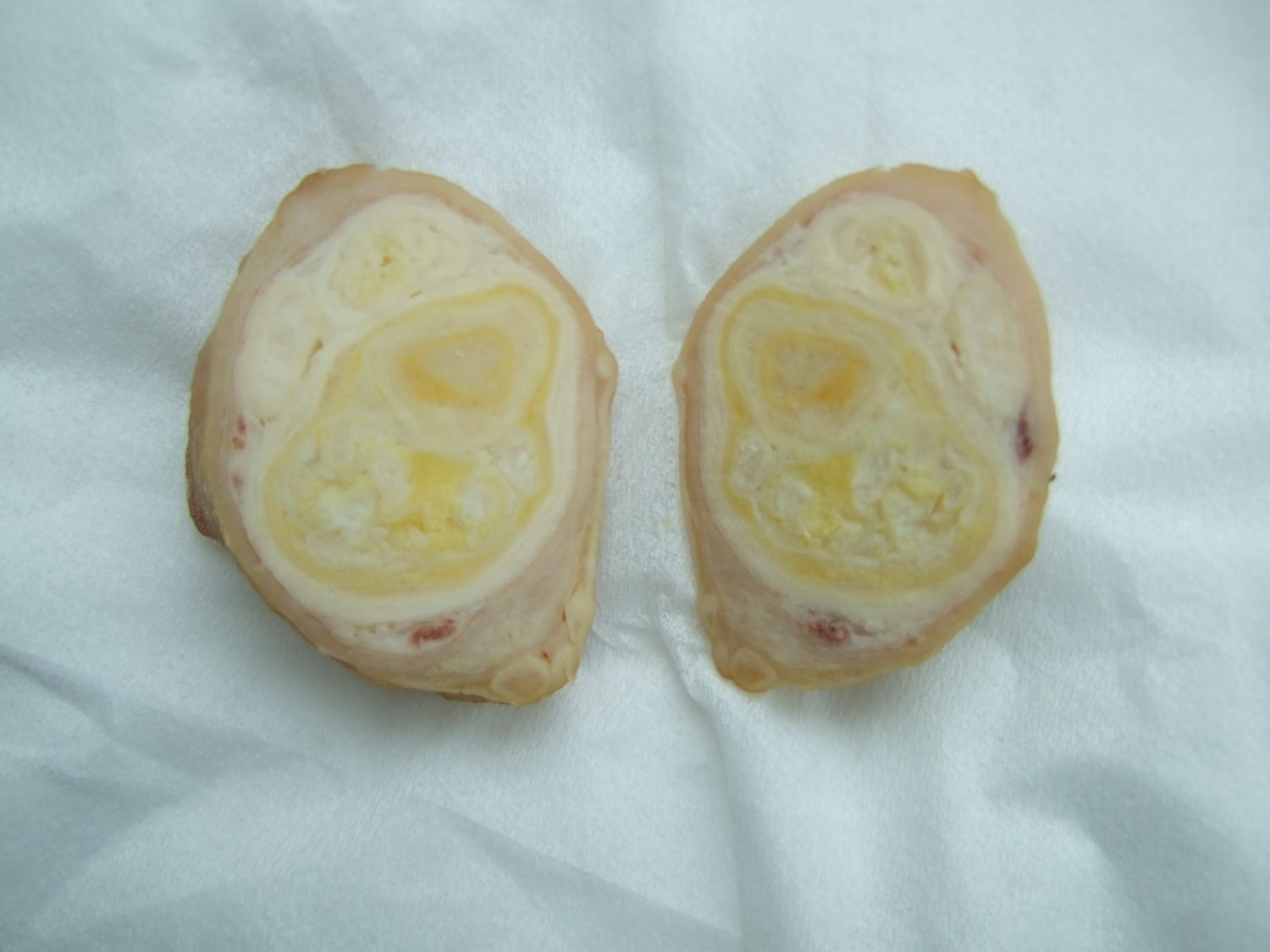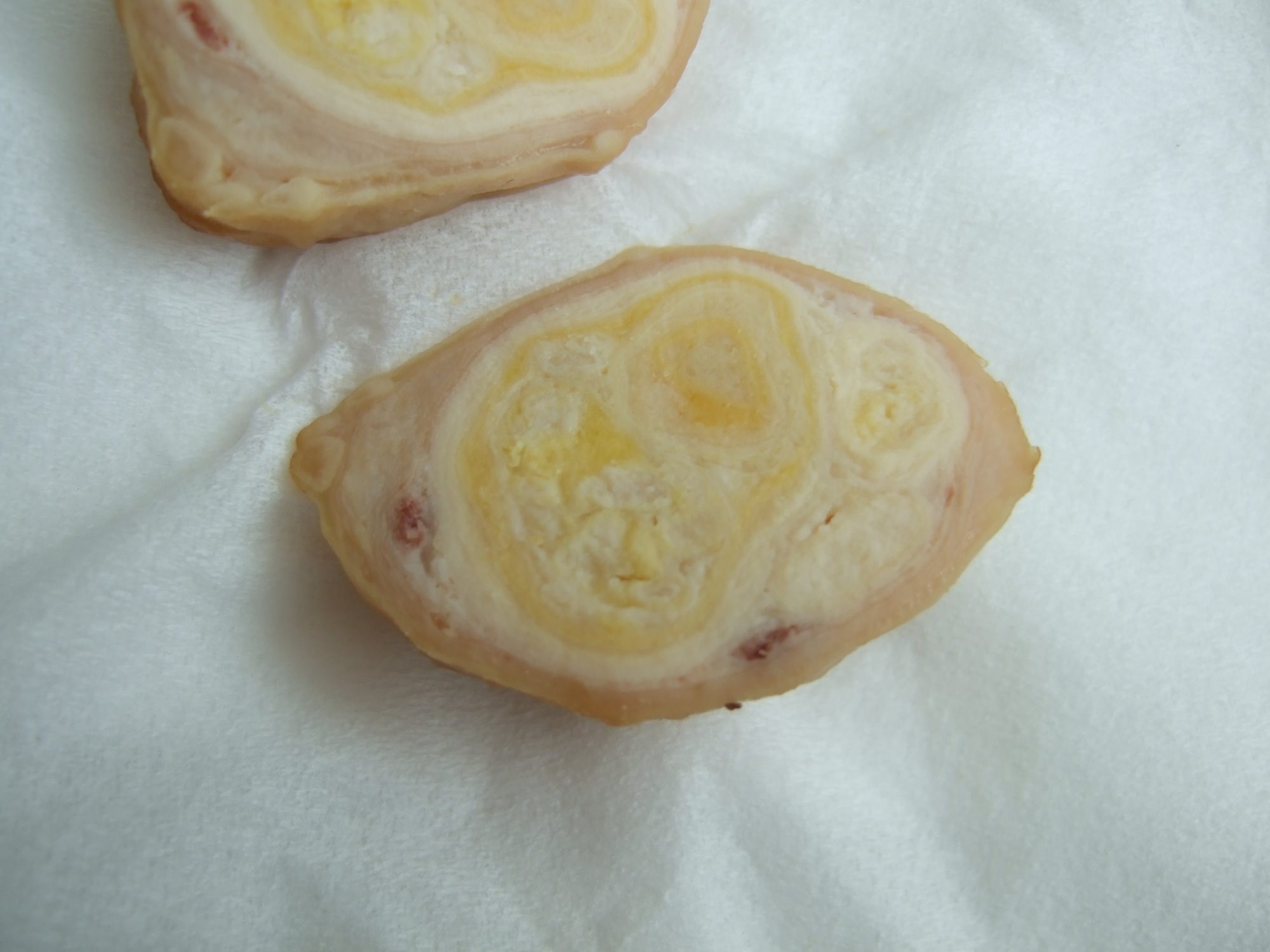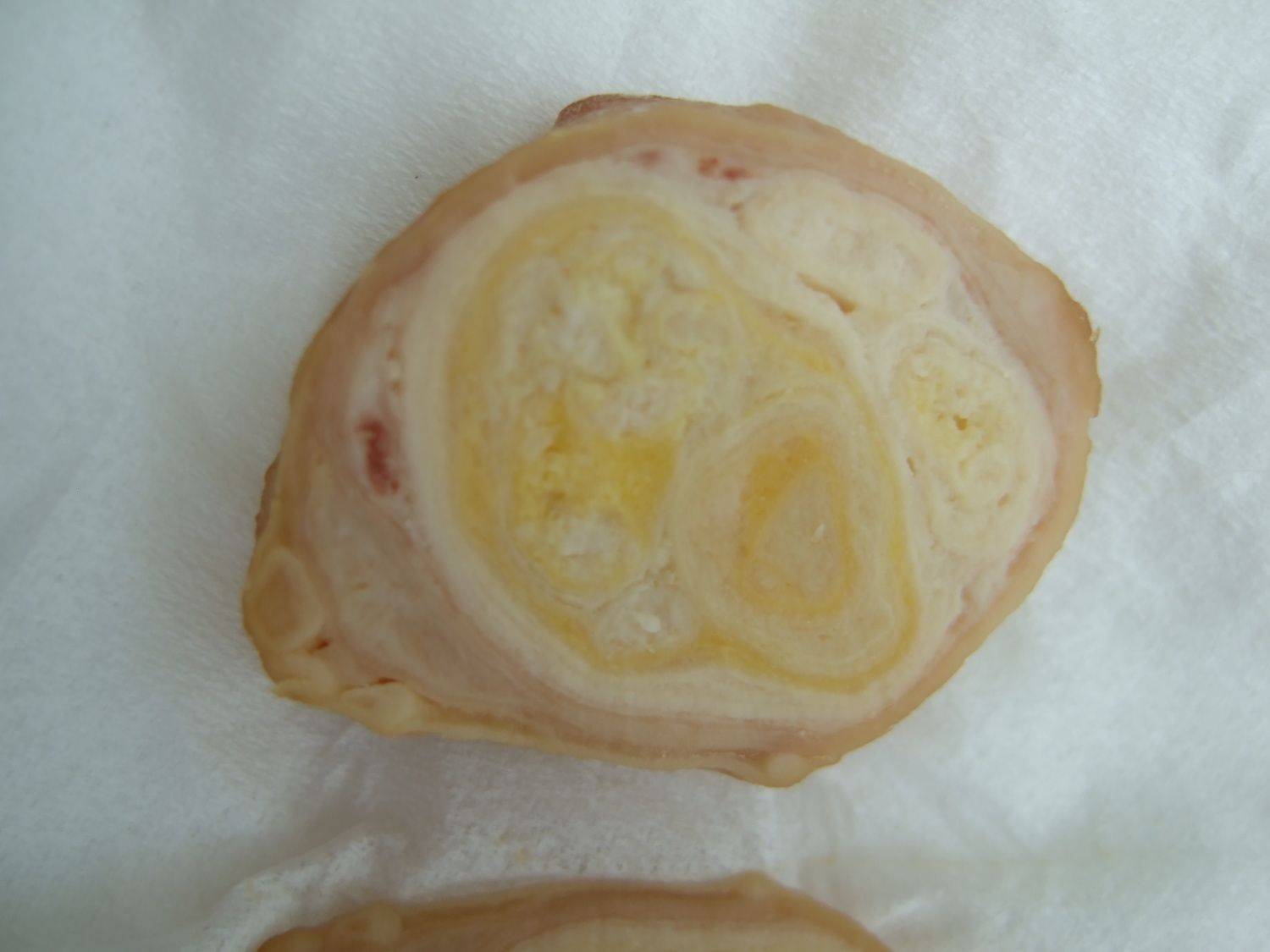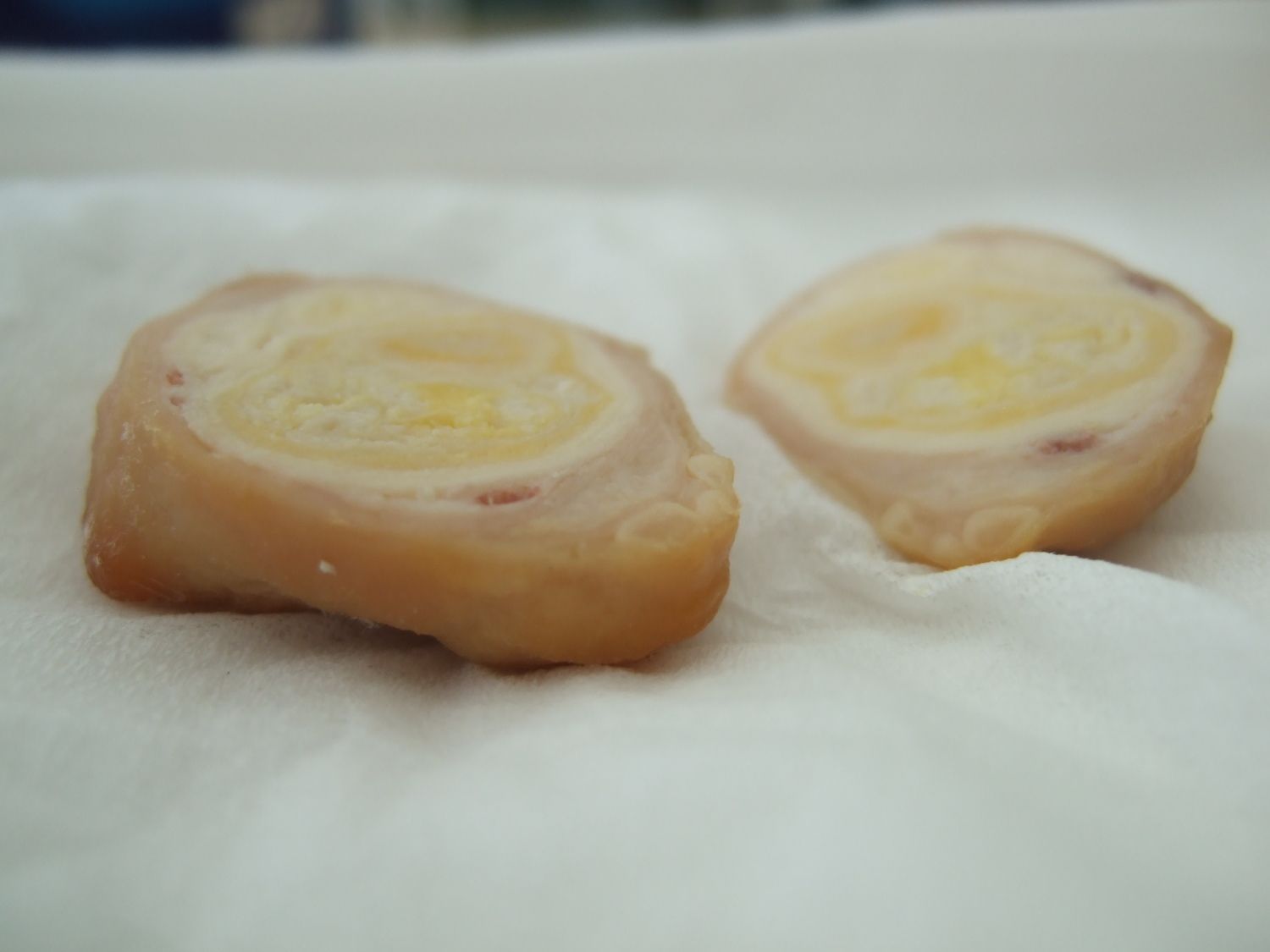 Is this what an egg-bound egg usually looks like, or is this something completely different? Any thoughts, comments or advice would be really appreciated!   :)
Thunder is still inside, because, here in England, summer has not yet arrived (as usual), and we don't want her to be out in the cold and rain until she is stronger. Her comb is now a bit less floppy than normal, and she is quite a bit more active, so that is encouraging!
Thank you,
Finn
:)