Like India, Thailand and China, Indonesia would appear to have a significant number of native chicken races developed in antiquity to the exclusion of other breed races.




There is some fantastic scientific information streaming out about the origins of domestic fowl. The significance of genetic diversity amongst chickens is invaluable.
We learn about the validity of breed and breed types by learning about their origins.
Of particular interest to us is the molecular data coming from China. 
For example, we know that the largest diversity of chicken breeds originated in South East Asia, specifically, in regions bordering the the Gulf of Tonkin.


Mainland Red Junglefowl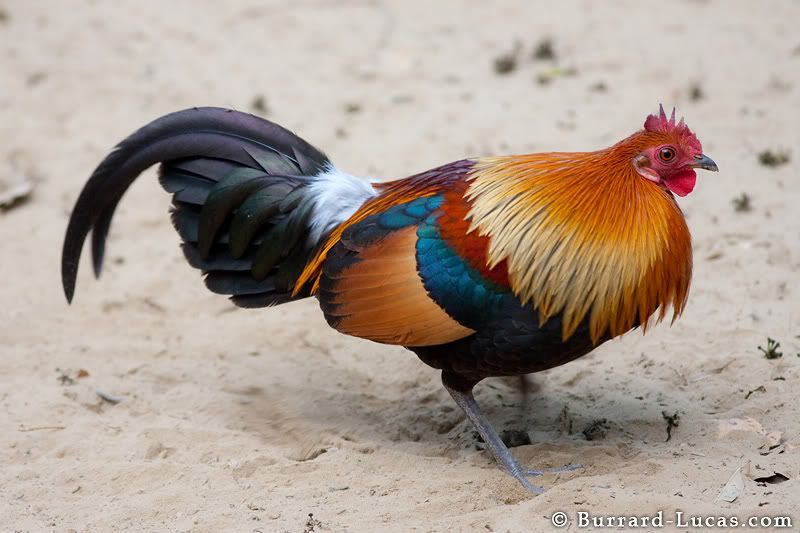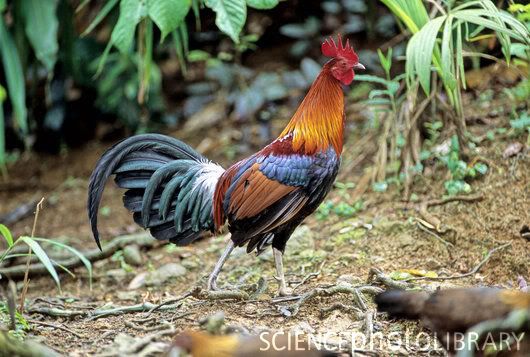 Philippines Red Junglefowl



Molecular data has shown us that not all chickens originated in those countries bordering the Gulf of Tonkin. Quite separately, in an independent domestication event many thousands of miles across the sea to the south, domestication of another junglefowl was also underway. That centre of distribution was the island of Java.



Note the geographic location of the island of Java and look to the north and west to locate Vietnam. From Vietnam you can switch views the map above to gain a better comprehension where the Gulf og Tonkin is in relation to Java.

The two forms of red junglefowl are so similar in appearance it is difficult to distinguish them. What separates them is time and space. They were once a single species and at some point in prehistory, climatic events (probably theMount Toba Event ) destroyed vast stretches of forest biomes that once covered all of Southern Asia (Indian sub-continent), South Eastern Asia and Indonesia. That series of catastrophic events isolated two respective populations of Red Junglefowl. One population survived in southern Indonesia (Java) and the other in mainland continental Asia. The two are still phenotypically very similar. They are not distinct species. Indeed, populations of Red Junglefowl in Sumatra are a melting pot of the two  respective populations that radiated back into forests that have regenerated over the tens of thousands of years since the super-volcanic event that separated them to begin with.




With the aim of elucidating in greater detail the genealogical origin of the present domestic fowls of the world, we have determined mtDNA sequences of the D-loop regions for a total of 21 birds, of which 12 samples belong to red junglefowl (Gallus gallus) comprising three subspecies (six Gallus gallus gallus, three Gallus gallus spadiceus, and three Gallus gallus bankiva) and nine represent diverse domestic breeds (Gallus gallus domesticus). We also sequenced four green junglefowl (Gallus varius), two Lafayette's junglefowl (Gallus lafayettei), and one grey junglefowl (Gallus sonneratii). We then constructed a phylogenetic tree for these birds by the use of nucleotide sequences, choosing the Japanese quail (Coturnix coturnix japonica) as an outgroup. We found that a continental population of G. g. gallus was the real matriarchical origin of all the domestic poultries examined in this study. It is also of particular interest that there were no discernible differences among G. gallus subspecies; G. g. bankiva was a notable exception. This was because G. g. spadiceus and a continental population of G. g. gallus formed a single cluster in the phylogenetic tree. G. g. bankiva, on the other hand, was a distinct entity, thus deserving its subspecies status. It implies that a continental population of G. g. gallus sufficed as the monophyletic ancestor of all domestic breeds. We also discussed a possible significance of the initial dispersal pattern of the present domestic fowls, using the phylogenetic tree.



male Indonesian Red Junglefowl Gallus bankiva



One subspecies of the red junglefowl (Gallus gallus gallus) suffices as the matriarchical ancestor of all domestic breeds

Akishinonomiya Fumihito

*Yamashina Institute for Ornithology, 115 Tsutsumine-aza, Konoyama, Abiko-shi, Chiba Prefecture 270-11, Japan

ABSTRACT

The noncoding gcontrol region of the mitochondrial DNA of various gallinaceous birds was studied with regard to its restriction fragment length polymorphism (RFLP) and sequences of the first 400 bases. Tandem duplication of the 60-base unit was established as a trait unique to the genus Gallus, which is shared neither by pheasants nor by quails. Unlike its close ally Gallus varius (green junglefowl),the red junglefowl Gallus gallus is a genetically very diverse  species;the 7.0% sequence divergence was seen between those from Thai- land(G.g.gallus and G.g.spadiceus)and the other from the Indonesian island of Java (G. g. Bankiva). Furthermore, the divergence increased to 27.83% if each transversion is regarded as an equivalent of 10 transitions. On the other hand, a mere 0.5-3.0% difference(all transitions)separated various domestic breeds of the chicken from two G.g.gallus of Thailand, thus indicating a single domestication event in the area inhabited by this subspecies of the red junglefowl as the origin of all domestic breeds. Only transitions separated six diverse domesticated breeds.

Nevertheless, a 2.75% difference was seen between RFLP type I breeds(White Leghorn and Nagoya)and a RFLP type VIII breed(Ayam Pelung).The above data suggested that although the mitochondrion of RFLP type V was the main contributor to domestication,hens of other RFLP types also contributed to this event.


Nevertheless, the people of Java domesticated their native Indonesian Red Junglefowl Gallus g. bankiva , thousands of years before the first domestic fowl from the mainland of Asia arrived on that great island. The oldest breeds of Java represent this uniquely Indonesian genetic lineage. They are RFLP type VIII breeds.


There are two native junglefowl species on the island of Java, the Indonesian Red Junglefowl Gallus bankiva and the Javanese Green Junglefowl Gallus varius..  Whereas female Indonesian Red Junglefowl were, at one point in time ~ 12,000 years ago, the only domestic fowl on the island of Java. Indonesians actually had the two native species of Junglefowl to work with to generate their domestic fowl. Male Green Junglefowl were hybridized with certain strains of RFLP type VIII breeds to produce ceremonial creatures, generated for their voices and plumage rather than their fighting capacity, meat or eggs. These hybrids were somewhat fecund with hybrid males fertilizing female RFLP type VIII strains that in turn contributed genetics to local and regional strains of fowl. Consequently, Mutations unknown amongst those domestic fowl descended of mainland Red Junglefowl native to regions around the Gulf of Tonkin, were probably present from the earliest days.

Getting back to the Ayam Cemani.
Recombination of some of these enigmatic mutations derived of some level of more or less regular contact with hybrid sires led to the development of unusual land race breeds uniquely suited for life in the environmental realities of Indonesia. Whereas recombination between RFLP type VIII breed females and male Green Junglefowl probably initially created certain mutations, these ancient breed types proved poorly suited for the level of production and disease tolerance of mainland Asia derived forms.
The Javanese simply couldn't produce enough of their unique mutations to meet demand for them. For example, black boned mutations were particularly desired by Chinese ethnics and traded widely all around the South China Sea and on to Japan and beyond. Recombination between mainland Asia derived chickens with the traditional Indonesian breed types was inevitable. Eventually, it was discovered that mainland Asiatic breed types were more amenable to close inbreeding than the Indonesians, especially those of hybrid origin where genetic outbreeding is already an issue, producing a significant percentage of sterile birds. They were able to lock mutations onto the mainland derived forms and then breeding them to type at higher numbers than experienced with the archaic Indonesian breed types.

Eventually, Europeans arrived and carried with them a new breed type, hitherto unknown in Asia, the Mediterranean egg production breed types. After a few centuries of Dutch colonialism, the Mediterranean breed type physical characteristics came to be preferred over old Asiatic types. But typically for the Indonesians, recombination of the best of both world went to work and in a few centuries, land races like the Kedu emerged. These were often highly localised breeds of unusual vigour or appearance, the Dutch valued as much as traditionalist Javanese and Sundanese islanders. Some strains would continue to have matriarchal ancestors of the original RFLP type VIII breeds and sires of the Mediterranean type breeds. These recombined composites would come to be the foundation of many Dutch breeds that we consider very old. We have to remember that the poultry industry as it were was thousands of years old in Indonesia before the first European arrived.

That said, the Dutch relied on poultry for a greater percentage of their nutrition than the Indonesians who continue to keep fowl for ceremonial reasons including fighting and singing. Strictly utilitarian or ornamental import of the domestic fowl usurped the animistic tradition at the very foundation of domesticated fowl.







Violaceous Bekisar the hybrid between Green Junglefowl male and red junglefowl female.


http://adsabs.harvard.edu/abs/1994PNAS...9112505F
Edited by Resolution - 6/23/11 at 5:49pm