OK just thought it would be neat to photograph the eggs as they go along and post the progress for all to see...It may help others out along the way sometime...   My eggs were set on Tuesday 4-24-12 at 9 am... Tempature has been 37.3 c (99.1 f) and humidity has been running at 30% - 40%  temps and humidity have been very steady... I am hand turning the eggs 180 degrees by hand once a day and then tilting my whole incubator 6 times a day.  I will begin misting and cooling for 10 minutes on day 5.
EGGS ARE SEBASTOPOL/TOULOUSE CROSS-PICKED UP FROM A BREEDER 1 HOUR FROM MY HOME (NOT SHIPPED) 
FIRST TIME INCUBATEING GOOSE EGGS! 
12 YEARS EXPERIENCE WITH CHICKEN EGGS. 
HATCHED BLACK EAST INDY DUCKS ONCE WITH 50% SUCCESS (SHIPPED EGGS) A LONG LONG TIME AGO.
OK decided to post pics of my supplies so this can be even more informational: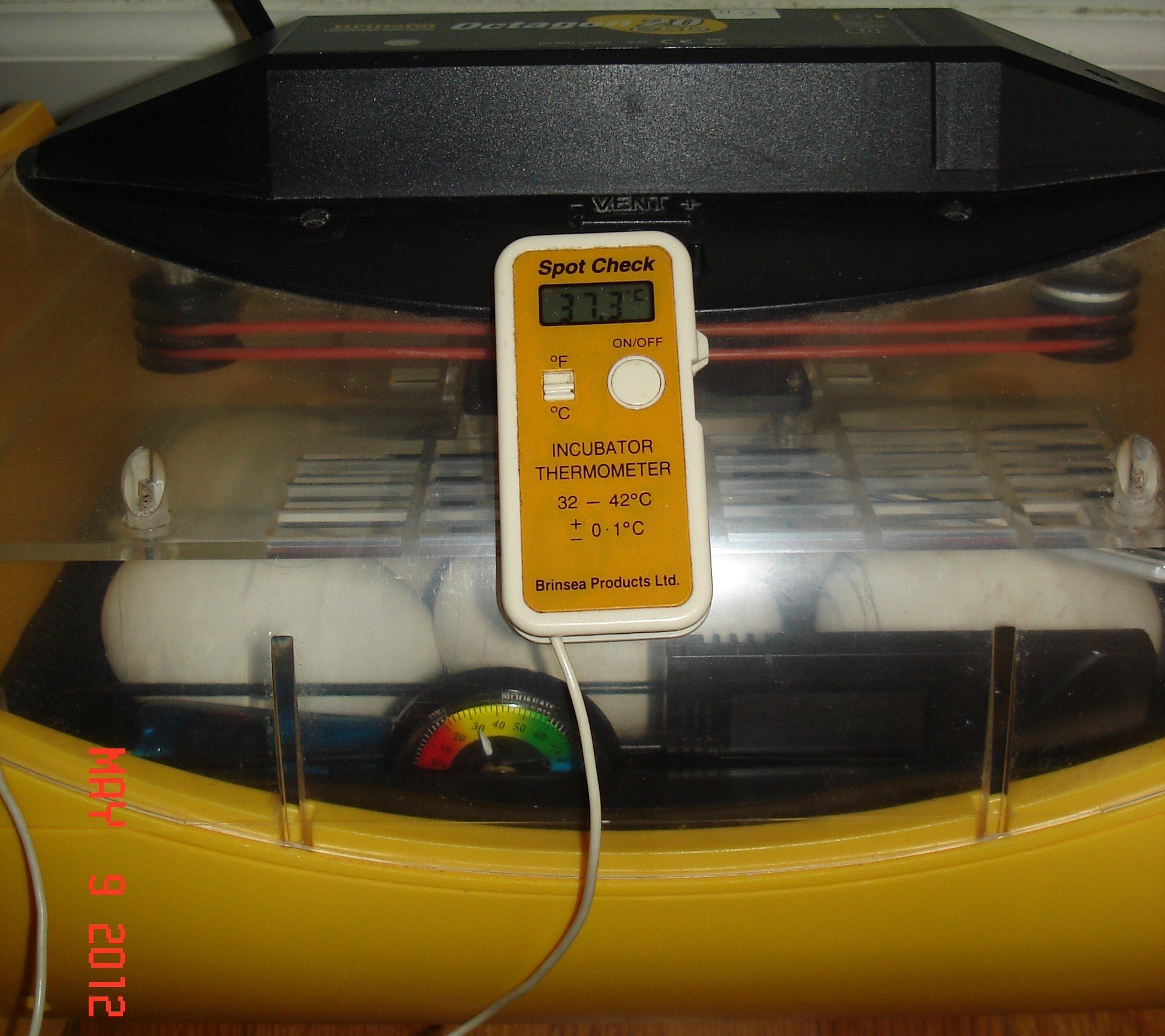 TEMP HOLDING STEADY AT 37.3 CELCIUS AND HUMIDITY RUNS ABOUT 32-38%  (VERY ACCURATE THERMOMITORS)
AND HERE IS MY MISTING BOTTLE!  HAD TO MAKE IT OFFICIAL LOOKING!  LOL (boiled water for 5 minutes and then let it cool before pouring it into the bottle)  washed bottle thoroughly and misted water through sprayer for about 10 minutes before adding the steralized water.  This bottle was pet deoderant spray 100% natural and no chemicals thoroughly washed and cleaned with water/dish soap and a couple drops of bleach.  Rinsed extremely well.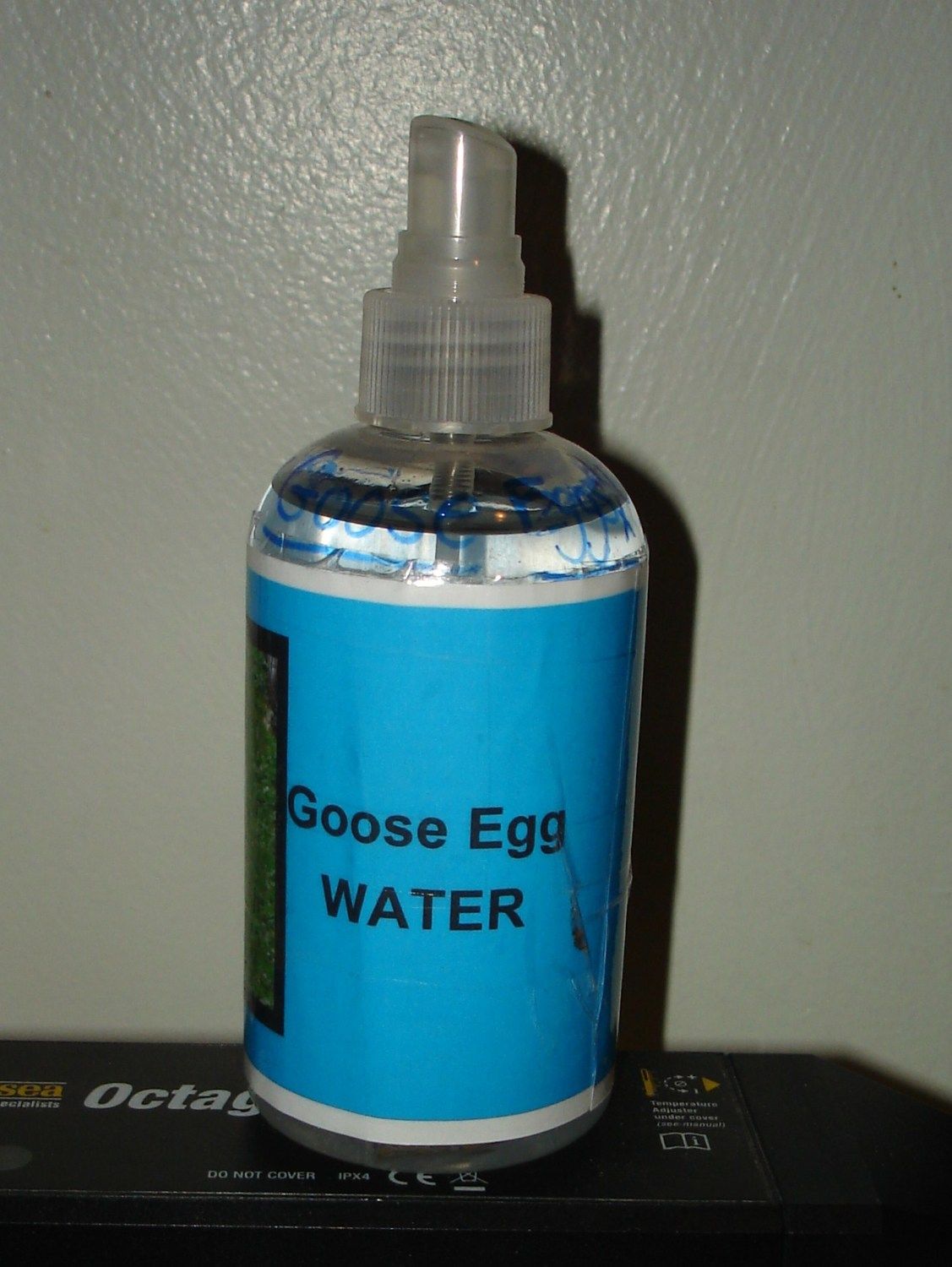 Here are the eggs on day one when I set them: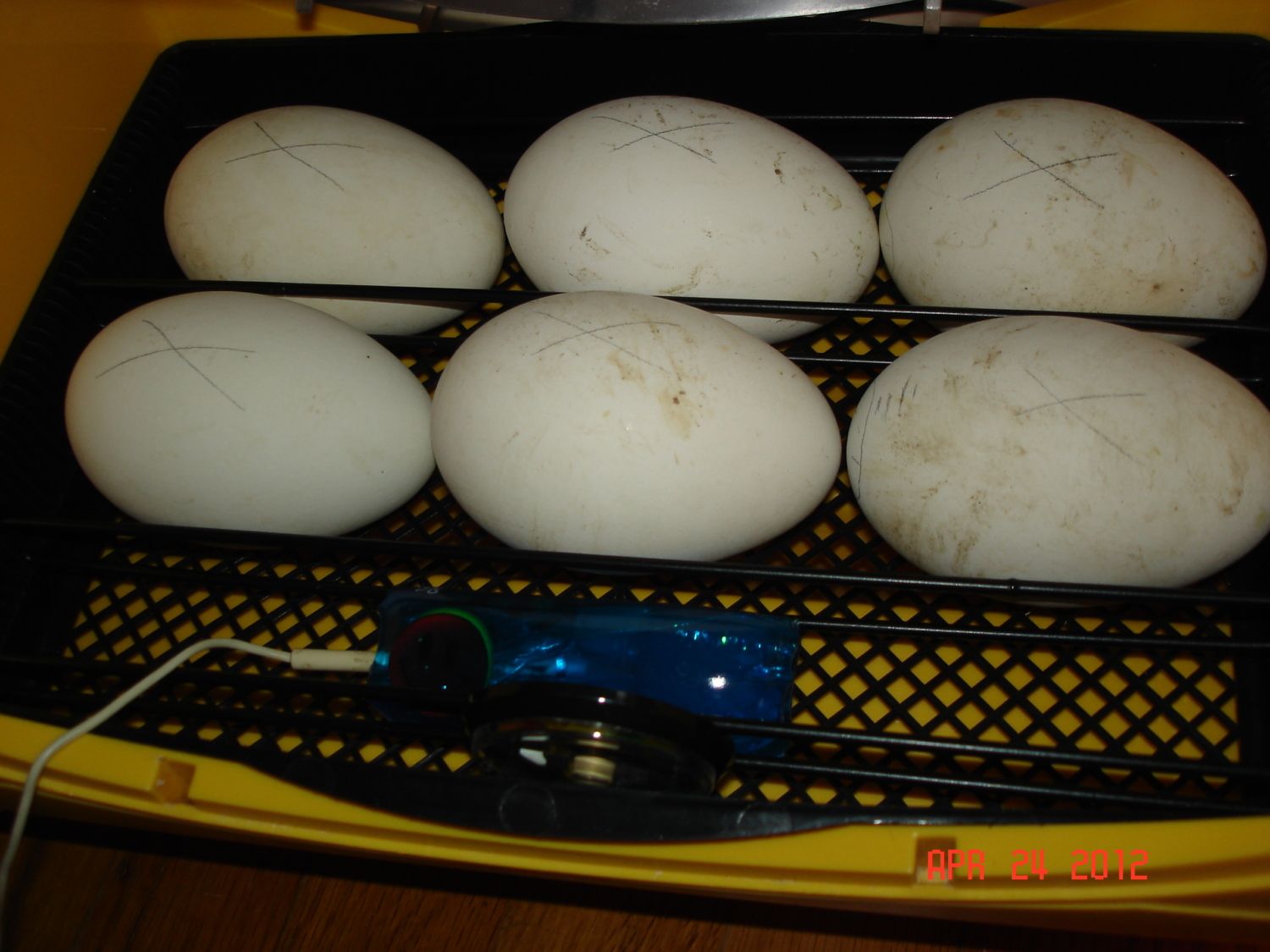 Here are the eggs when candleing on 4-28-12 at 9 am: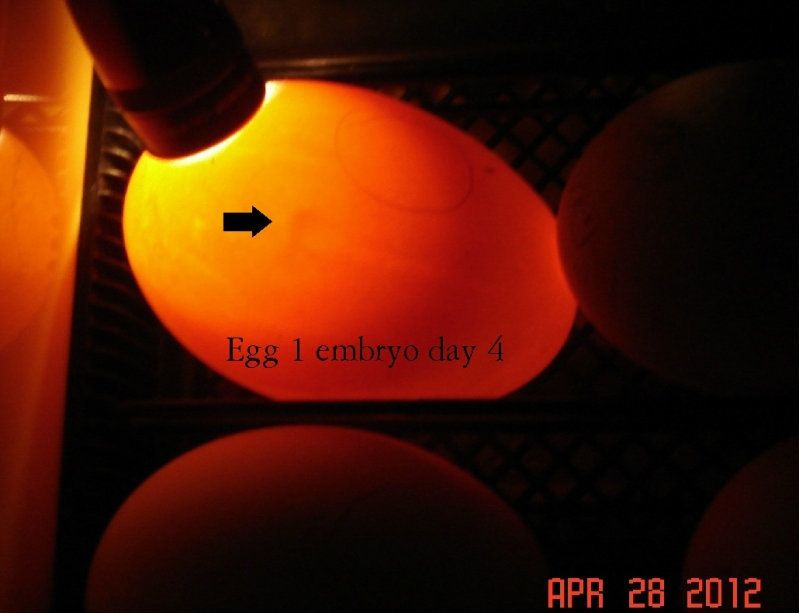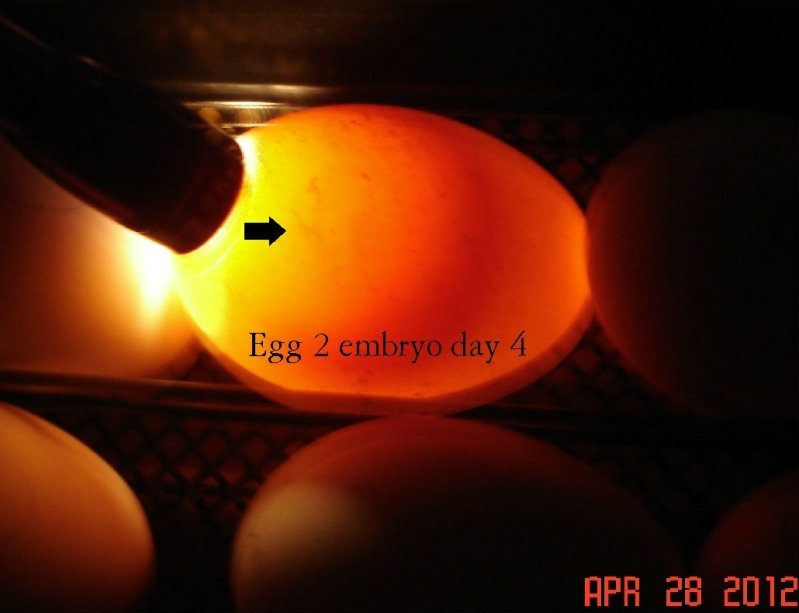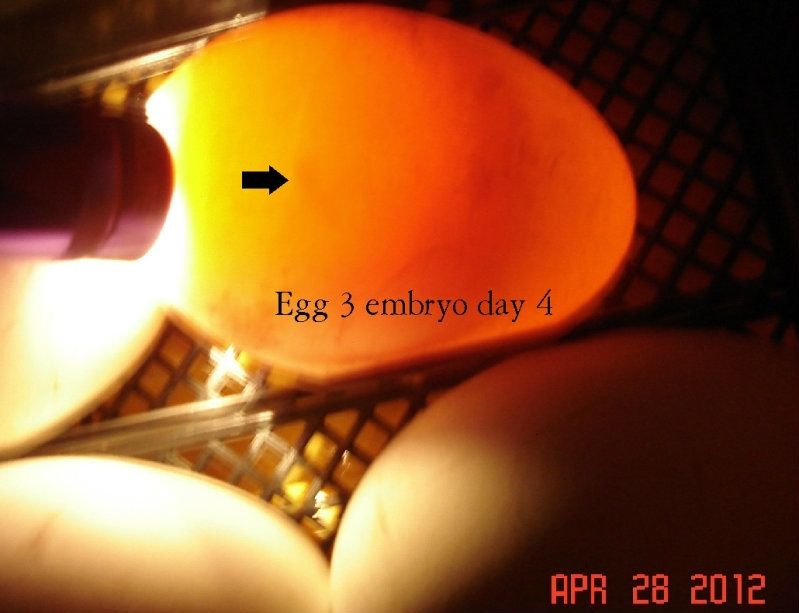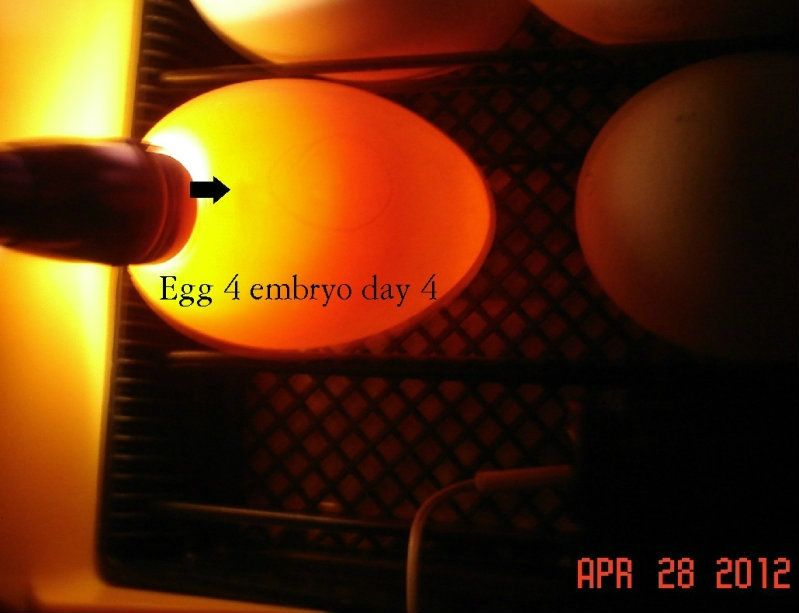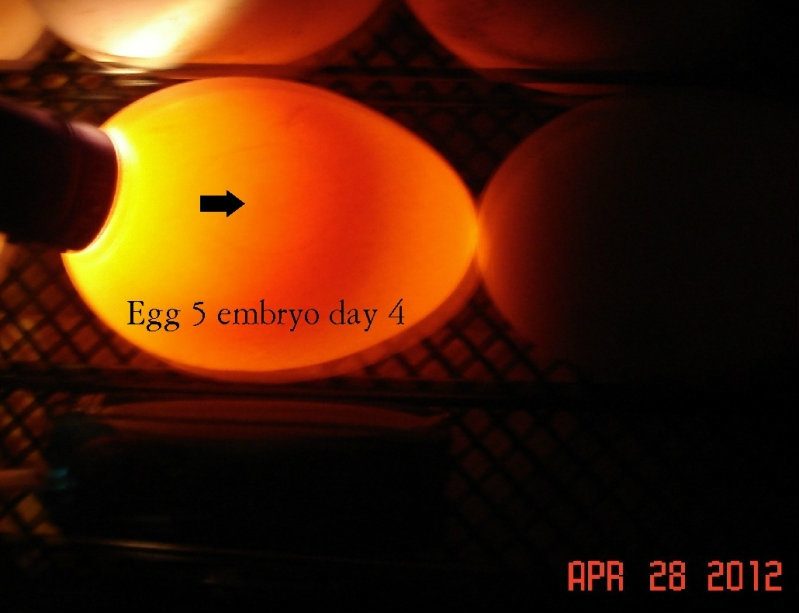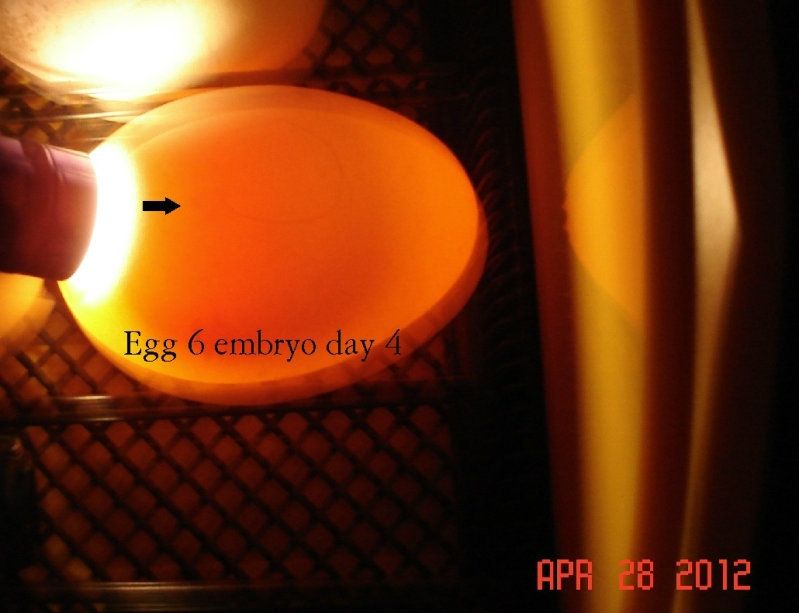 some are harder to see in the pics than others but I could see them all pretty clearly with my eyes.
Here is the progress of the air cell so far: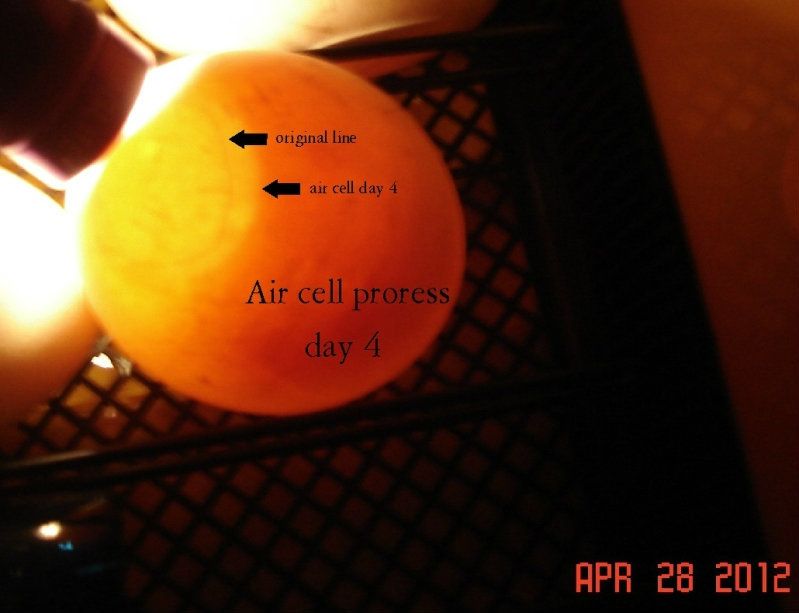 I will add more pics as I go along!!!  Keep watching every few days!  :)
ok here they are on day 6: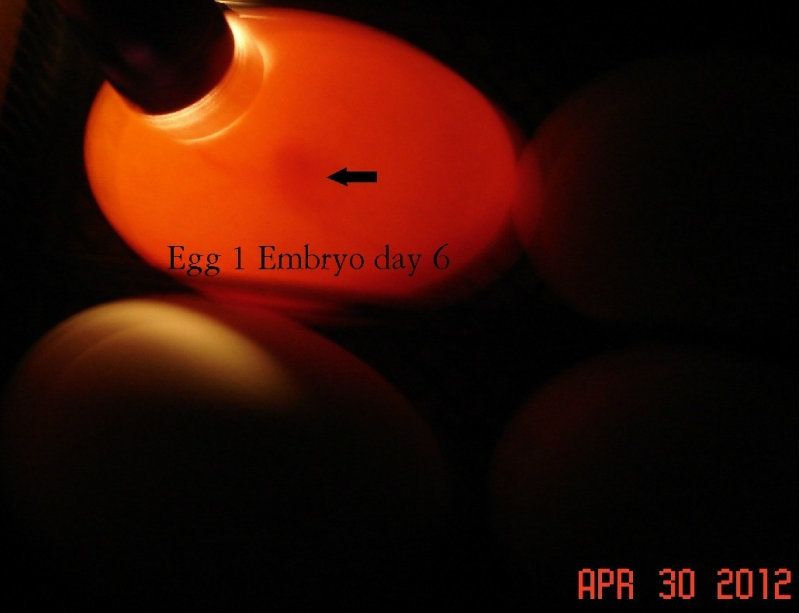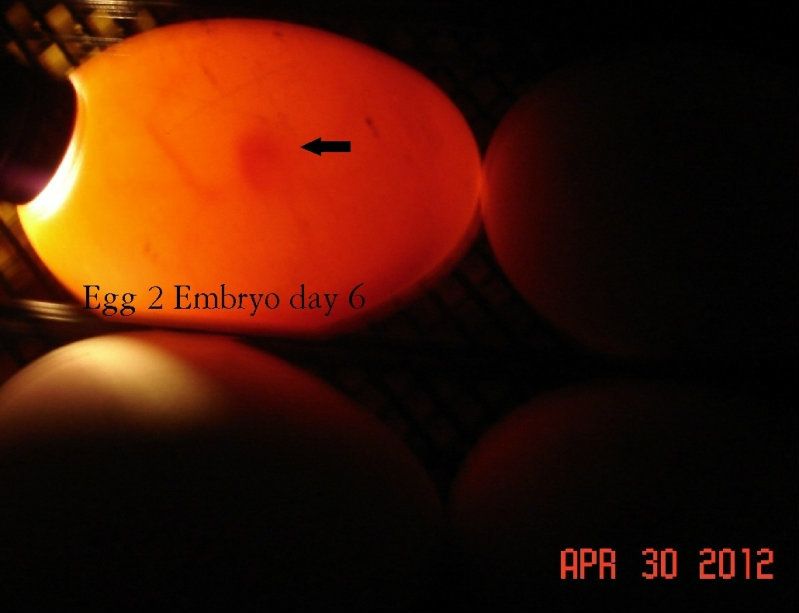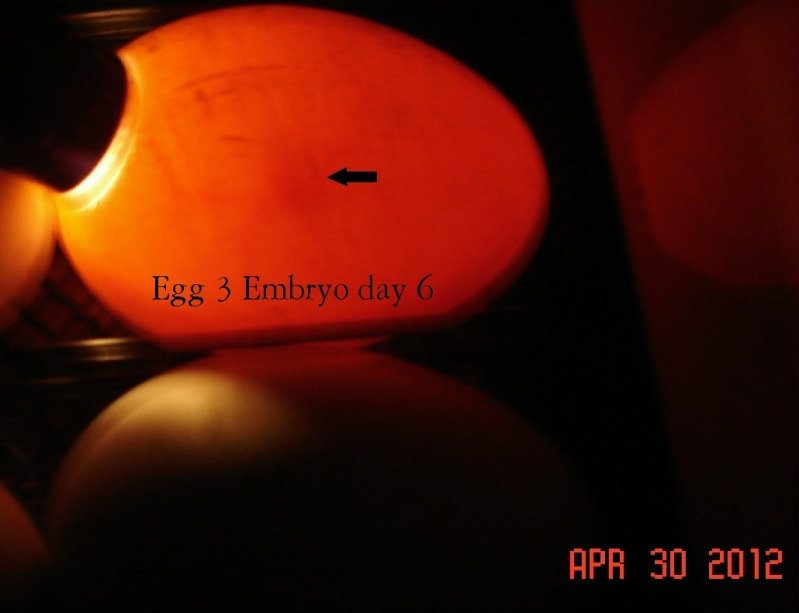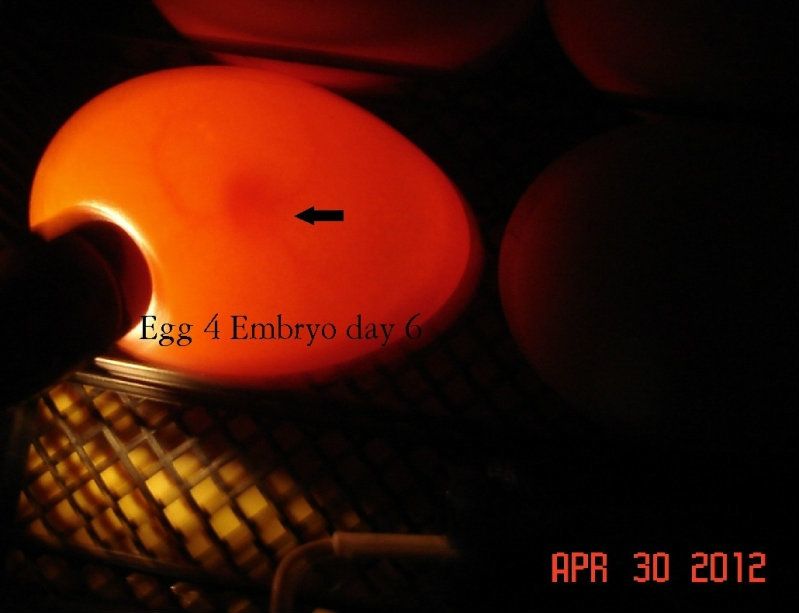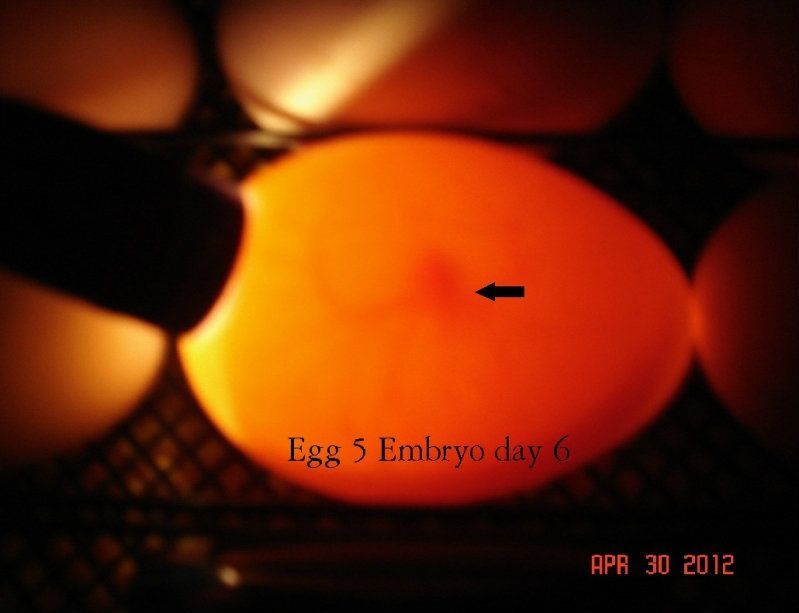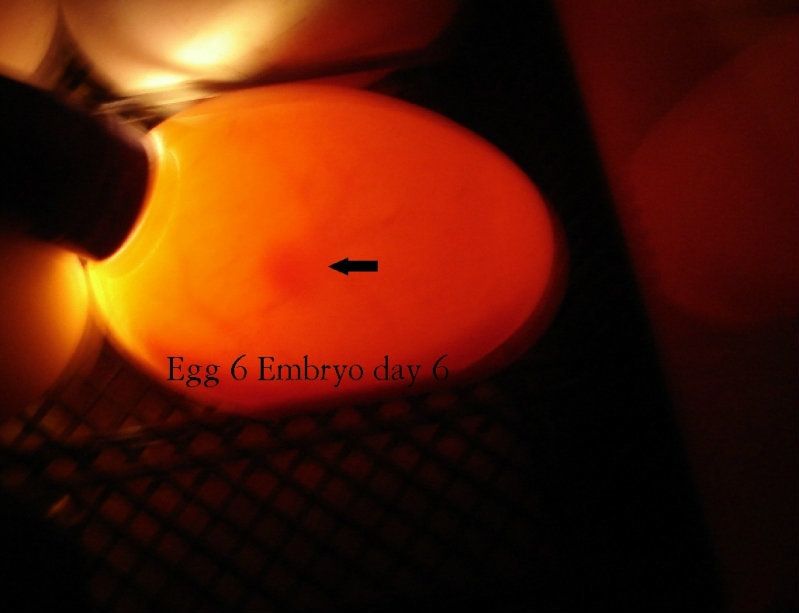 HERES MY UPDATE FOR DAY 11...I REALLY HOPE THIS WORKS!
MY MOM SAID SHE COULDNT SEE THE MOVEMENT ON HER SCREEN BUT I CAN ON MINE?
OK HERE ARE PICS OF THE EGGS ON DAY 14!  I WILL CANDLE AGAIN ON DAY 21...
EGG 1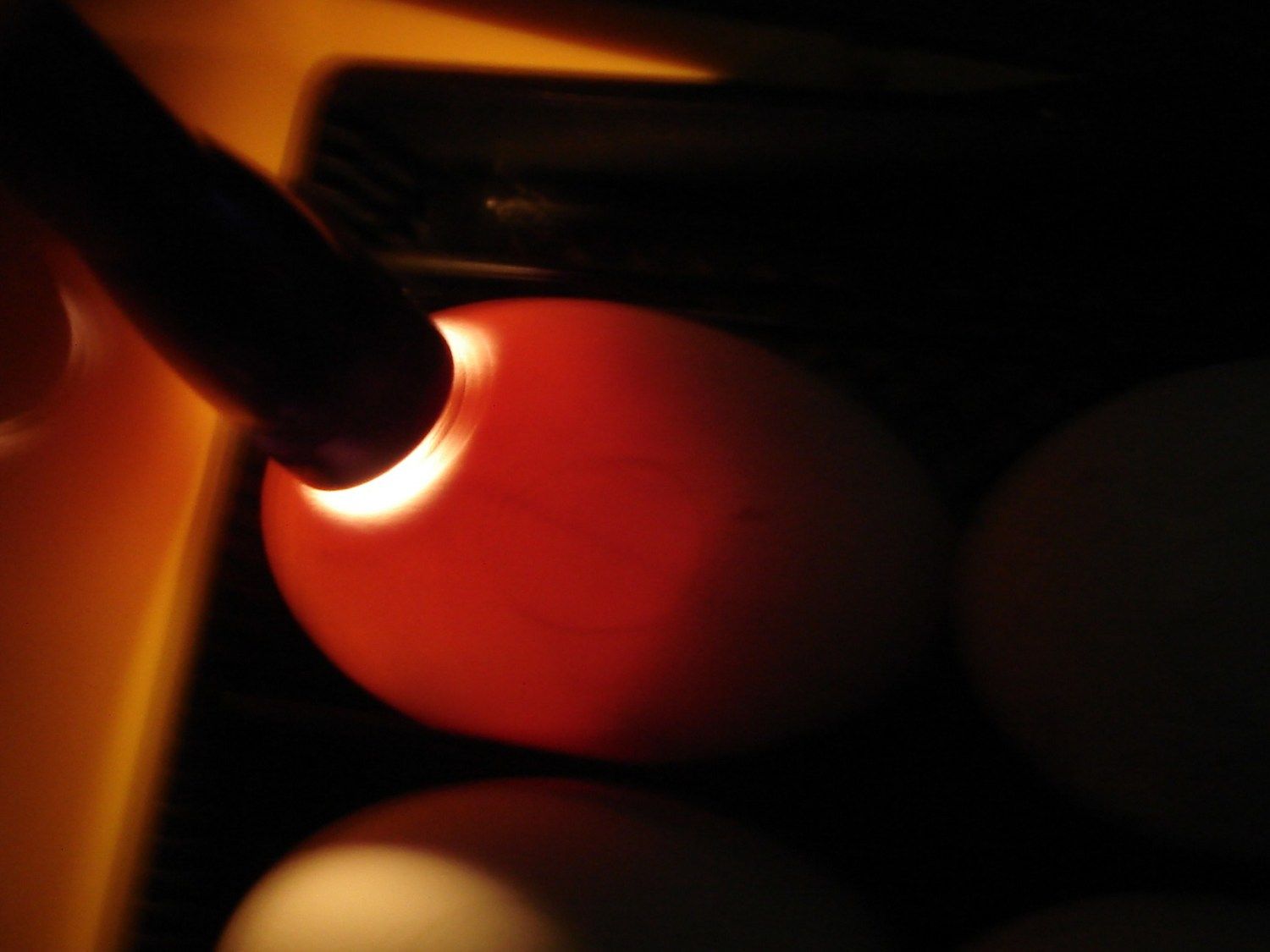 EGG 2: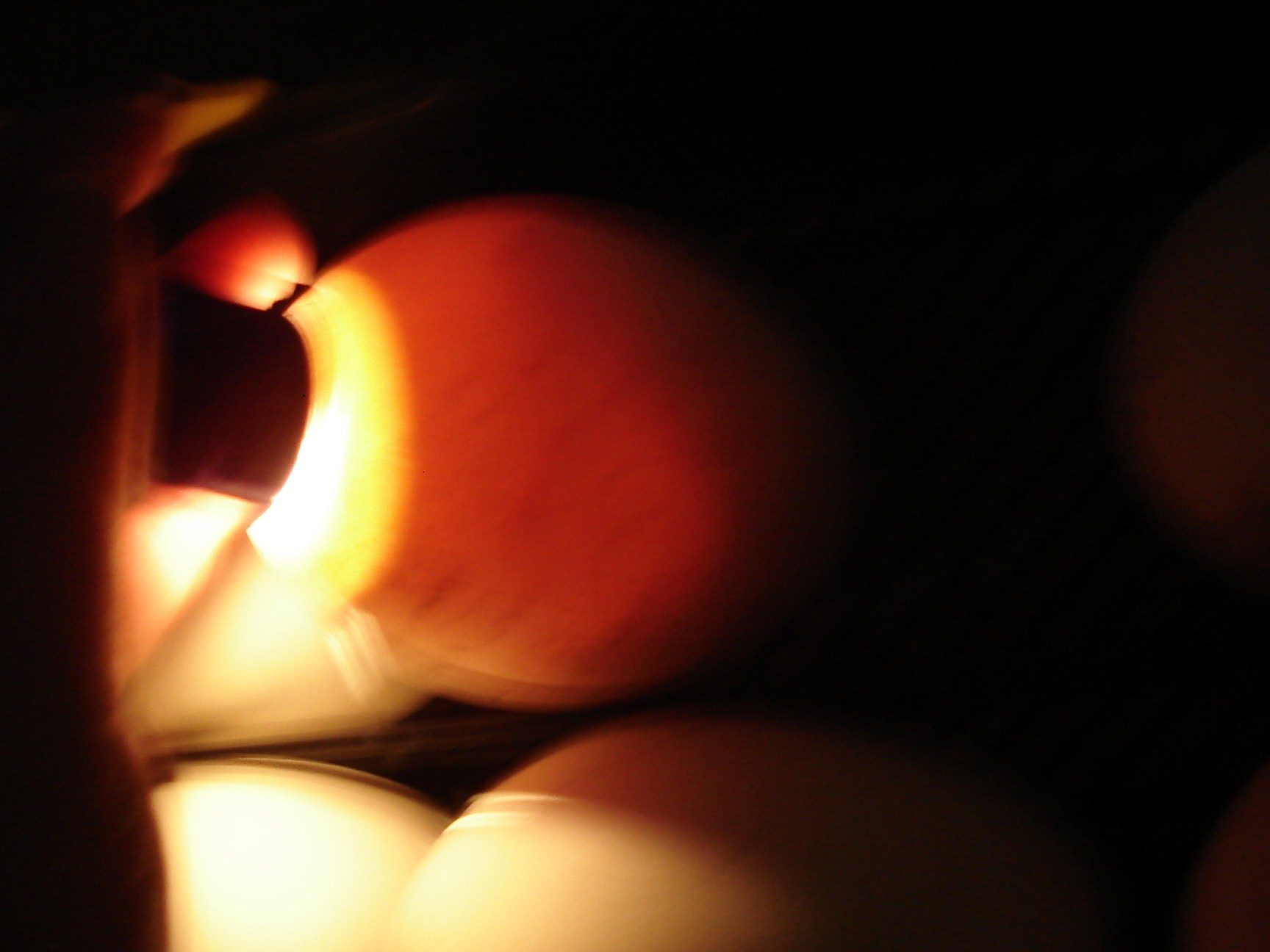 EGG 3: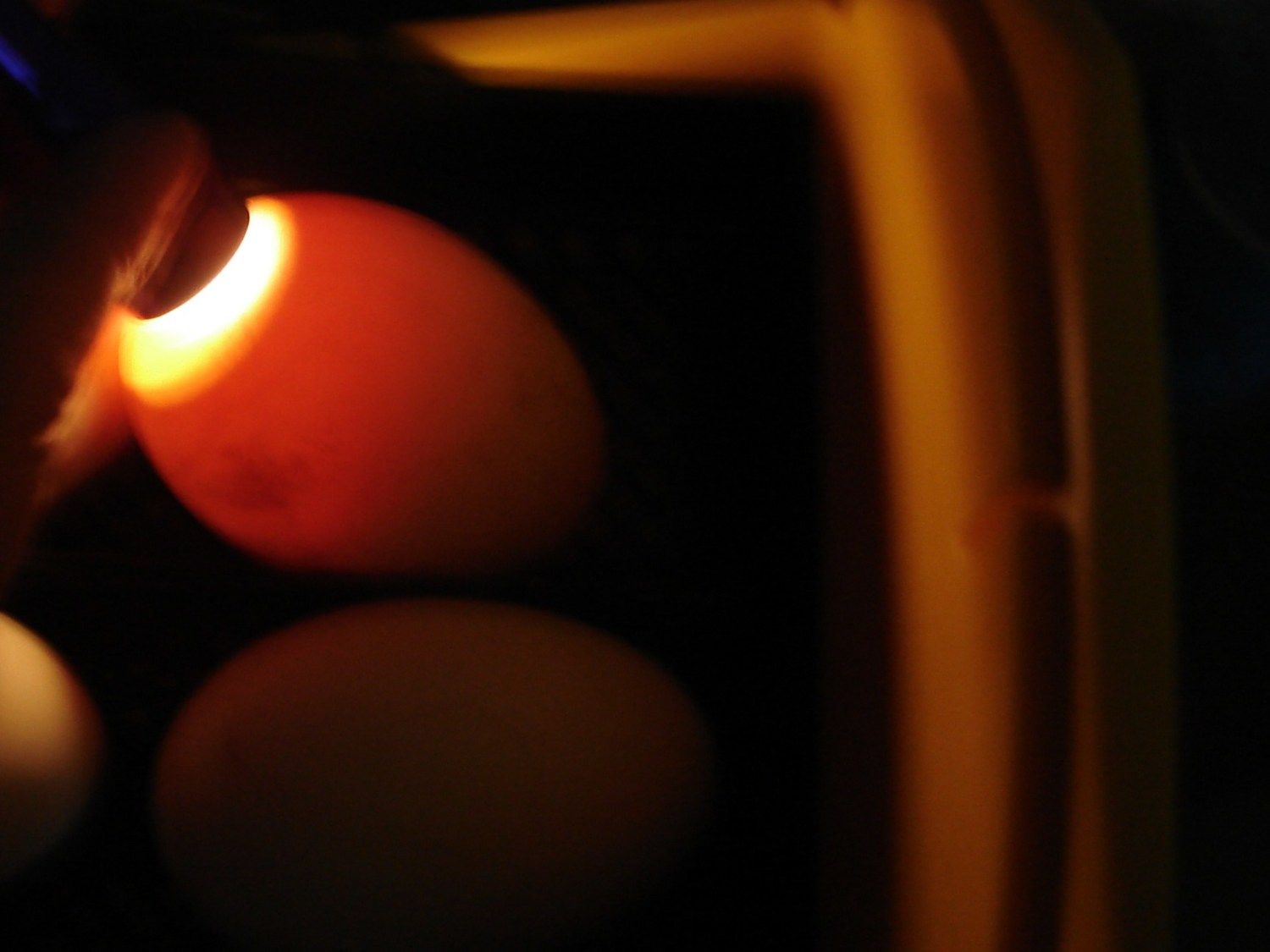 EGG 4: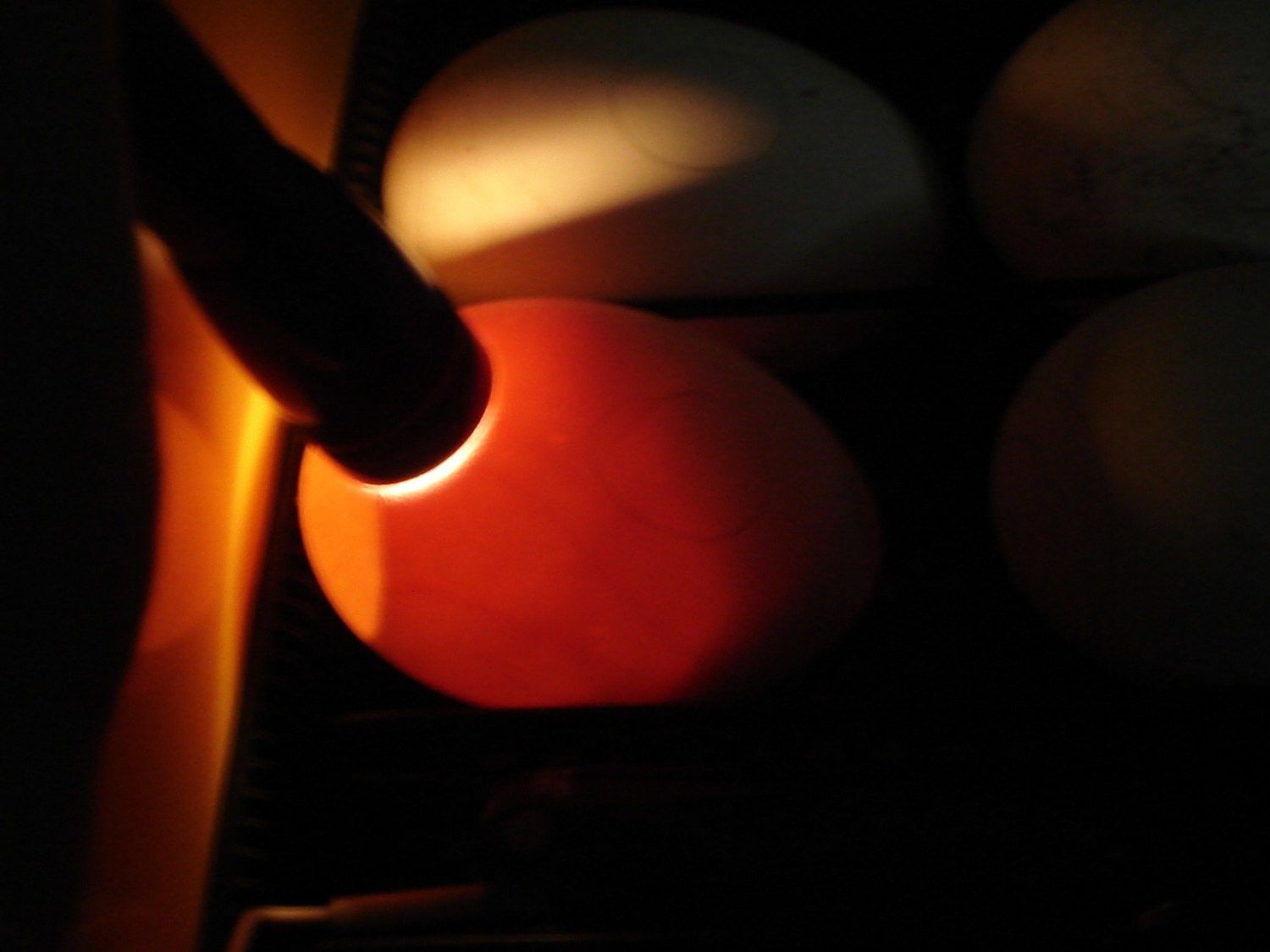 EGG 5: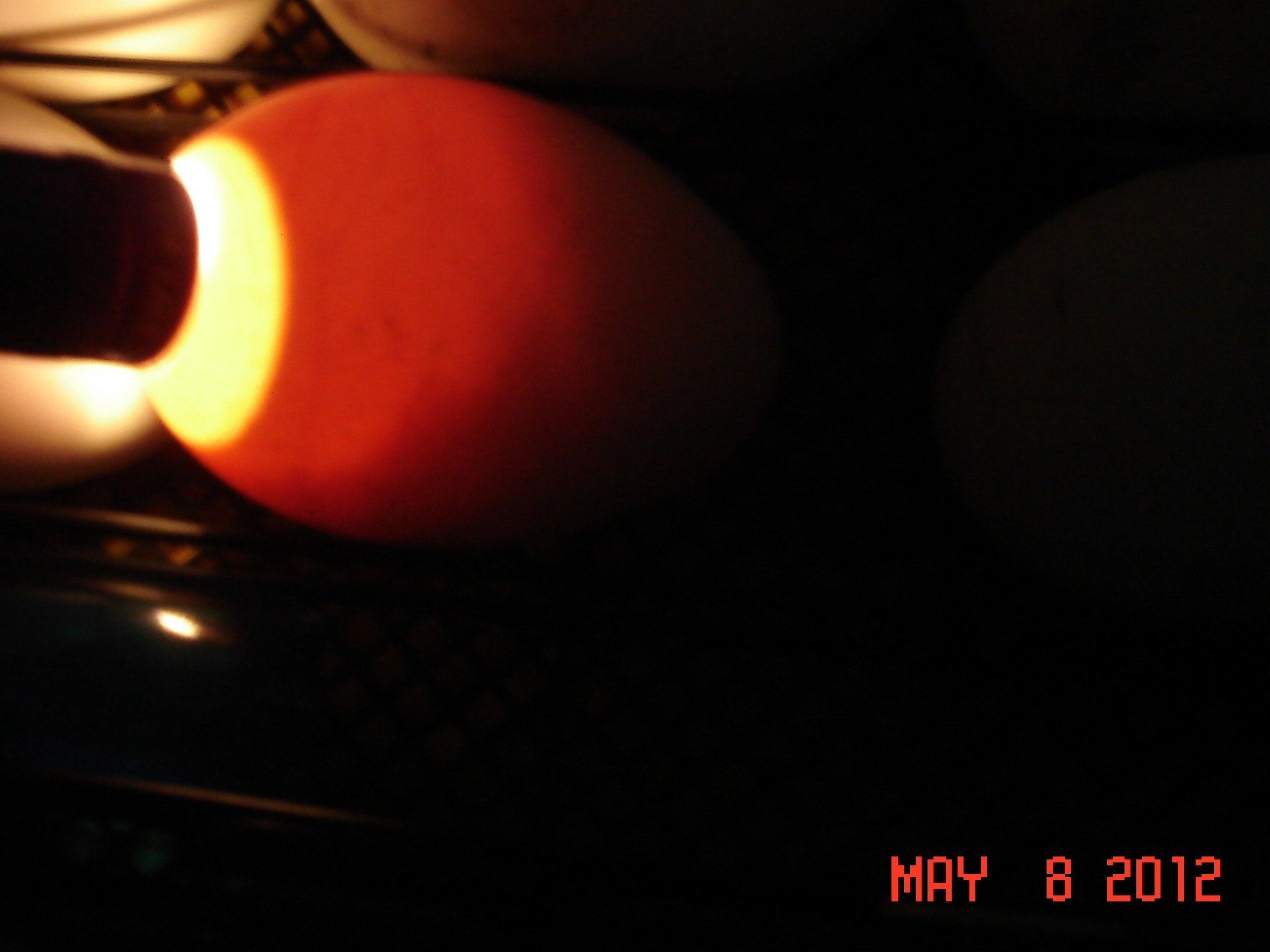 EGG 6: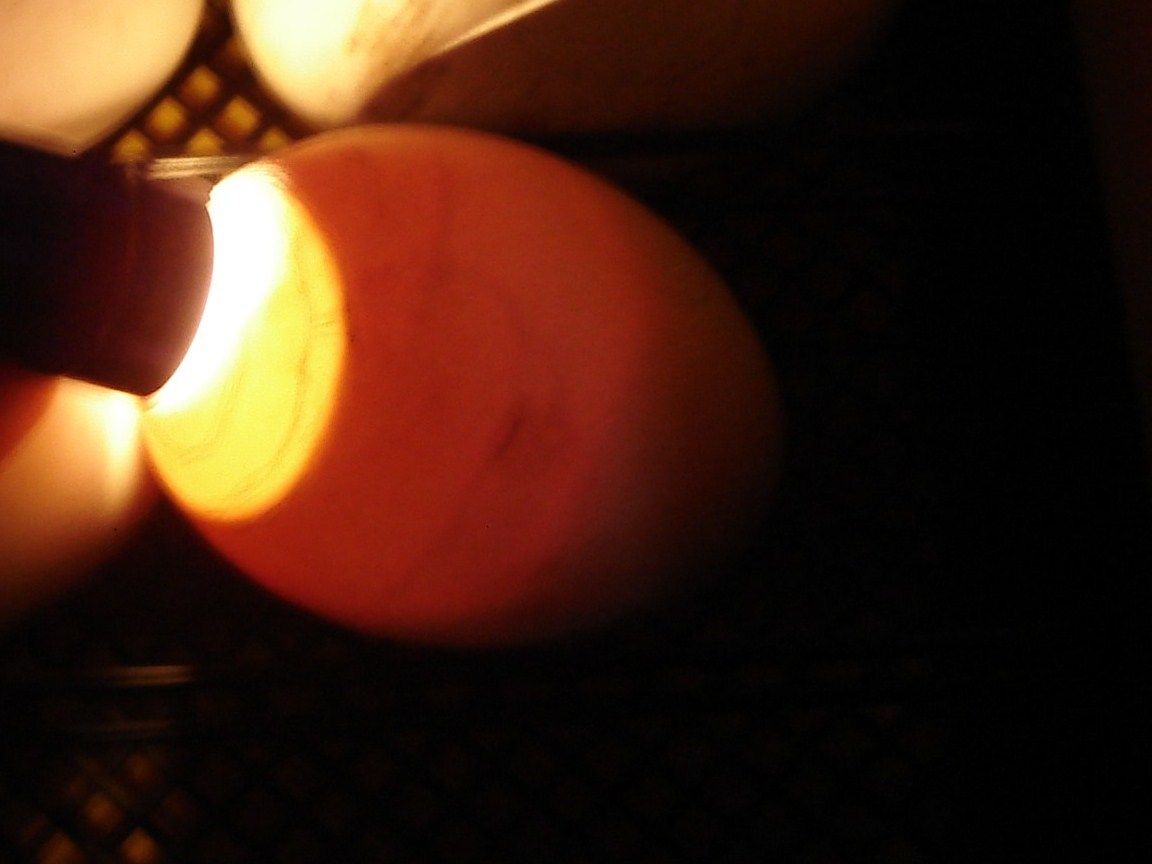 AND HERE IS THE AIRCELL ON DAY 14: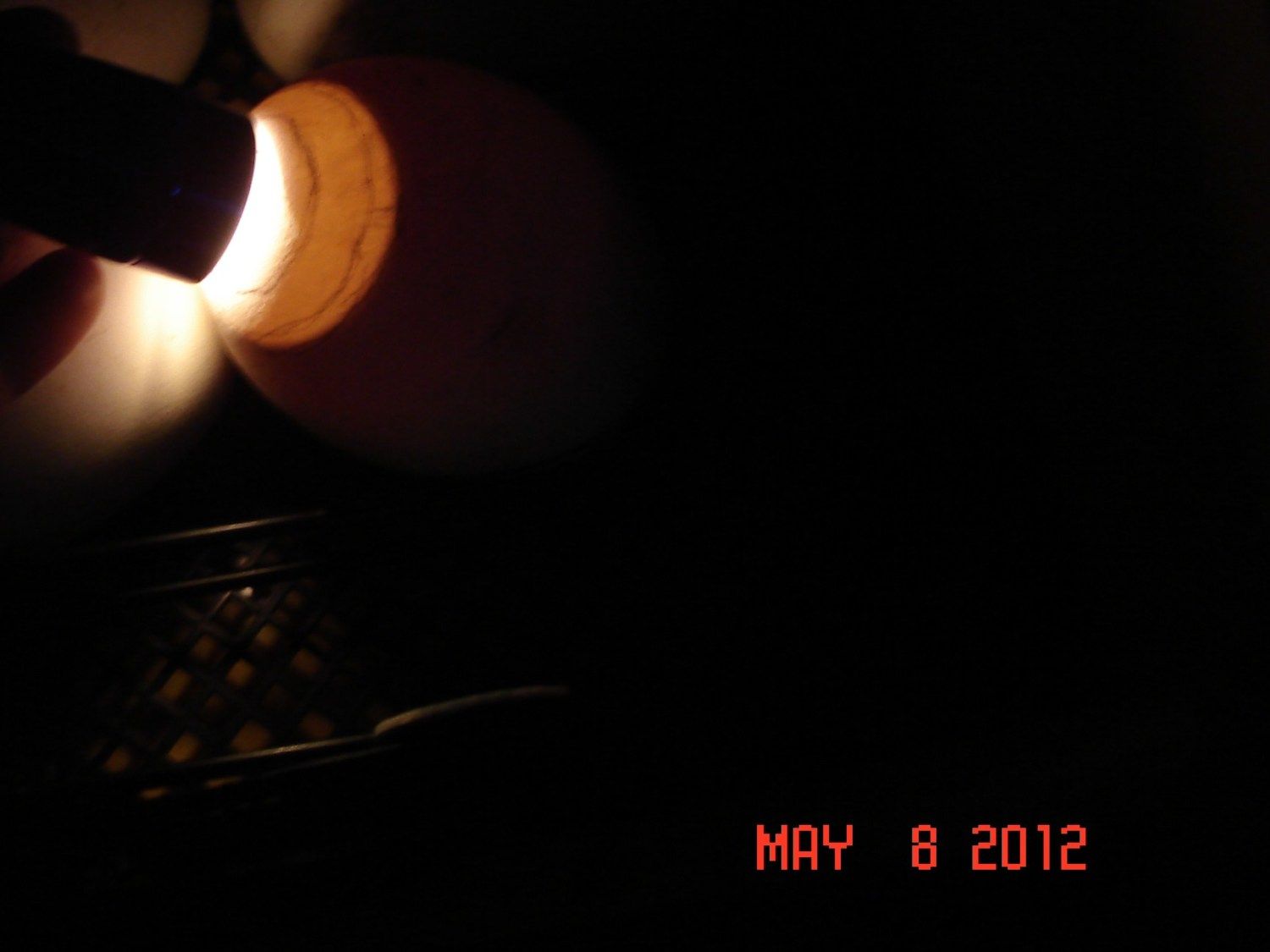 I THINK EVERYTHING IS LOOKING GOOD SO FAR, BUT THIS IS MY FIRST TIME SO I AM JUST GOING BY WHAT I HAVE READ.  I AM HOPEFUL THAT I AM DOING EVERYTHING CORRECTLY AND THIS COMES OUT WITH A HAPPY ENDING!
OK here is my last entry before they hatch! (hopefully they hatch anyhow)  This is day 25.. not much to see but here they are:
Egg 1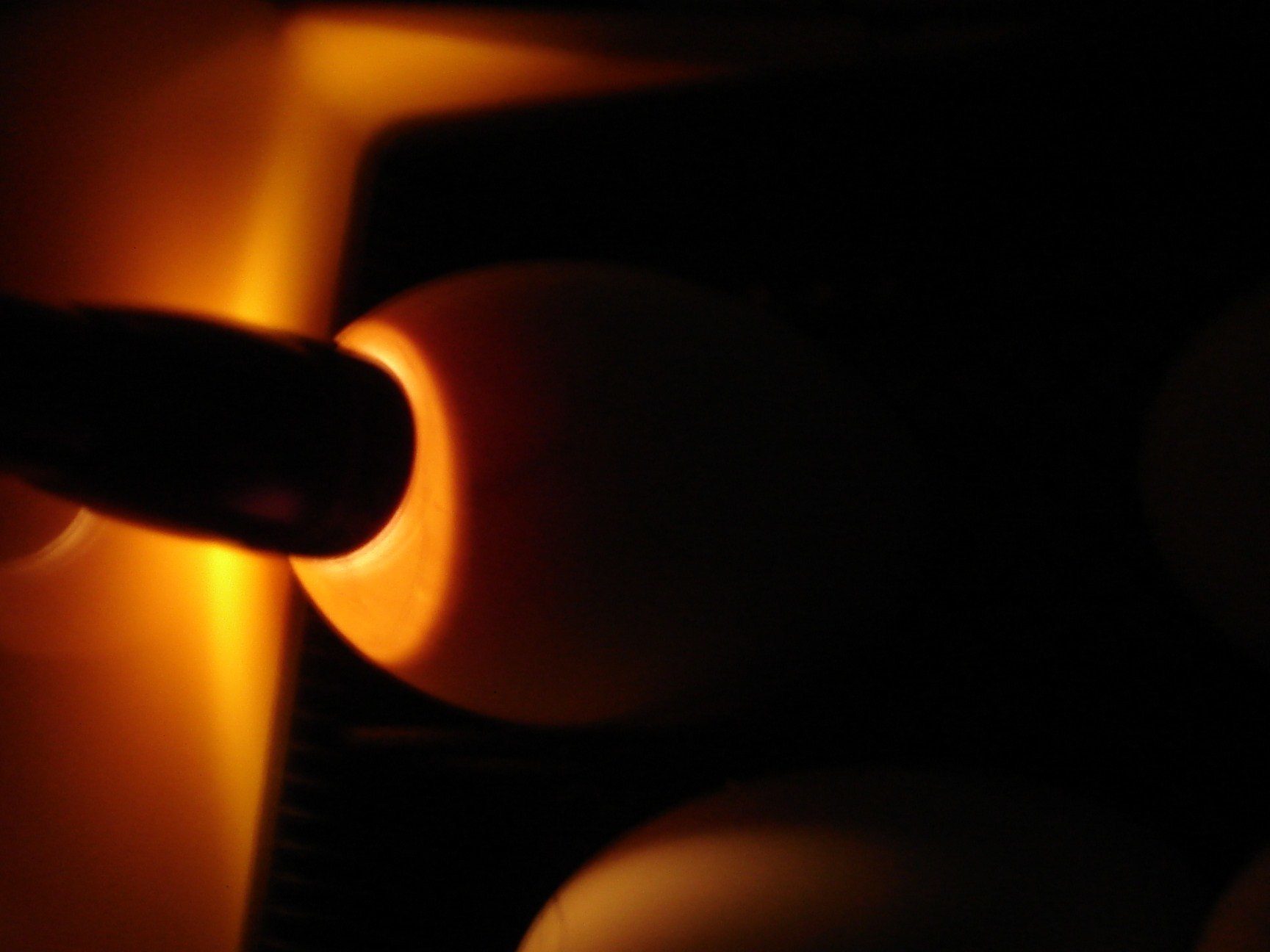 Egg 2: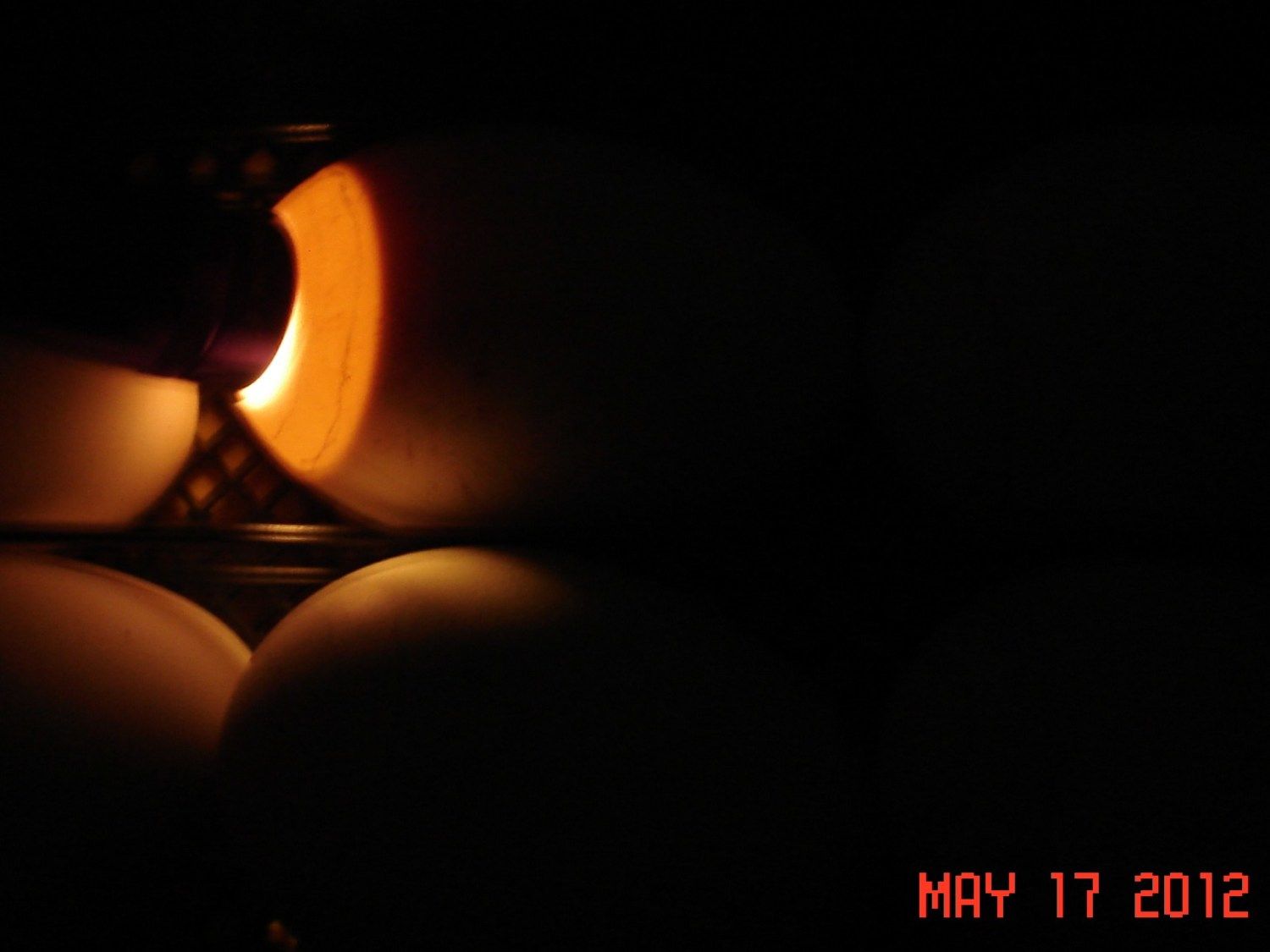 Egg 3:
Egg 4: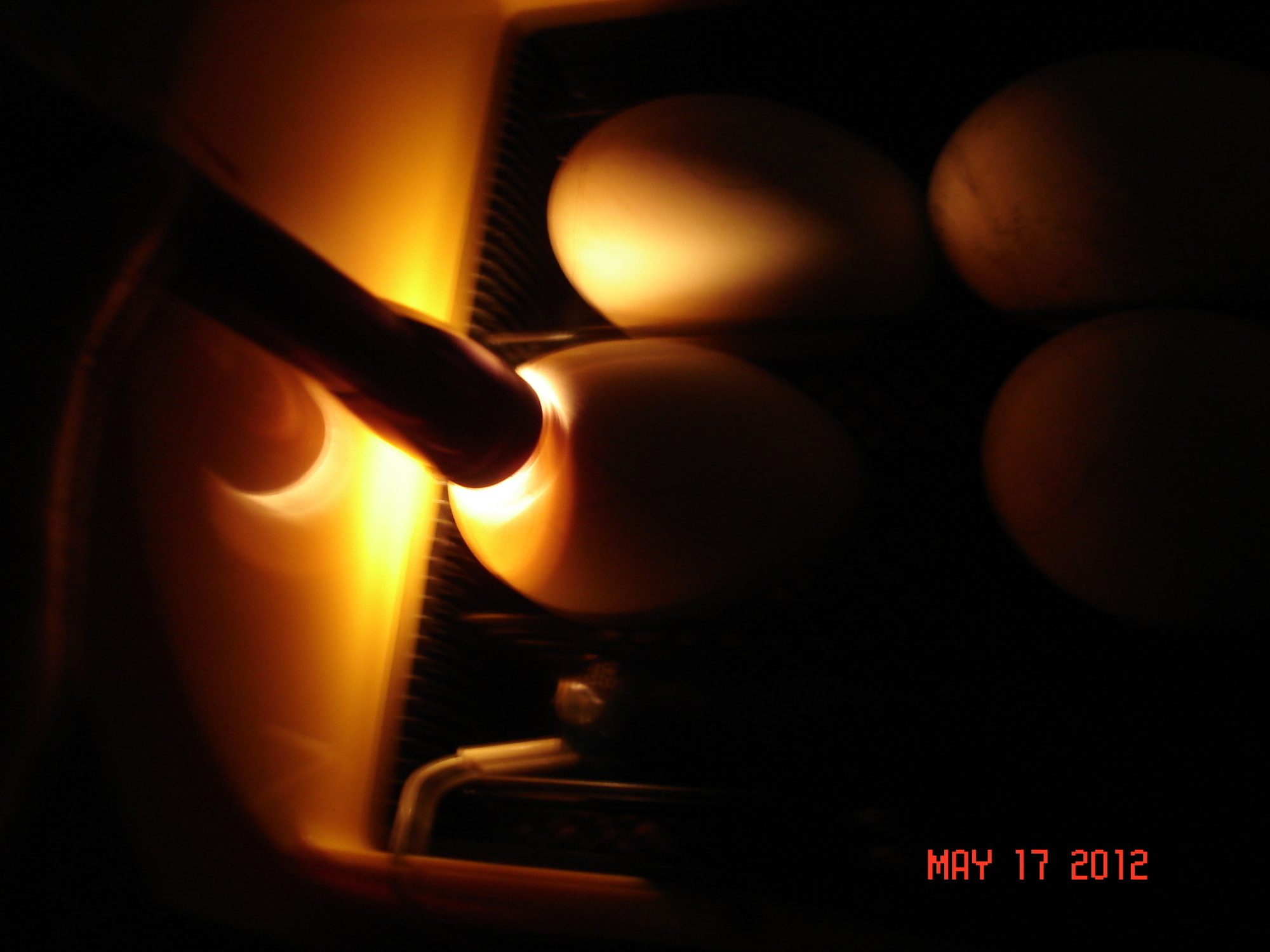 Egg 5: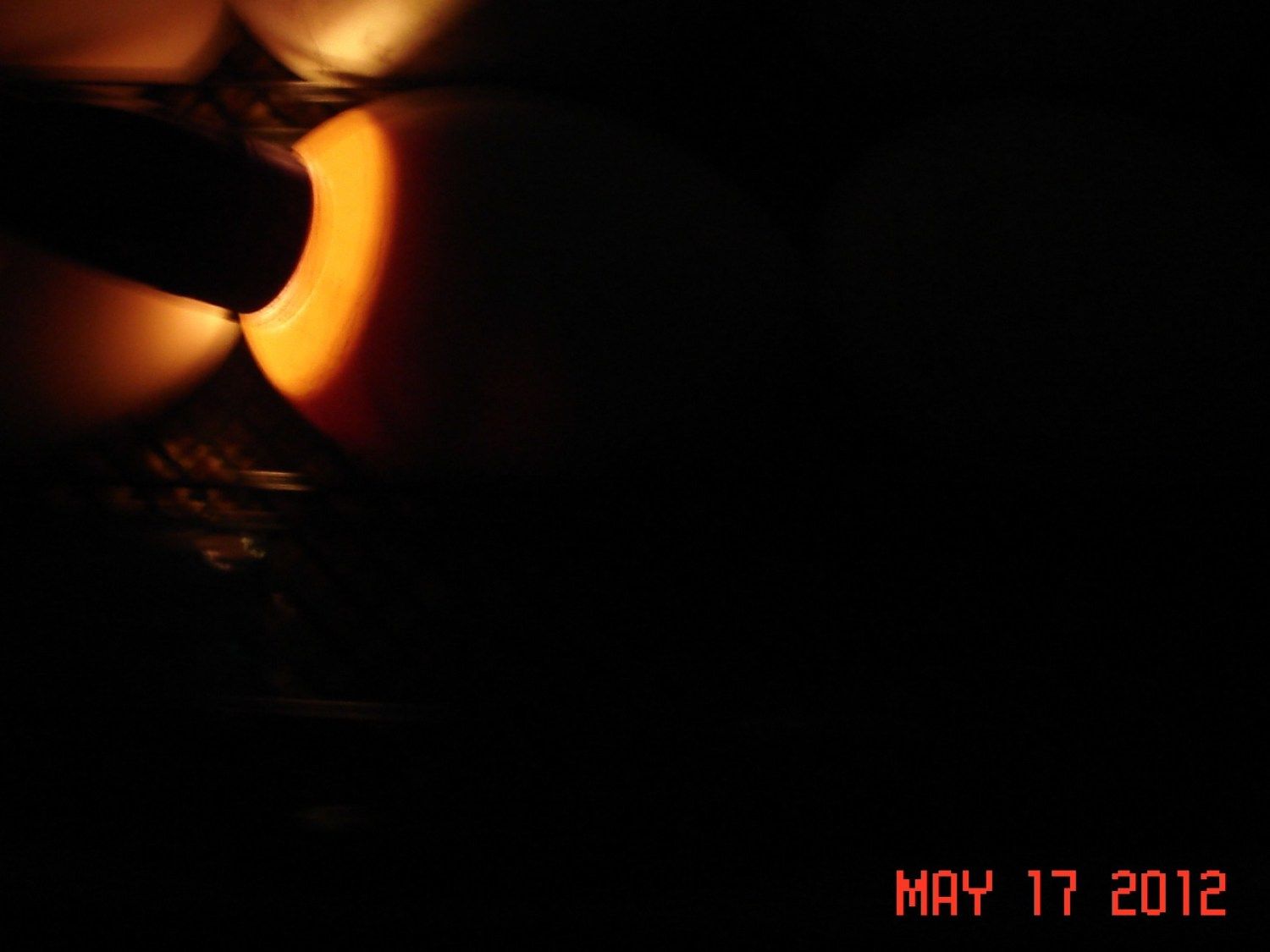 Egg 6: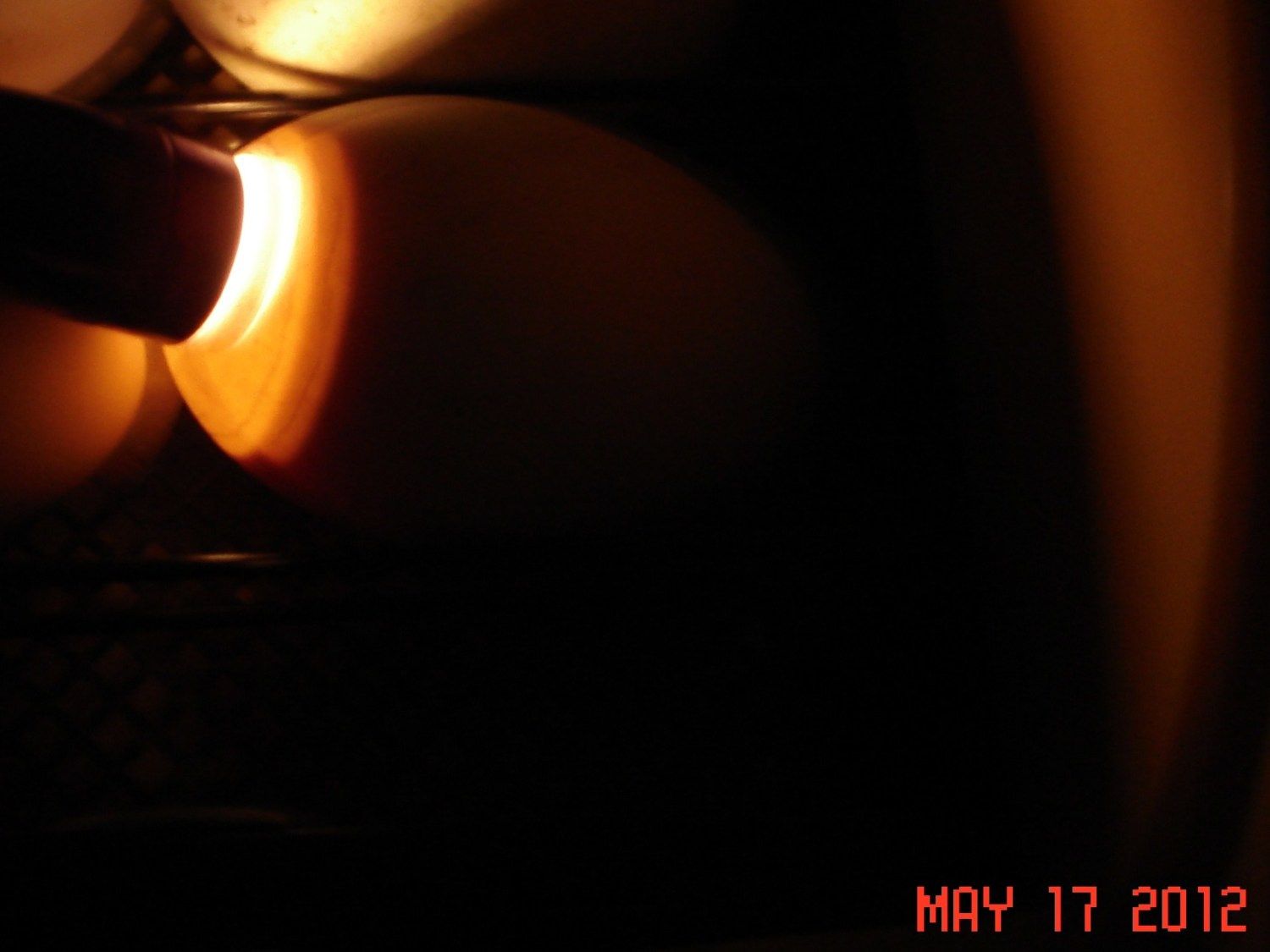 I hope to be posting internal pipping, external pipping, and hatching photos next!!!!  Wish me luck!
OH and this is how I positioned them for the last few days.  I raised the air cell end up a bit.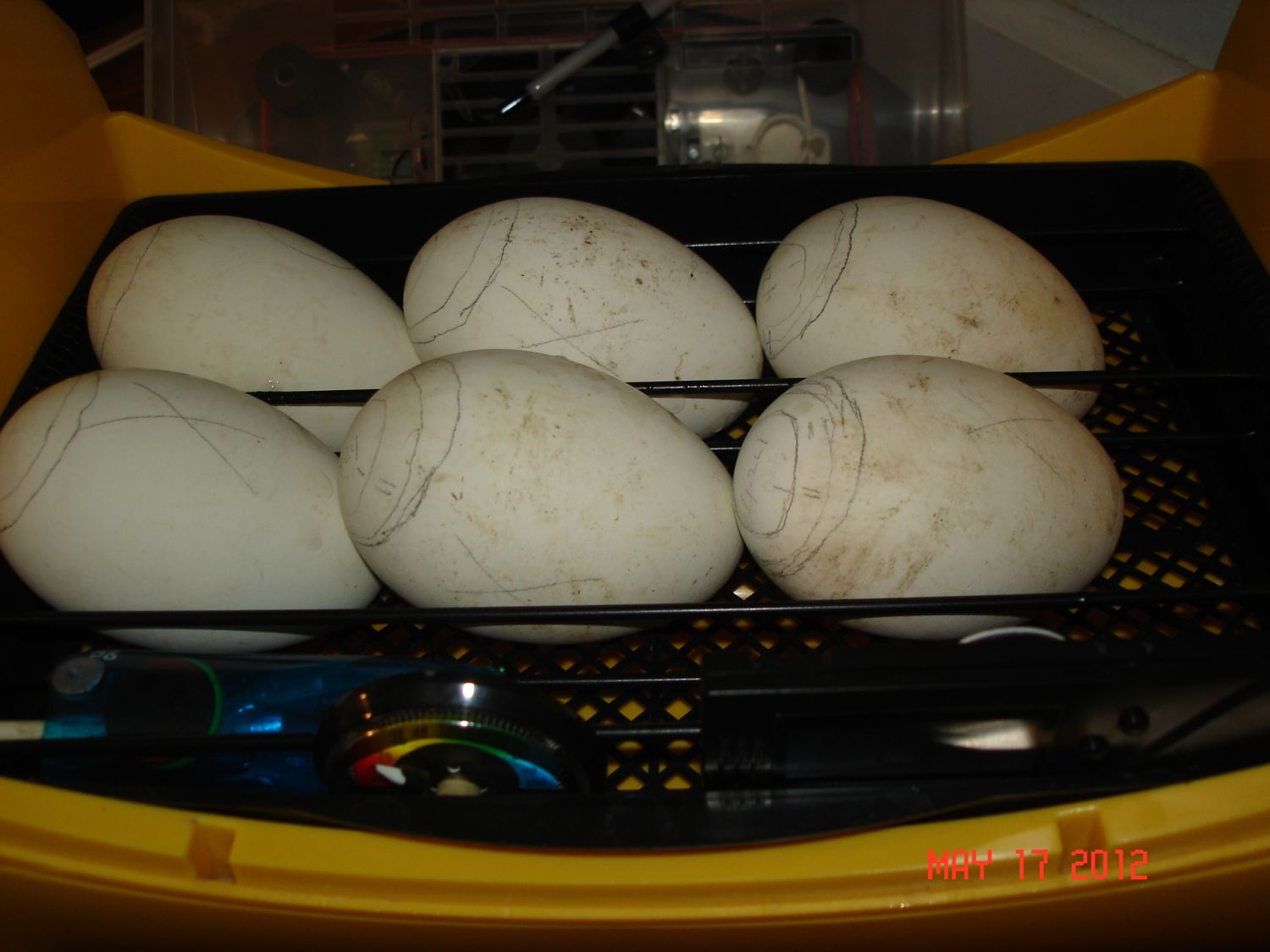 In this pictured (day 25) you can see that the air cell has dropped in all eggs except egg #4: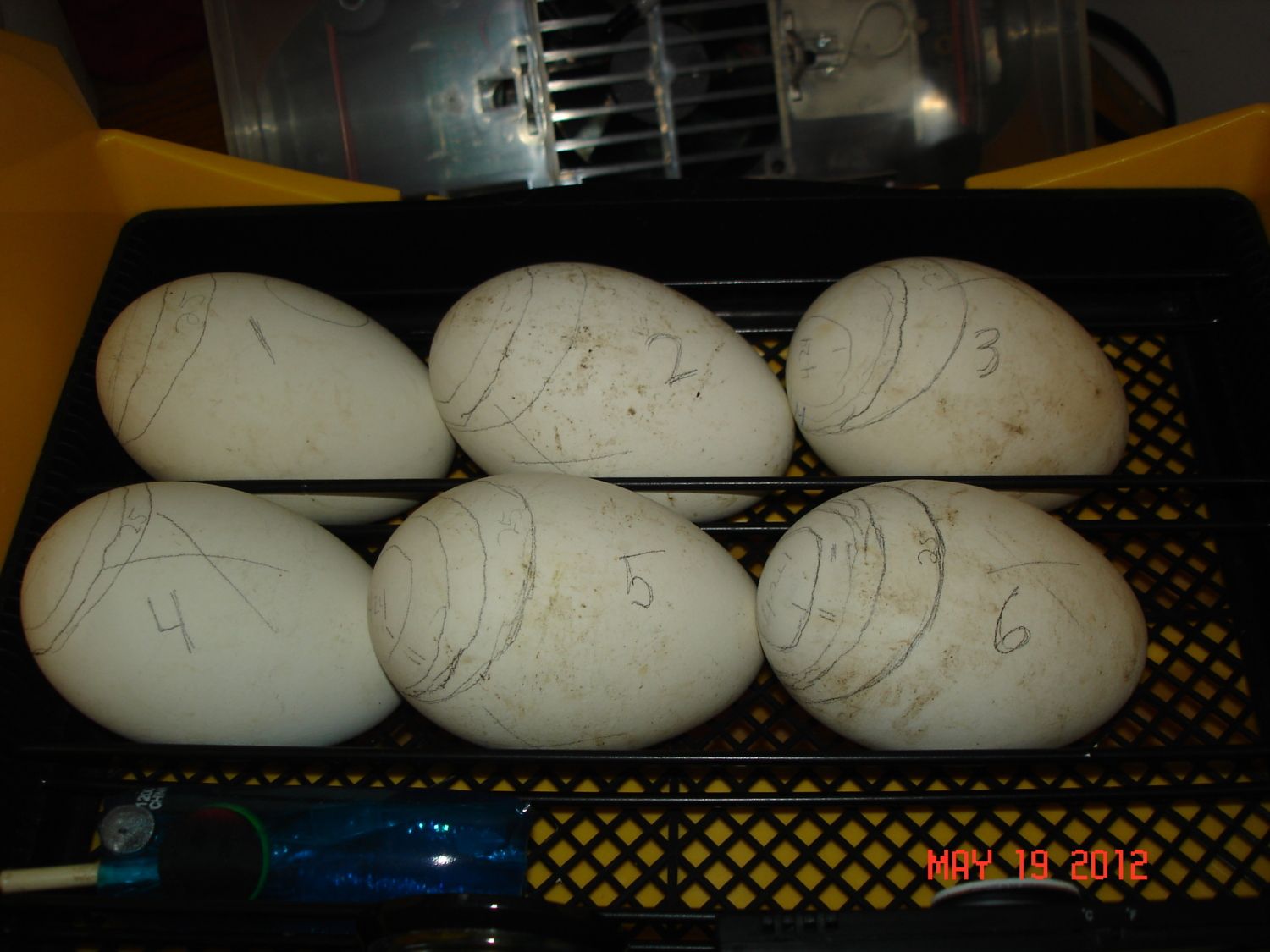 Lets hope egg 4 catches up to the rest tomorrow!  I'll update again as soon as I see the first internal pip!
OK now heres some good stuff!!!!   Here is the progress on the hatch so far:
INTERNAL PIP DAY 27: (PICK TAKEN THE FOLLOWING DAY 28)
~This egg externally pipped 1 minute after this pic was taken!!!~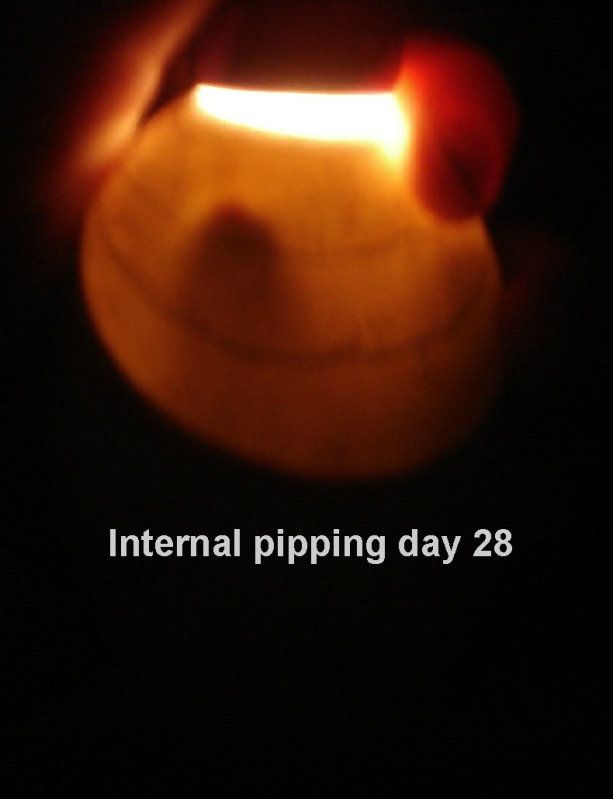 3 EGGS ARE EXTERNALLY PIPPED!  #2, 3, & 6!  1 MORE IS INTERNALLY PIPPED AND THE LAST 2 ARE DEFINATELY STILL ALIVE AND MOVEING.  I AM OFFICIALLY ON LOCKDOWN NOW SO NO MORE CANDLEING I HOPE THEY PROGRESS NORMALLY!
(EGG 3 & 6) Egg 6 is the one from above about 2 minutes later! (the one on the bottom)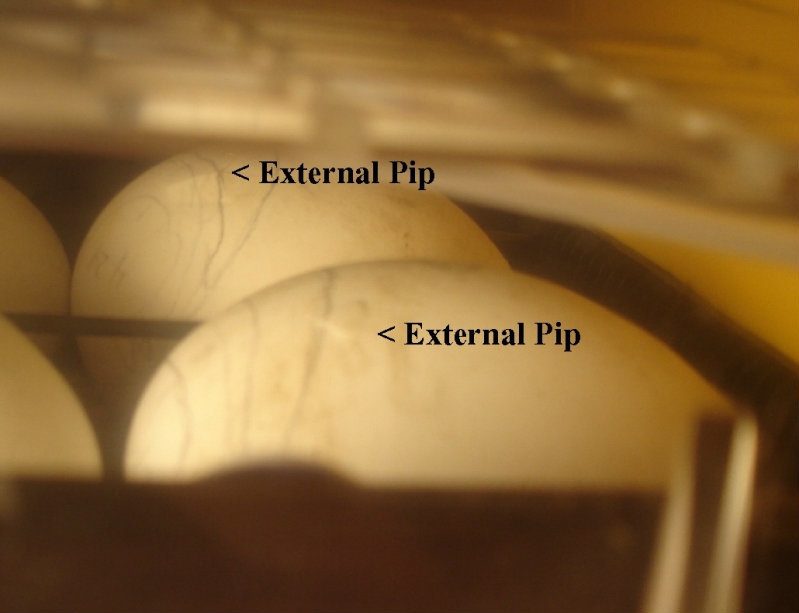 (EGG 2)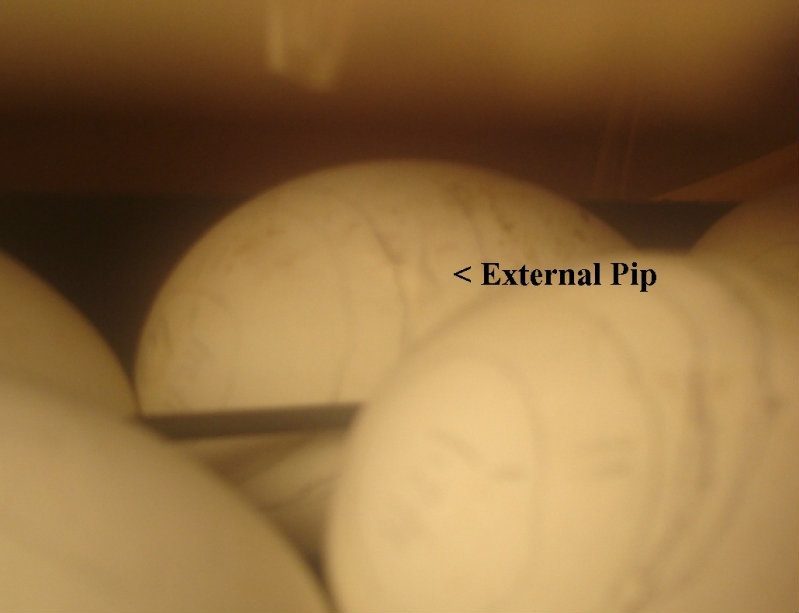 DO YOU SEE WHAT I SEE!!!!    LOL     DAY 28  9:30pm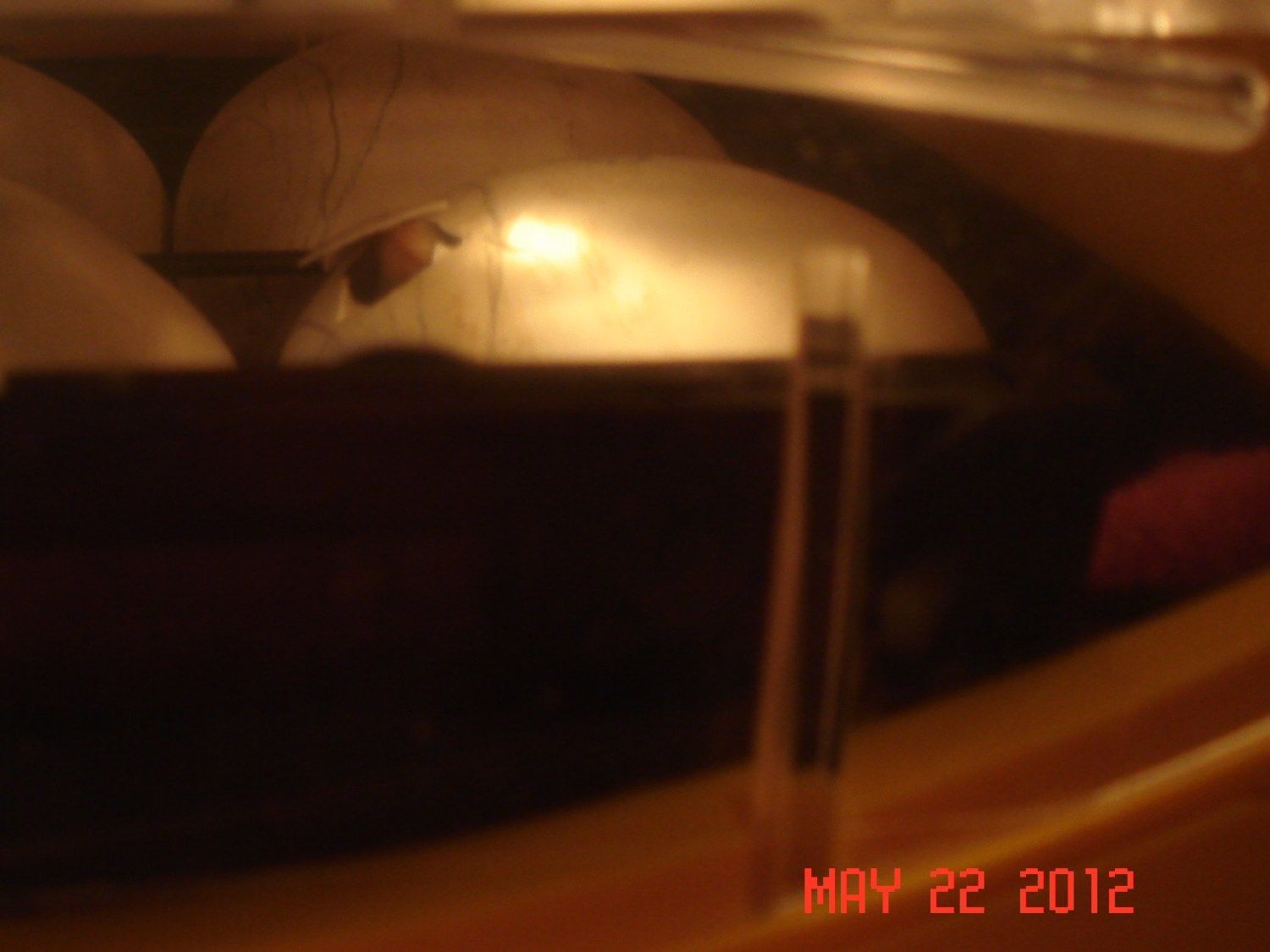 ITS NOW 6:35 AM ON DAY 29 AND THIS IS WHAT I WOKE UP TO THIS MORNING!!!  (at least I can see them now)
and here is a still pic if you dont want to look at the video or it doesnt work: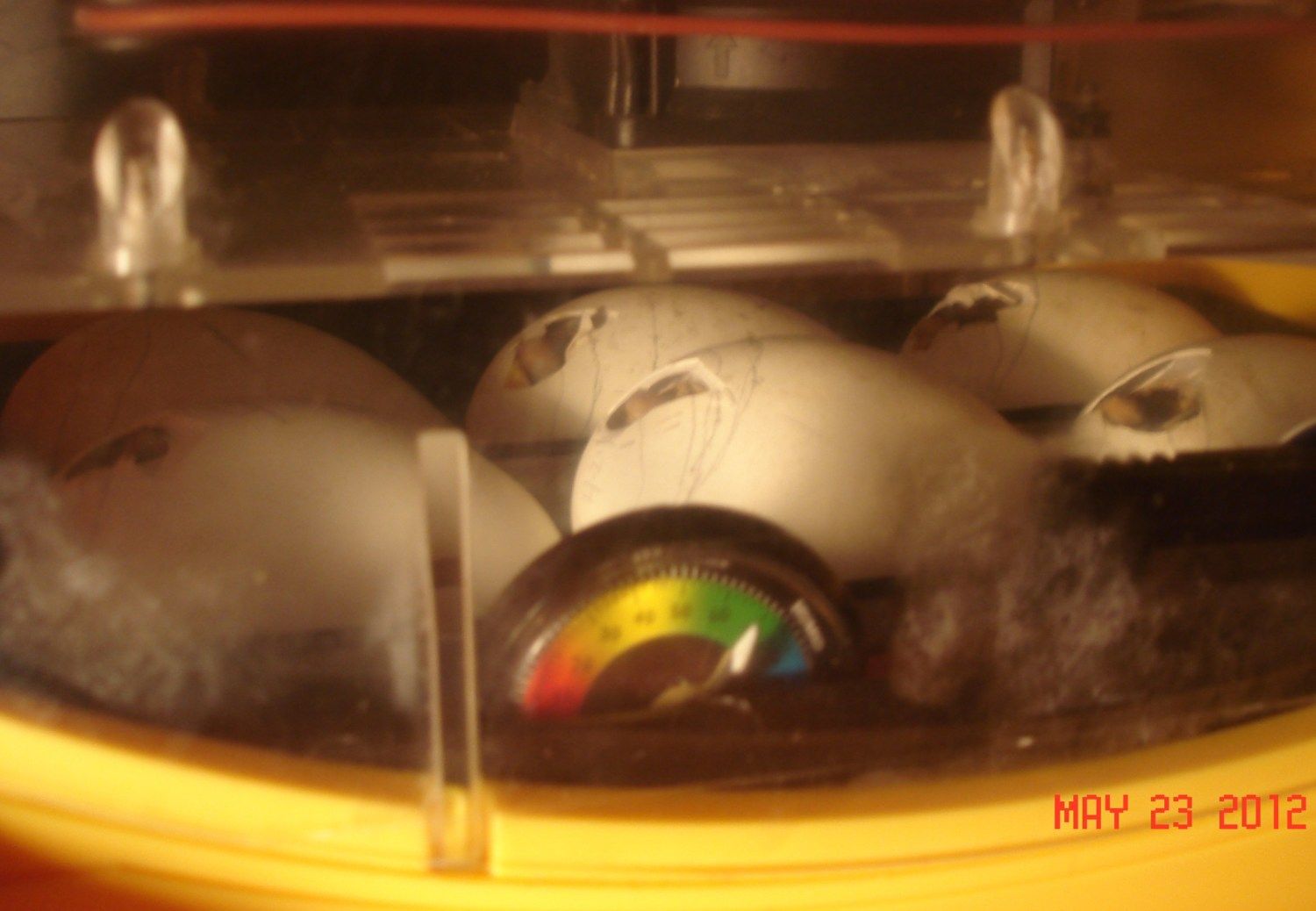 I really upped the humidity now by putting very warm water in on my wash cloth...that is condensation on the front of the bator you can see in the pics...humidity was about 65% now it is about 80%   I hope they make it!  I think egg #1 has no hope but the other 5 definately do (I think any how)  I'm going to watch them closely and if it looks like they are trying to rotate and cant then I will have to decide weather to assist or not but I am hopeing they can progress on thier own.  Looks like I may end up with 5 goslings hopefully.  3 look dark and 2 look white from waht I can see in the little holes they made!!!!  :)
OK Here is the picture trail of the first gosling to hatch...#2 hatched about 5 minutes later and is in the last pic with the first one.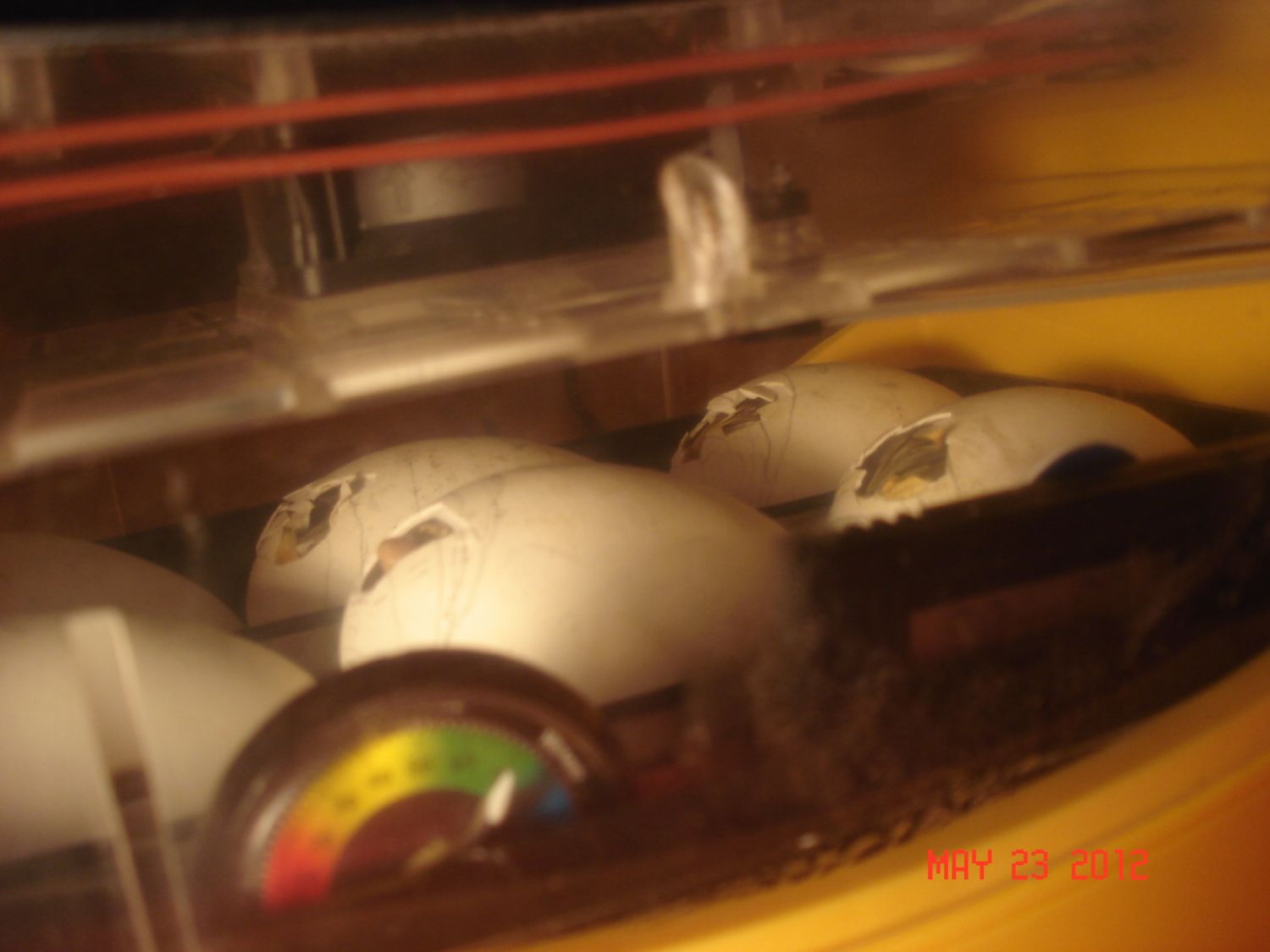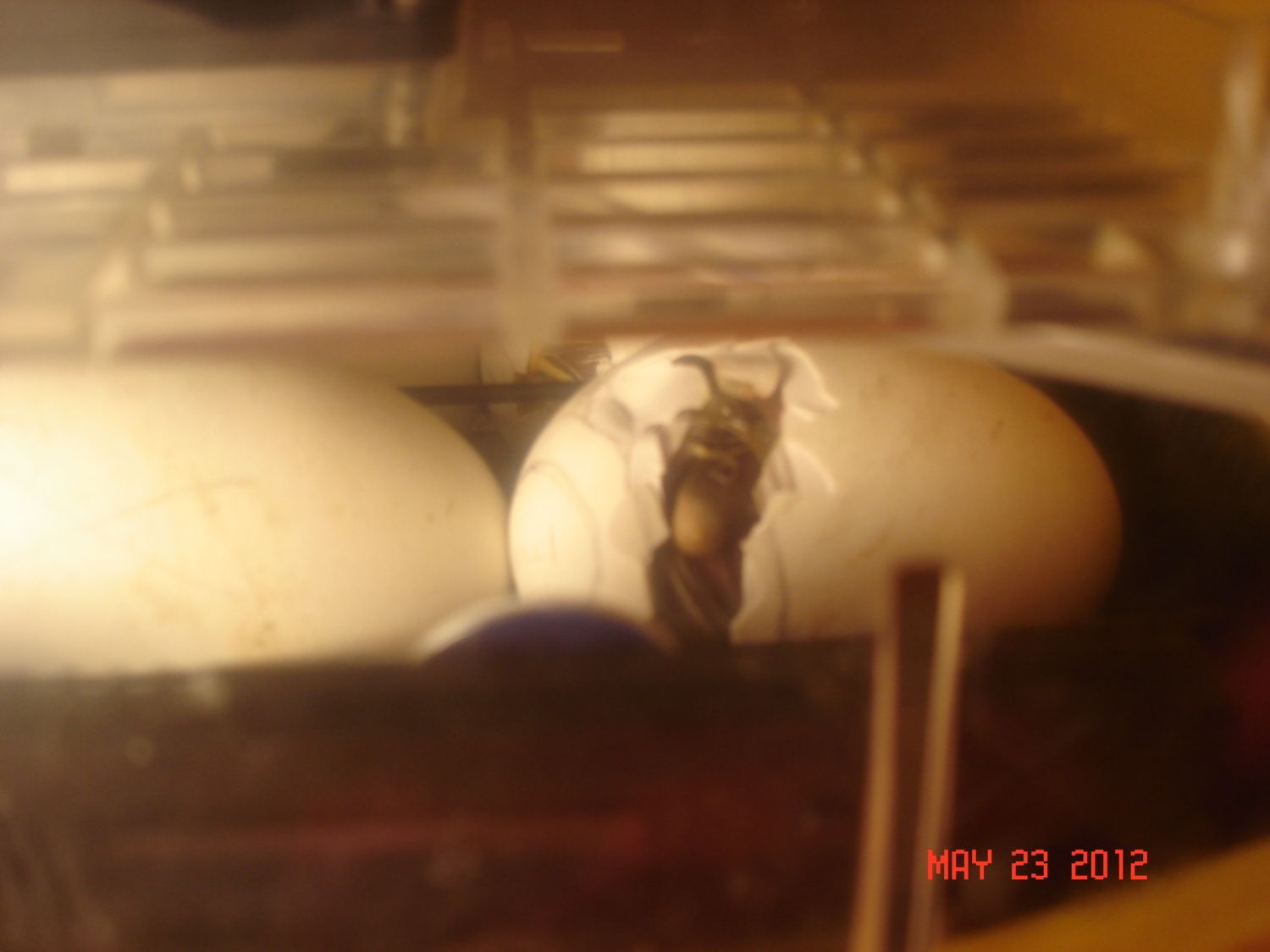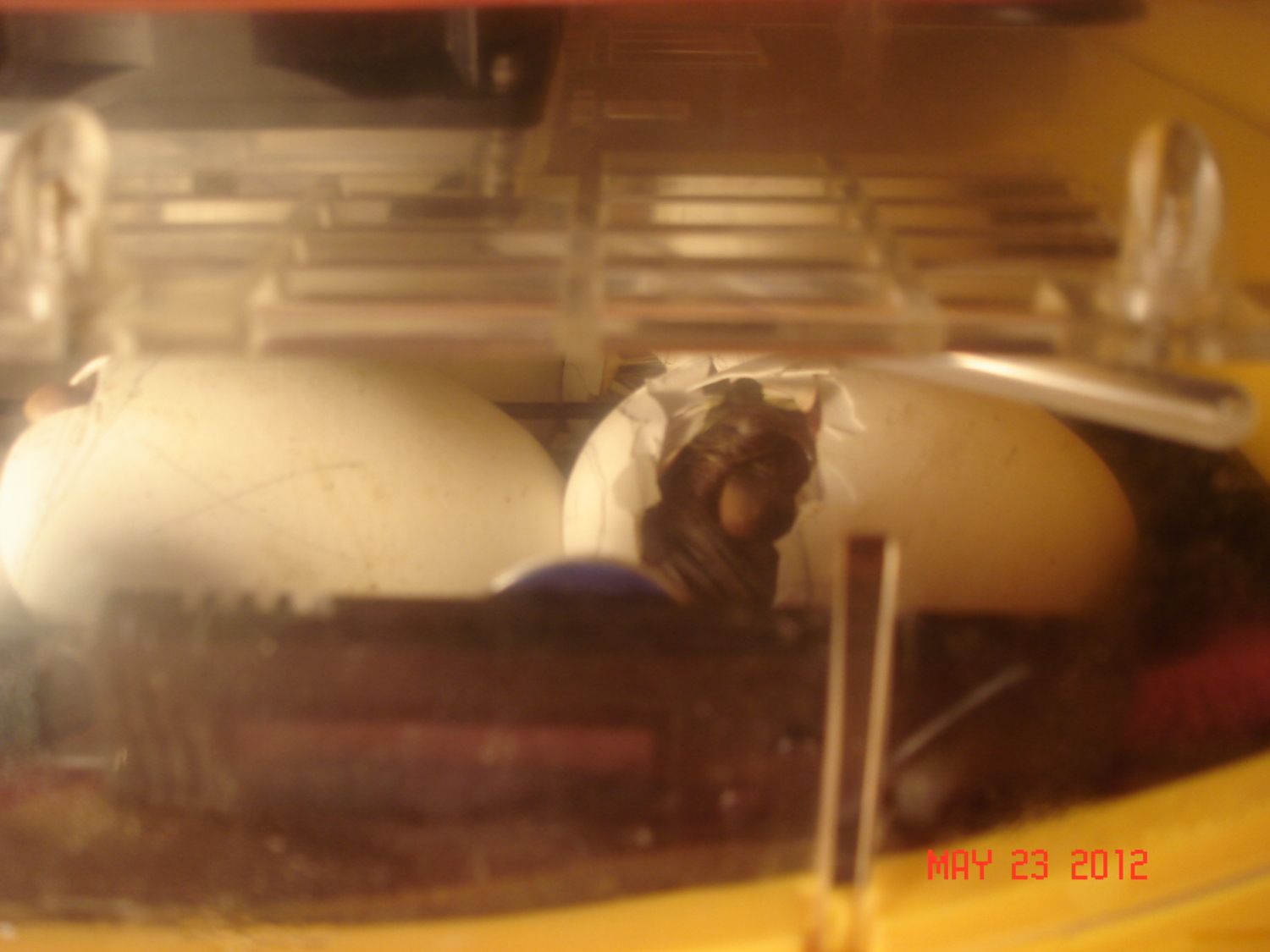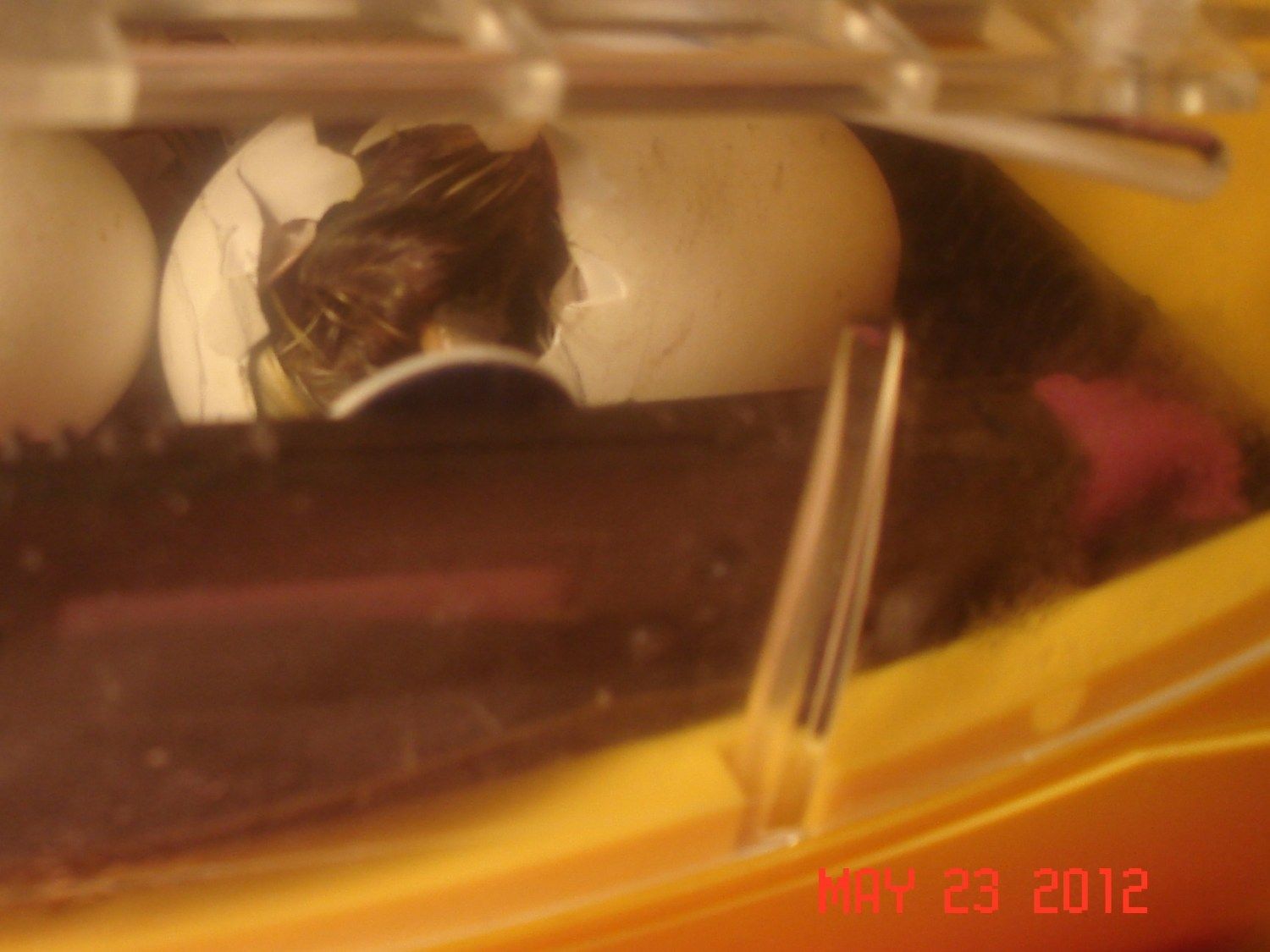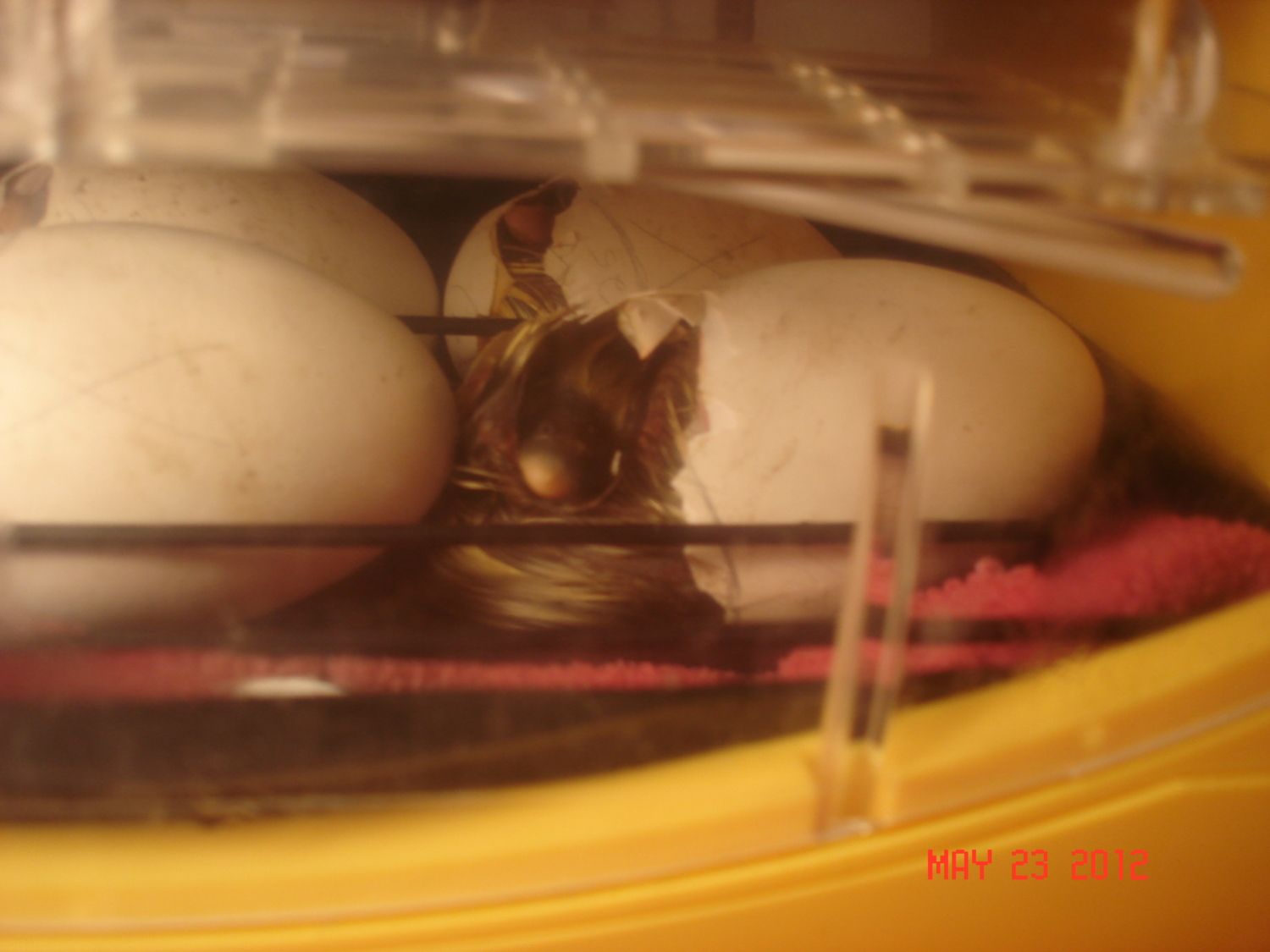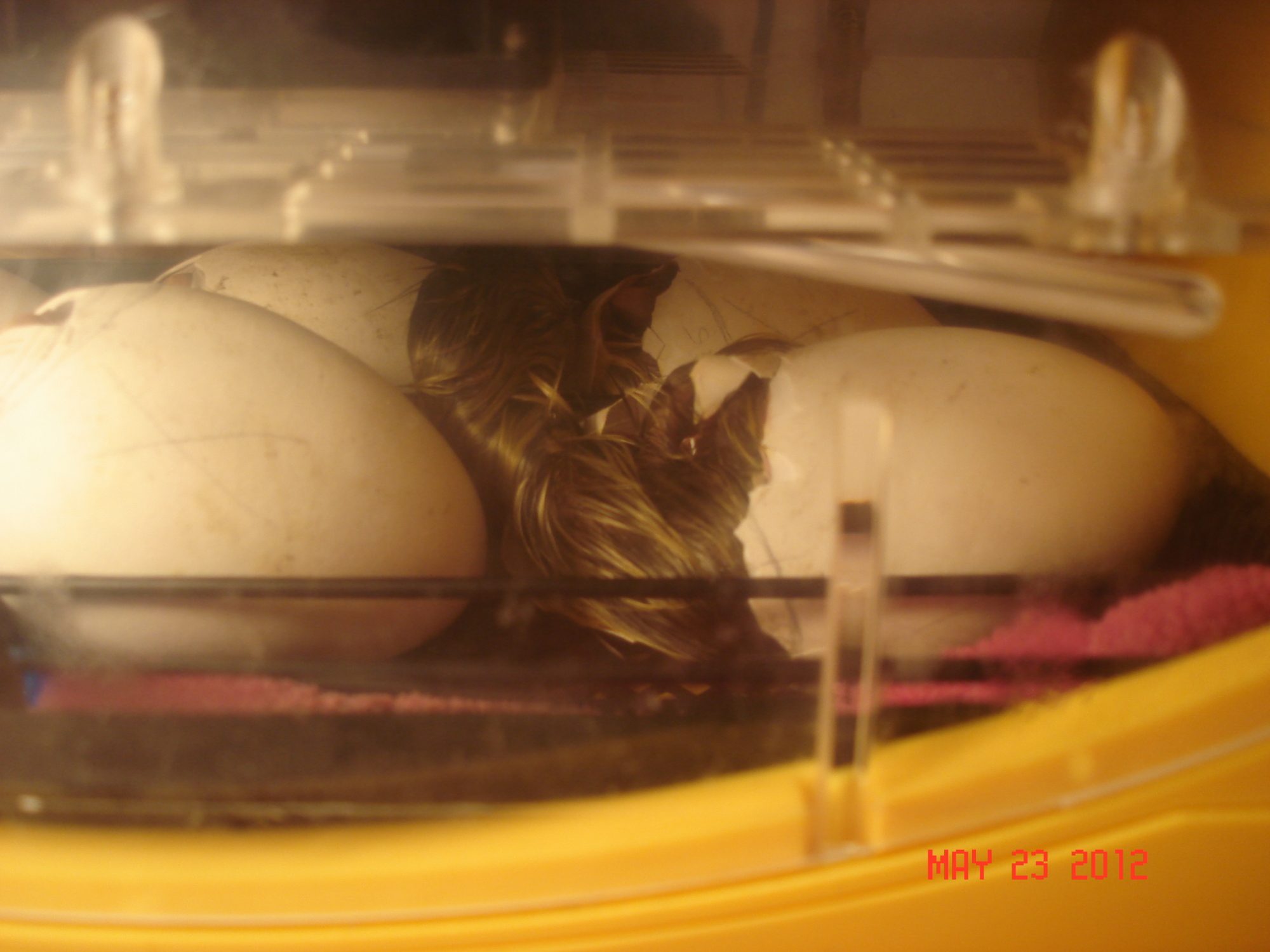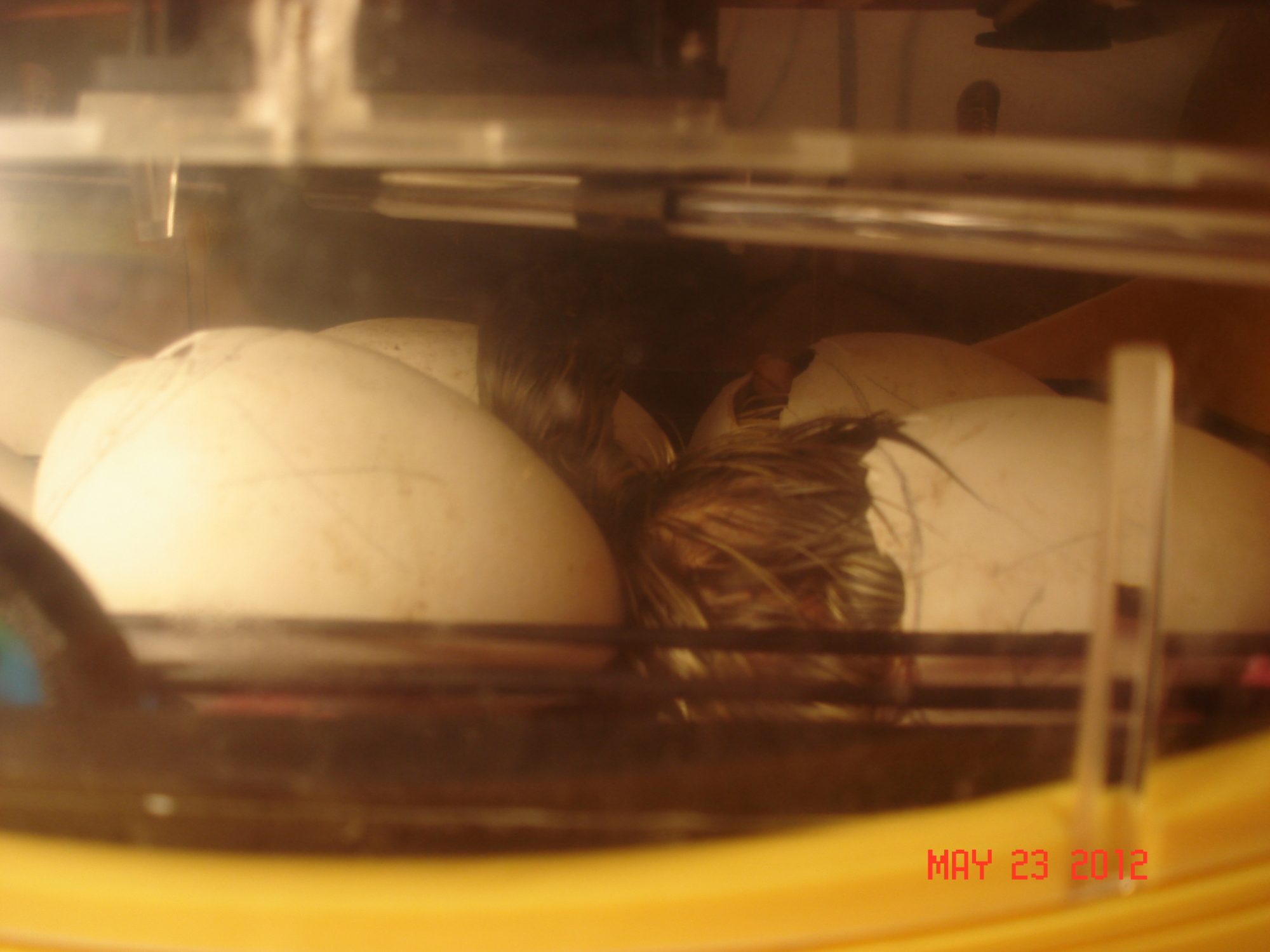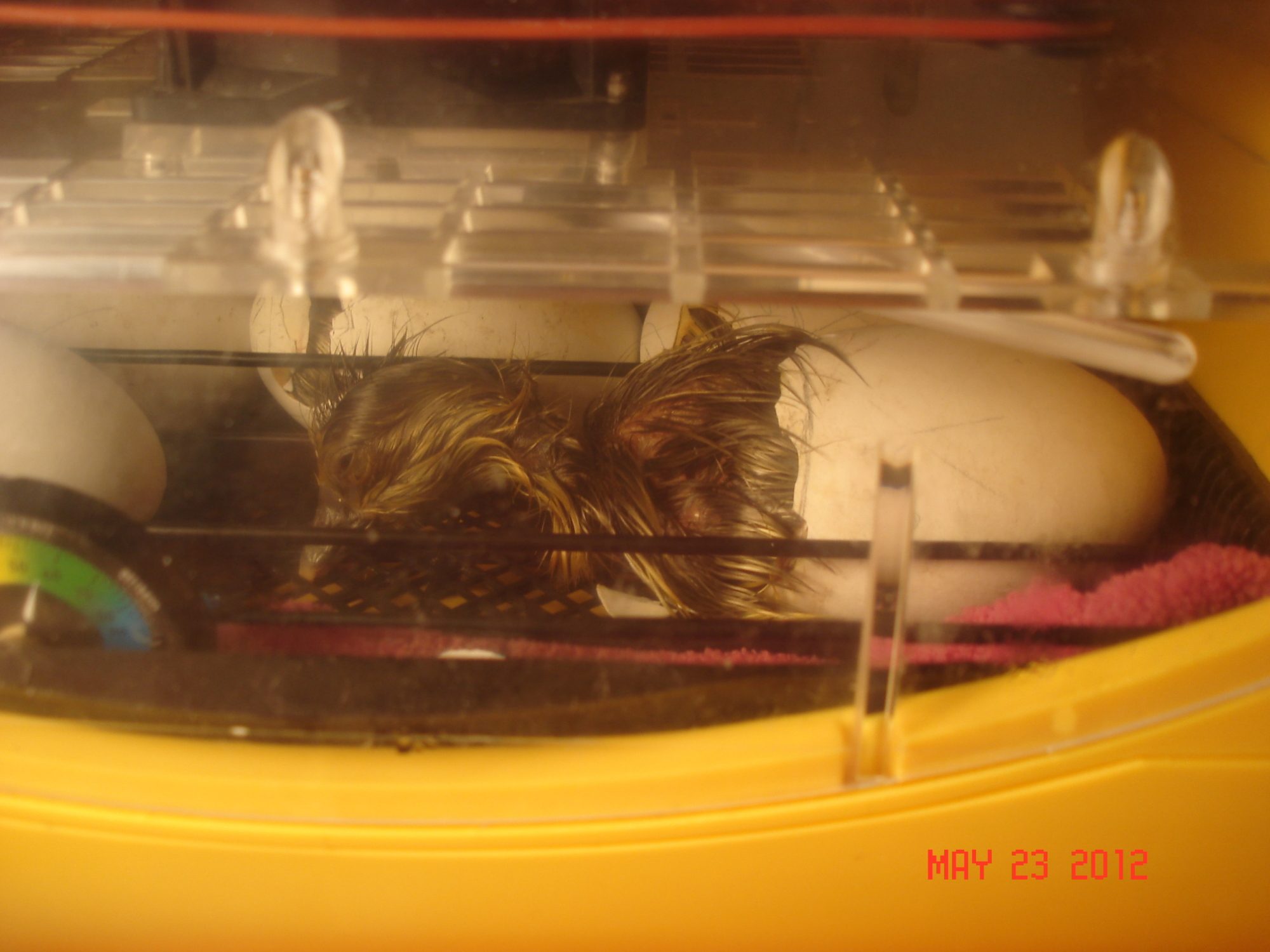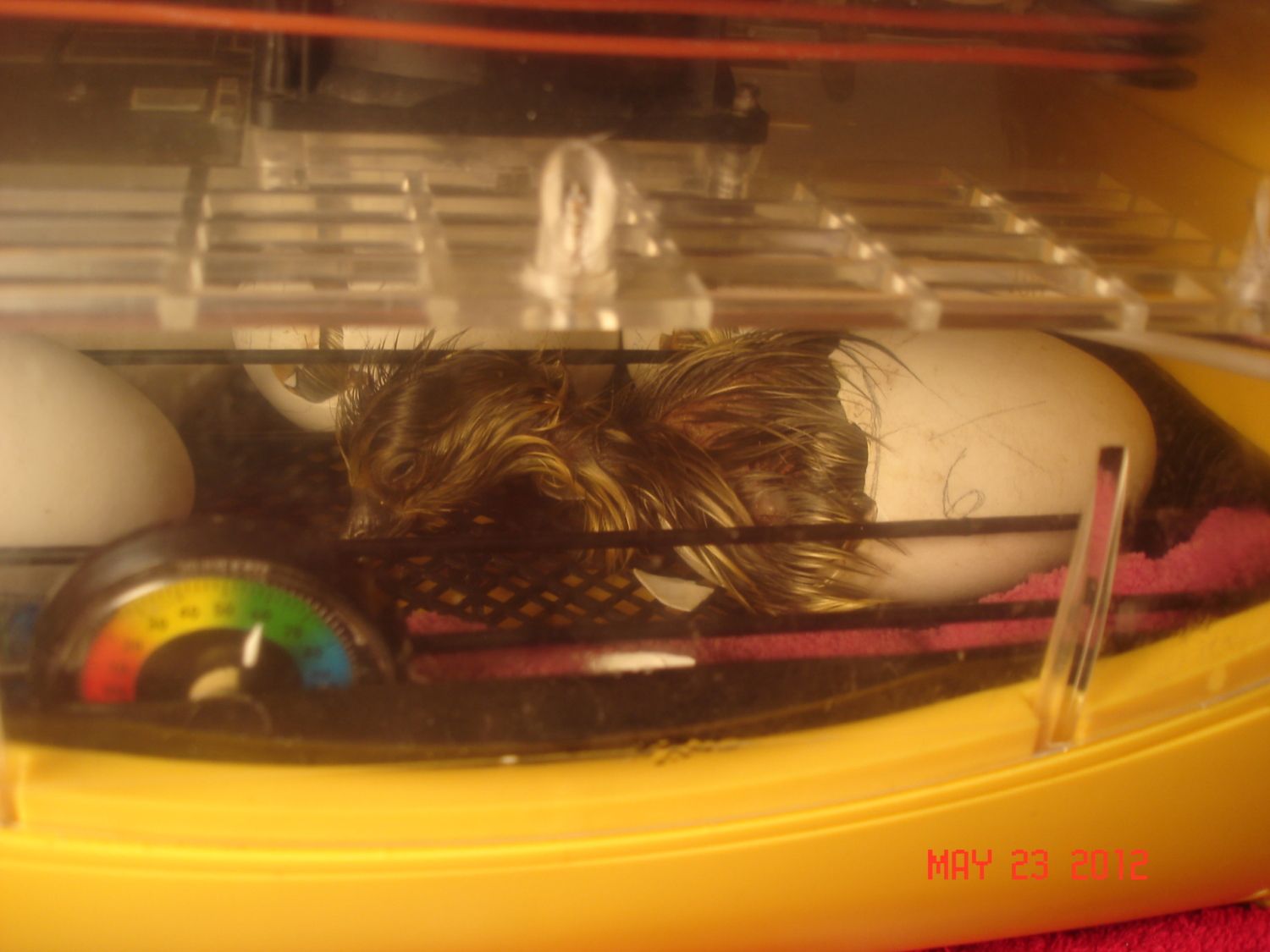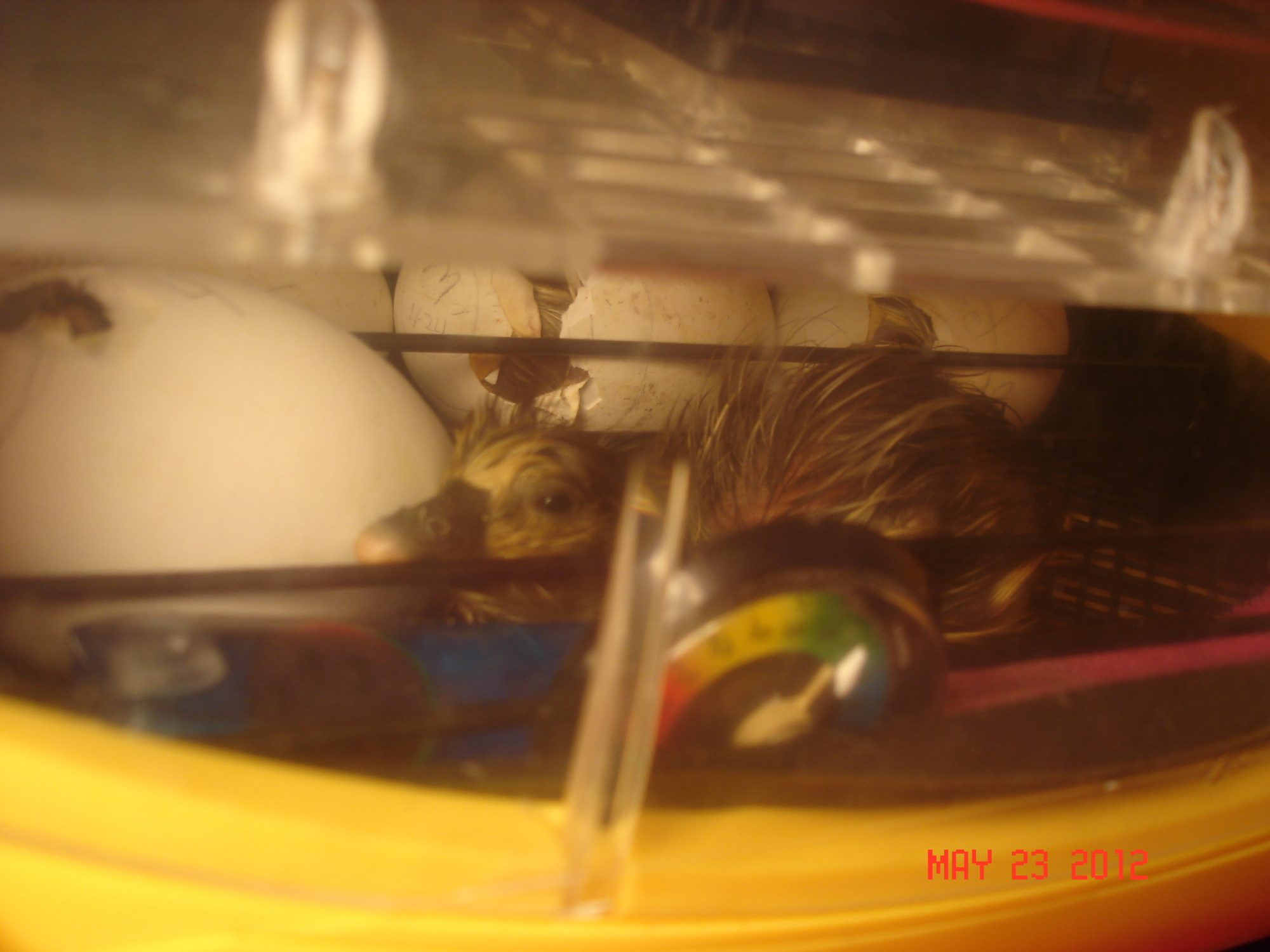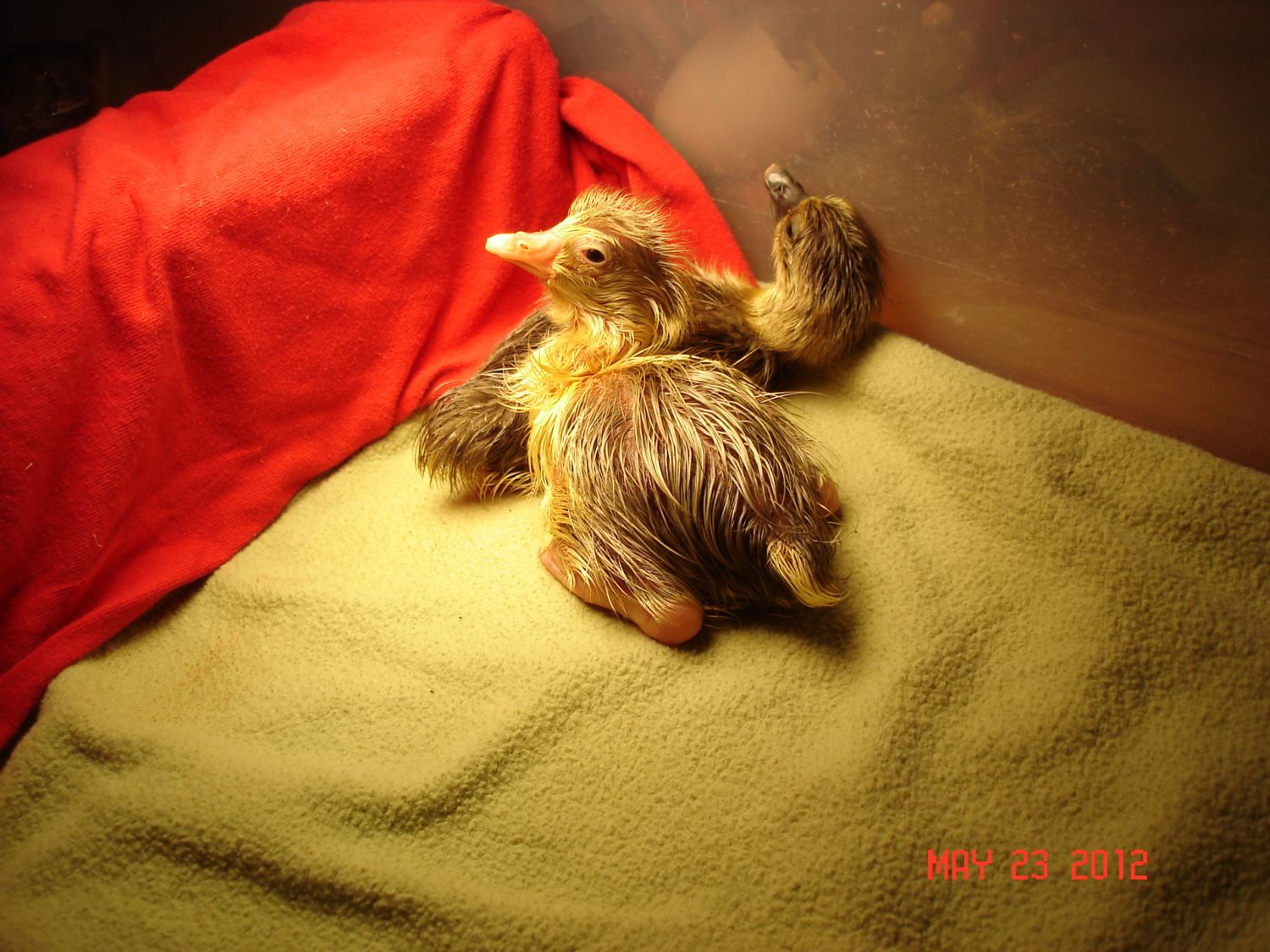 Here is a neat video I think you all will enjoy!  This is egg #5  the 4th gosling to hatch:
(dont mind the loud beep twords the end that was my phone telling me my battery was low..I had to plug it in for part #2)
Part #1:
Part #2:
Here they are getting all dried off and fuzzy!  :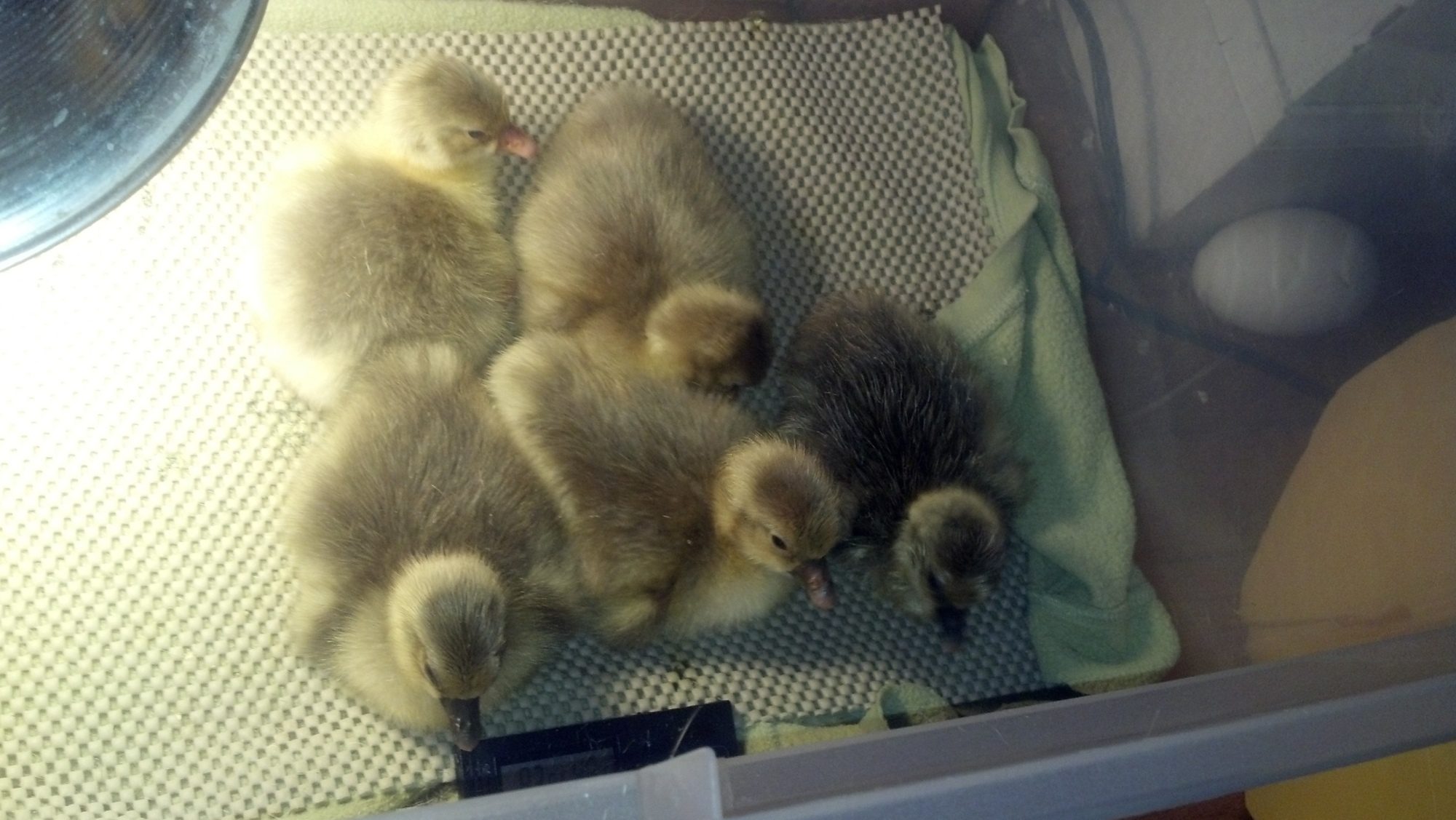 Edited by jenlynn4 - 5/29/12 at 5:32am