This is Dimple as of a couple days ago; she is a buff Orpington. I was dubious of her gender when she was younger, but everyone said pullet so I still assume Dimple is a she. Dimple is a bit over 20 weeks (maybe 21? I'm having a hard time keeping track now). The nice-looking comb is a very recent development; she had a total babyface up until a couple weeks ago and now has the biggest comb of my bunch.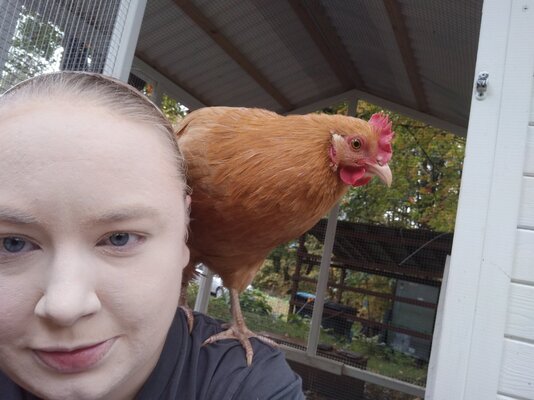 Dimple is a bit odd in a few ways. She quit growing a while back and is very much the smallest. She's also got proportionally short legs - I know it may not look like it in the photo because of the angle but her proportions are strange enough that she has face-planted when going downhill more than once; she's very front-heavy. Despite being strangely proportioned, she is strong and generally seems healthy. Up until recently she was middle-to-low in the pecking order. She has always used her hackle feathers liberally, but I put that up to her being small and trying to look big in flock disputes.
This week Dimple had a sudden personality change started acting like what I've read/seen of roosters defending their flocks, not just being top dog but also intervening in fights between the other chickens and coming running to get in the way if anybody gets spooked or upset. She's done this quite a few times so far. For example, I accidentally surprised one of my other girls today with a hand reaching into the coop at an odd angle and Dimple practically teleported in from the other side of the run and bit my finger! She realized it was me shortly after and immediately wanted pets, but this is a big attitude change from a chicken a mere week prior would run and hide if I sneezed. She is also now bossing around a couple of birds that are around twice her body mass. Two things changed around when Dimple randomly decided to become brave: I added a run extension and one of my other girls laid her first egg.
So...what exactly is going on with my little Dimple? I have read that in the absence of a rooster, some hens will crow or be really dominant. Is that what's going on here or did I cause something weird with the run extension? What happens if you later add a rooster into a flock later that has a hen occupying the rooster roll?