Our Coop Experience
​
We live in a small rural community in southeastern Illinois. Since we have lived here, we've had horses, rabbits, and the usual dogs, cats, some ducks and a couple of geese on the pond. But never chickens. Until last week - Labor Day 2009. We are now the proud owners of: Ramona, Ruby, Rosie (red mixed breeds) and Blondie, Buffy and Beatrice ( Buff Orpingtons). They were gifted to us by a friend of our son's - what a surprise and generous gift! My husband was raised in south Texas and grew up with chickens around, but I had never had chickens before! Although, I had wanted to for years. This year, in May, shortly after my birthday, I found backyardchickens.com and it took me only a day to ask once again, "Whaddya think about having chickens?" (This time I cited the grandkids as an excuse!) Dear hubby agreed and we were off----like a herd of turtles, that is. The rainy spring kept us from making much progress at first, and we eventually put everything away at one point until the weather cooperated and we had finished up some jobs left over from last fall that needed done outside. We started with an old deer blind my husband built many years ago.
He no longer used it and thought it would be a good start to a coop. After long deliberation about where we would set it up, we finally made our big push to build a coop. We stripped off the metal siding and insulation and began our work on the shell of what had been the deer blind.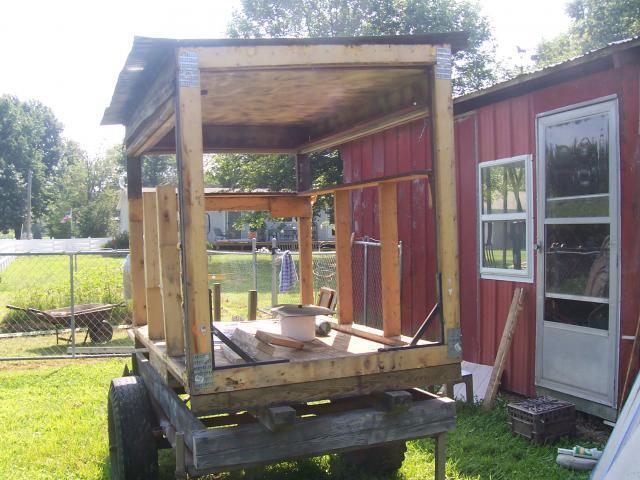 With not much more left than the framing, we began with a sketchy drawing and a vague idea of what we hoped it would look like when completed.
The coop itself would have a 4' X 6' footprint, with a inside height of 4.5' at the tallest side. Not overly big, but big enough if you had to get inside. I wanted a clean out door and the biggest possible people door to allow me in. The attached run would measure 6'X 17'. We set our posts, moved the building onto the supports and started reframing to meet the new needs of a chicken coop. A bright new vinyl floor went down.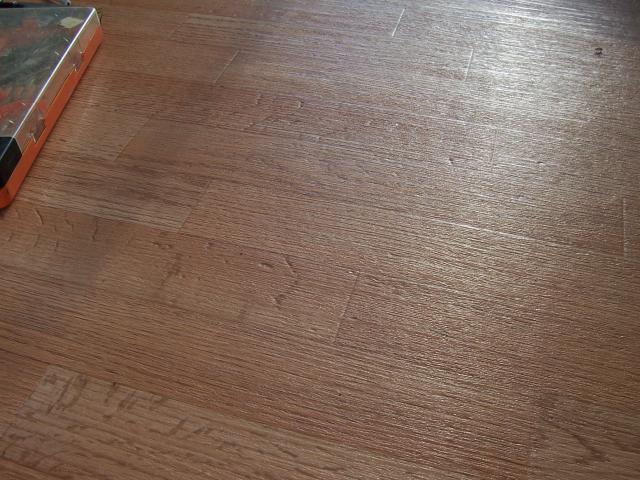 And we found some vinyl flooring left from a previous job that went up onto the walls!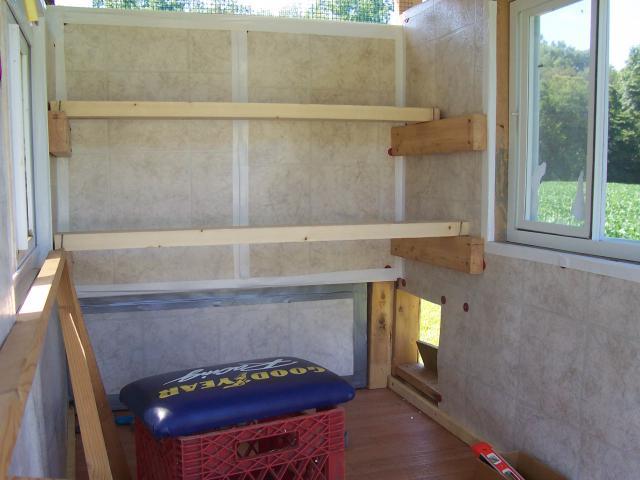 Ventilation came in the form of vinyl windows, one left from the demolition of our old house in March of this year, and a purchased one. Also some 4" openings were framed on three sides of the coop, at ceiling level with hardware cloth on the inside and the outside!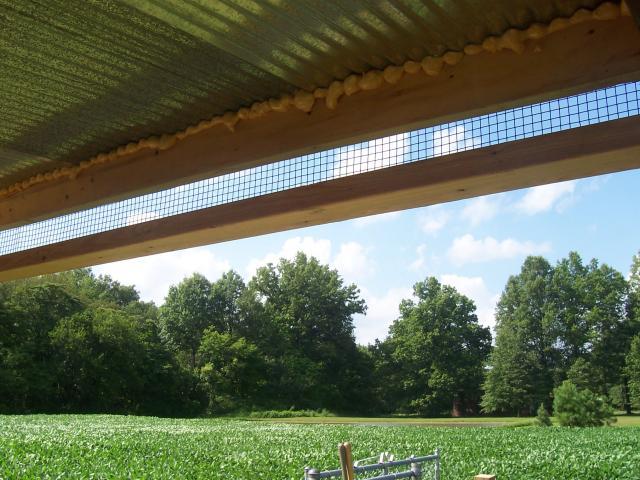 The chicken door, clean out door and people door were next. And finally the attached run. Digging trenches to lay in the welded garden fence wire and 2' pieces of hardware cloth curled into a "U" shape were also laid into the trench. George, one of our cats is doing his supervisory job as we did the digging to his specifications!
Left over vinyl siding from the garage we built last year came in handy to complete the outside of the coop.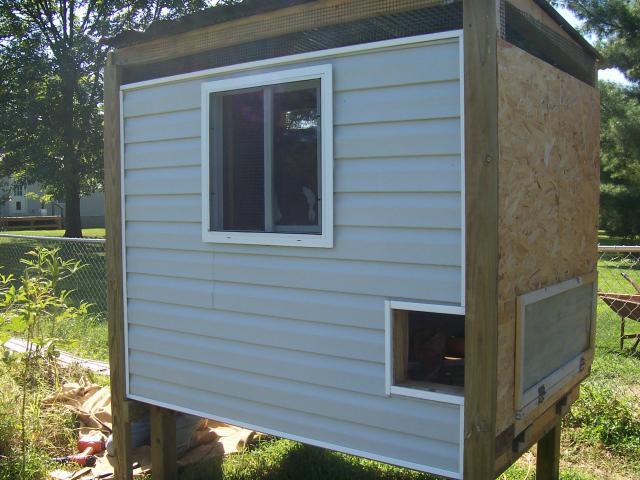 A metal roof was attached to the enclosed run, and a new metal roof went on the coop. A rooster weathervane
and a sign on the door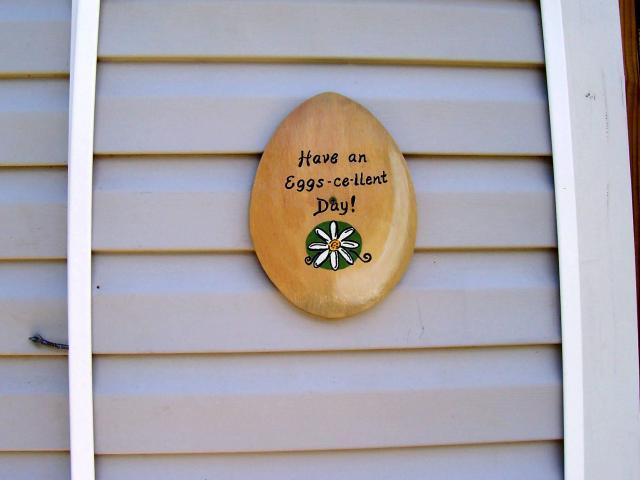 (which reads "Have an Eggs-ce-lent Day!" ) made everything ready. We worked afternoons for over a month. And decided we could have done it all with new materials and starting from just our sketches and probably finished sooner. But we tried to use what we had on hand, had saved and salvaged from other jobs, and it just took longer to rearrange, reframe, and work around what was there to accomplish what we wanted. So the "girls" seemed to like what we had for them.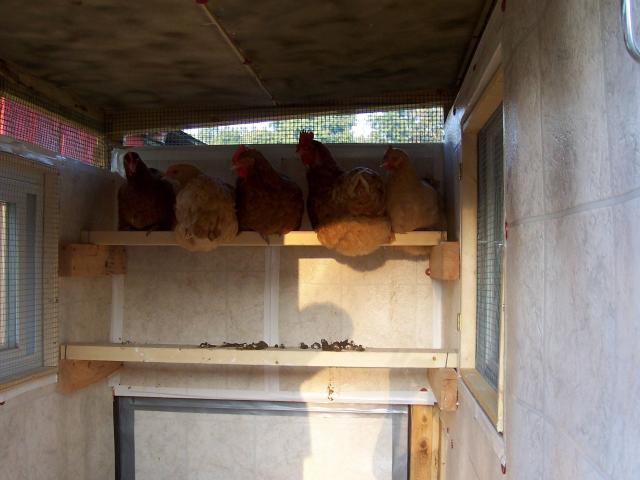 They had been living in an open coop with more space. But they seem to be liking their new home. And then came the grandkids!
Hannah comes every day after school to check for eggs! And on the second day in their new home, guess what????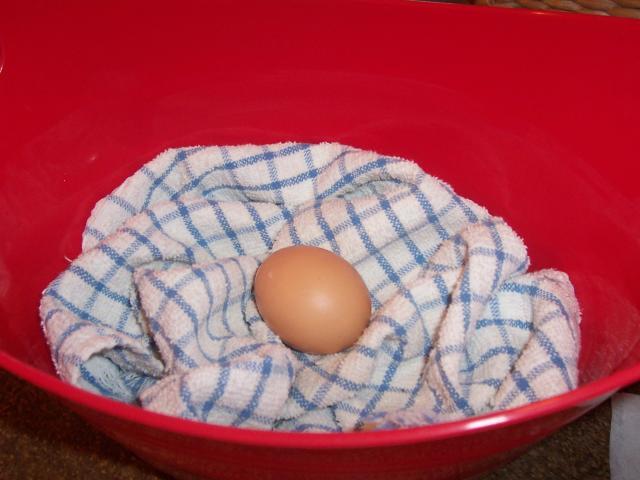 Two of the hens haven't started laying yet, as far as I can tell. Three are laying regularly, and I think Miss Beatrice is past her laying days, but she's a gentle soul. I have pestered them some, trying to catch someone on the nest so I know who is giving me the present! They seem to all like to lay in early afternoon, so I give them treats every morning. Right away we could tell who ruled the roost, it's Ramona.
Then there's Rosie and Ruby. And the buff girls have B names....Beatrice, Blondie and Buffy. They have been so much fun to watch, and come to the gate as soon as they see us come out the back door! The coop and attached run sit inside a chain link fence area that is 18' X 40', so we let them out into the bigger area during the day. Colder weather will have us covering the enclosed run with plastic, and we will still need to cover over the top of the entire area with some kind of netting. Next spring the window boxes will be filled with flowers. Our dogs have been pretty uninterested, at least while we are around, and the cats were nosey the first few days the girls were here, but I'm not willing to take the chance that things will stay that way. Although we are on a village street, you can see the soybeans in the field around our old barn, so we are wary of possums, skunks, coons as well as the pets in the area.
We did a poll of friends and neighbors to come up with a name for our coop. Our suggestions were: Cluckingham Palace, The Chix Chalet, The Ladies' Room, The Egg-Sit-Era, and Girls Only Cluck House. They were fun to come up with, some were borrowed from BYC and some were the result of alot of thinking, and some came on the spur of a moment! Cluckingham Palace won the poll, but we call it "the coop" most often, and the "little run" and the "big run". We have talked about fencing in an area on the back side of the coop, likened to what you see in the photos on the front side. Thay way we could let them rotate areas from year to year and we could get our garden space back! We'll see what happens! Dear hubby is already talking about "fitting more chickens in that coop!"

​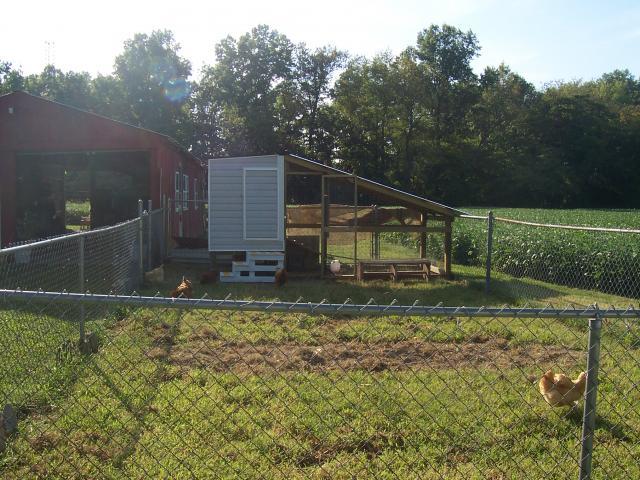 ​