We live in a small town and this is our first attempt at building a coop and run. We needed a coop that was attractive for our neighbors and would house six chickens. We used a picture of a child's play house as our inspiration and modified the design for chickens. Our coop is an octaganol shape and our run will be a victorian conservatory style to match our victorian house.


Material List
​
8 sheets 1/2" exterior plywood for walls, floor, and roof.

​

12 10' 1x3s for run framing and trim on coop doors and windows.

​

2 bundles of roof shingles and one bundle caps.

​

4x4 posts for deck support of coop floor.

​

12 sets of hinges for doors and windows of coop and run.

​

17 latches for SECURITY! Doors and windows of run and coop.

​

3 rolls of hardware cloth 1/2" for coop windows and run.

​

2 rolls of aluminum screen for coop windows, ventilation holes in coop, and the top section of the run.

​

Hex head screws and washers to attach hardware cloth to wood in run.

​

1and5/8" number 6 screws to attach plywood walls to the coop base floor.

​

Various decking screws for framing.

​

For roof finial we used a tin can funnel and the top of an old umbrella finial that we spray painted copper.

​

Purple Paint Valspar from Walmart and white paint.

​

Electrical box and outlet and conduit to run electric.

​

4 8'pieces of 1/2" quarter round for walls of coop detail.

​

Black heater register vent from Lowes. Used as a vent in wall of coop.

​

14 black door pulls for doors of coop and windows and run doors.

​

Latches and padlocks with keys for predator protection

​

Metal slides for the chicken pop door.

​

Hinges for the egg box and one latch with padlock.

​
The foundation of the coop is built up 18 inches from the ground to give the chickens shade space under the coop. The height of the coop is 7 and 1/2' from ground to top of roof. House will be 5 and 1/2' by 5 and 1/2' total of 24 square feet since its octagonal.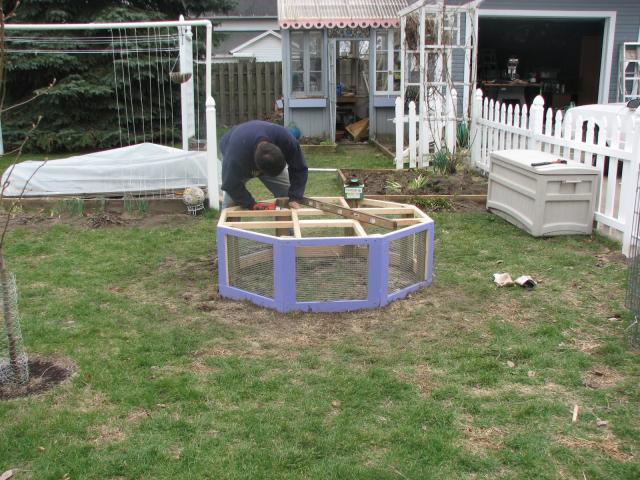 We are housing 6 chickens. We planned this house for only four chickens but you all know how THAT goes. We dug in heavy hardware cloth and buried it around the coop and run. Buried cloth is 12"down and 12" turnout for predator safety with concrete mortor poured in as well. Flooring added and now the beginning of the walls of coop and the run.We used vinyl tiles for the coop floor which dh glued down with extra goop.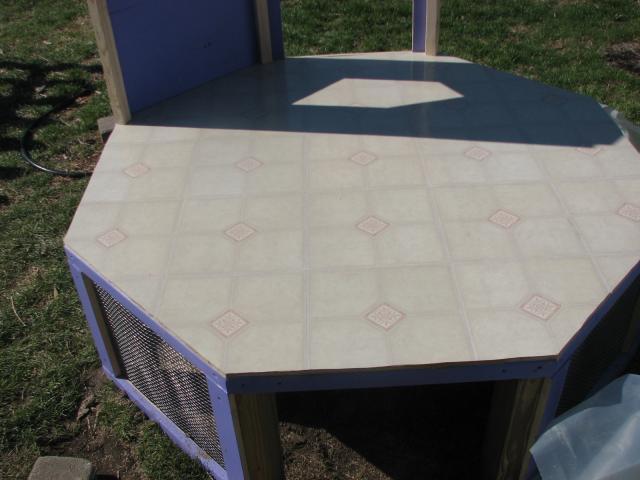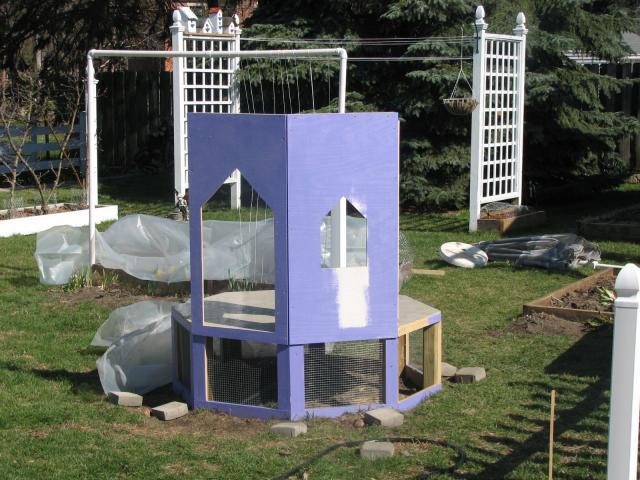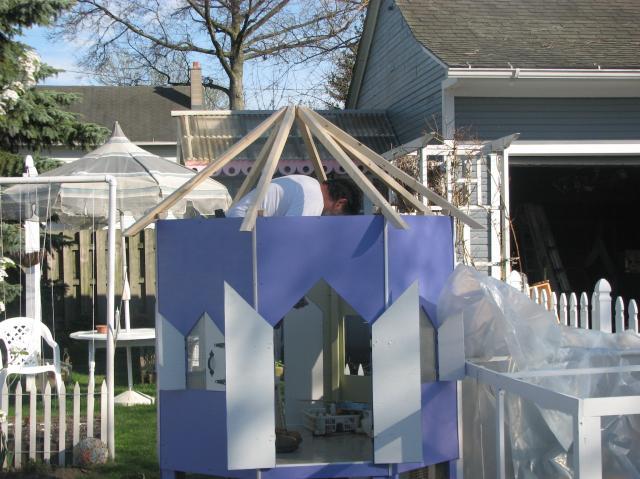 Three windows being being added to coop walls for light and ventilation. We used 1/2" hardware and also window screen to keep out critters and mosquitoes. All windows and doors on coop are latched for safety. When weather turns cooler we will add plexiglass to the windows from inside. Sofits are built around the coop and each sofit has a screened air vent. We also added a register vent on one wall right below roof for ventilation. Between windows, sofit vents, roof vent and register vent ..there is plenty of ventilation in the summer for the chickens. Doors and windows being added to coop with latches and pulls.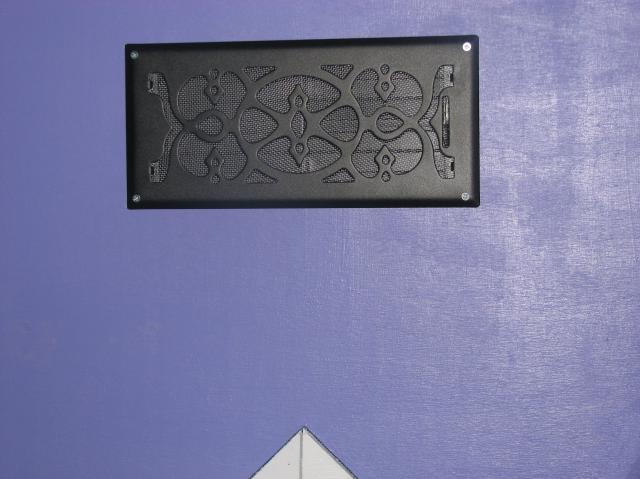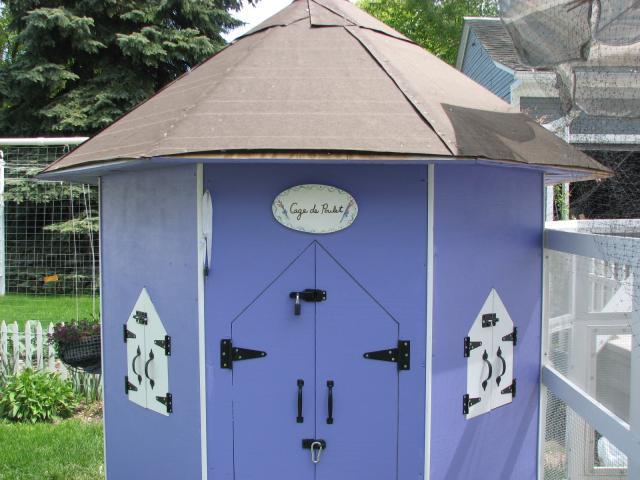 I painted inside of coop nice spring green and also decided to paint two hebrew blessings and scenes on the inside. The blessing is a verse I took from Psalm 148:10.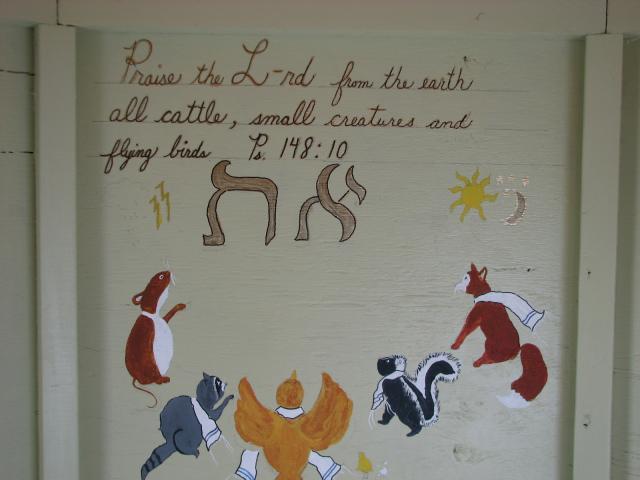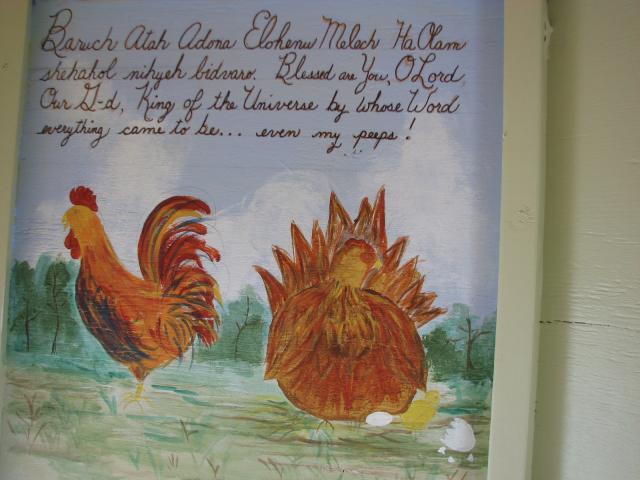 The second blessing says in transliteration of hebrew. Blessed are You O L-rd Our G-d King of the Universe by whose Word all things came to be...including my peeps.
The roof is now on. Electricity ran to the coop. The outlet is mounted inside at the highest frame area so the chickens can not peck at it.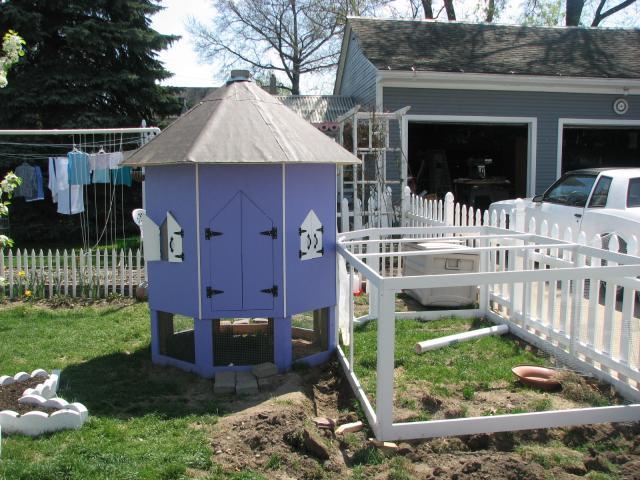 Inside picture of perch, poop board and ladder installed. We also are using chains to hang the chicken feeder and the water feeder at back height of chickens. Here is picture of our perch, poop board and ladder inside the coop. The food and water hang from chains in the ceiling.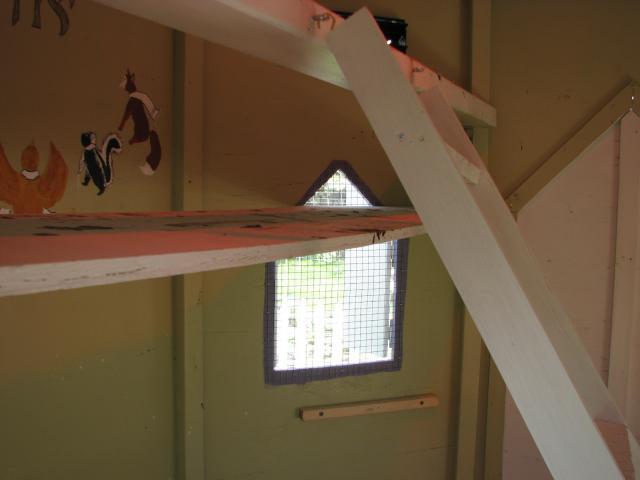 We finished the chicken door and we are using a pulley system to open and close the chicken door into the run. I love this because you can close or open the door from outside the run. I added some painting details to the chicken pop door. We used metal slides on the chicken pop door.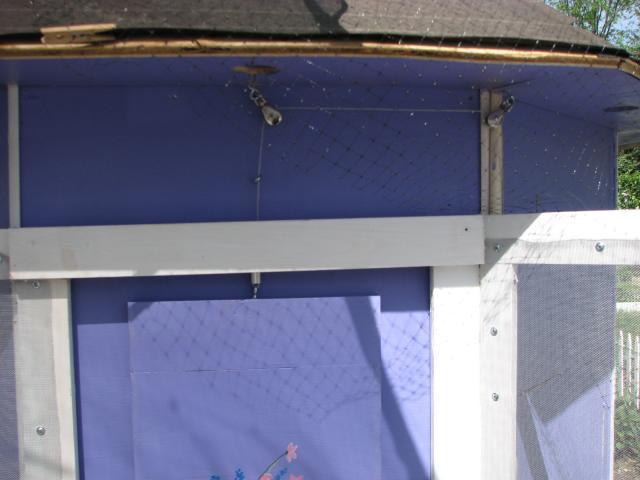 The coop roof is finished.I made the copper finial on the coop roof using an tin oil funnel and the top off an old deck umbrella. Spray painted copper. The only thing left is the egg box which will be mounted on the outside with a hinged lid and latch. Here is a picture of hole in coop for the future egg box, notice the pvc pipe on the left side, this holds the electric conduit running into the coop. The egg box is being built into the coop and except for painting it and adding hinged lid and lock we are finished.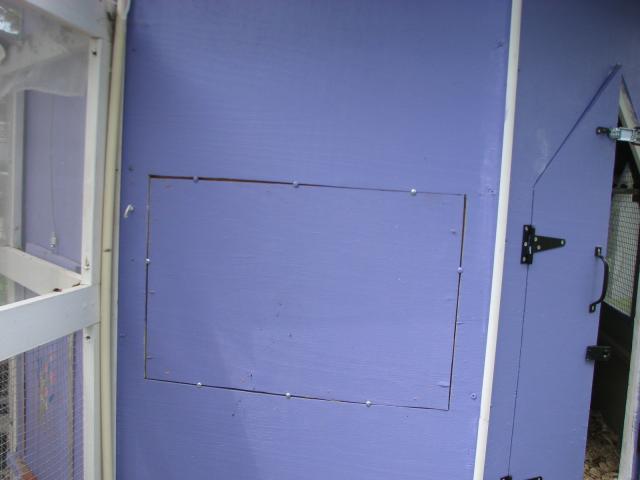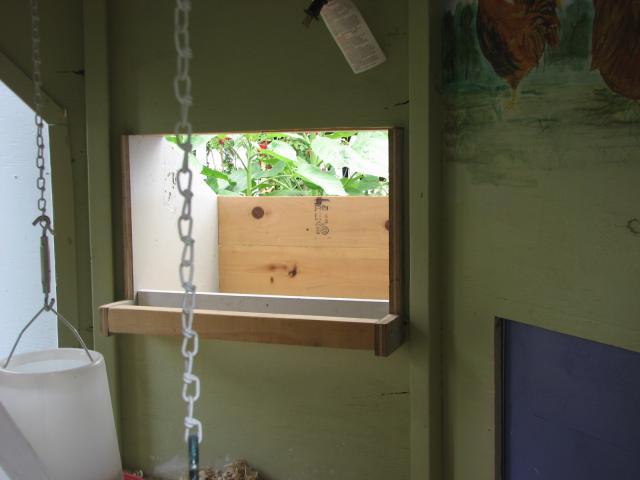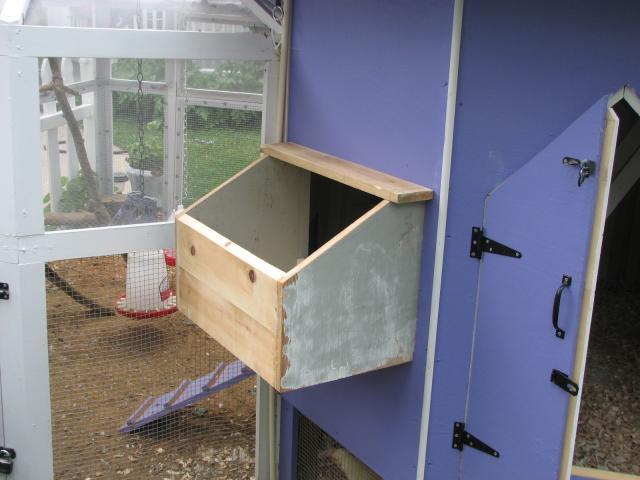 Building the Run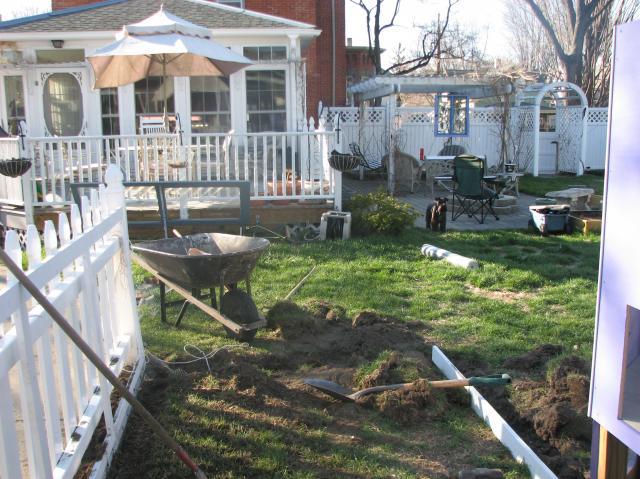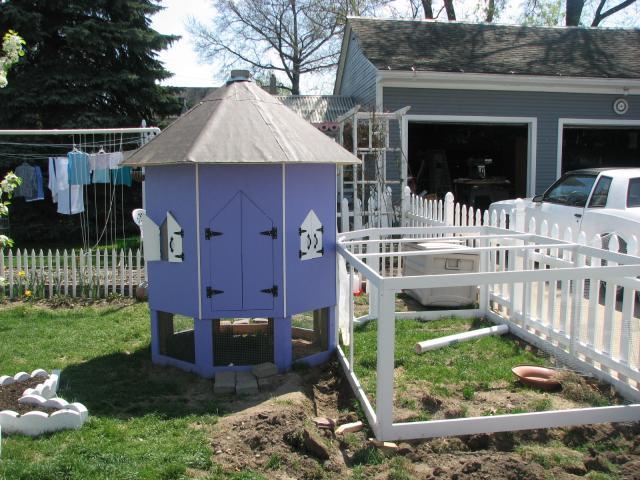 The run originally was 3' however one week of trying it at that level convinced us that a walk in run is better. We are building the run up another 3' and adding a peaked roof to the run. The height of the highest point in the run is 6'. The umbrella was temporary to shade us while we worked.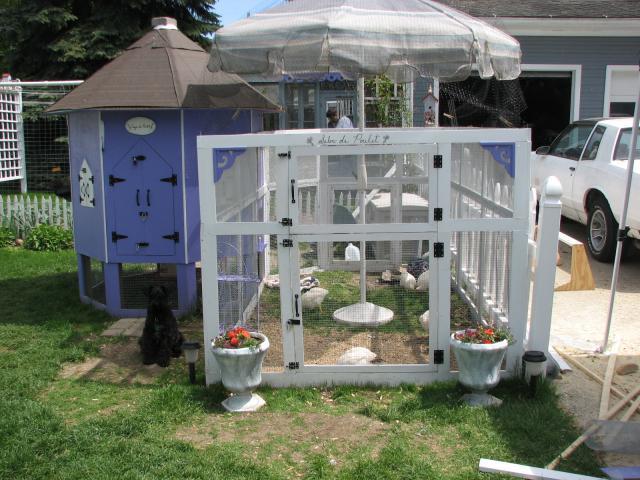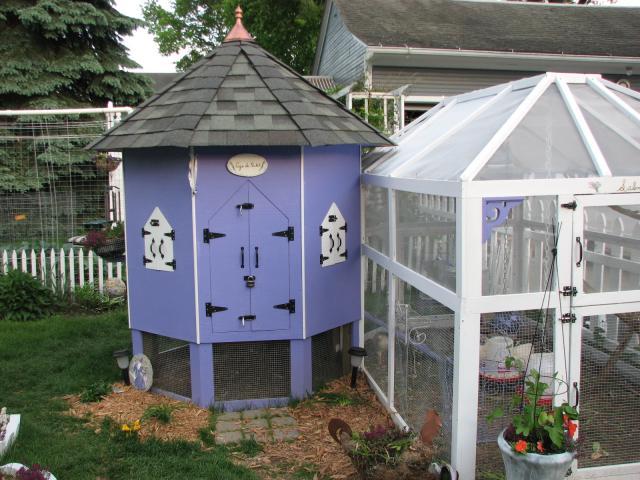 The run has two doors, one in front and one small one in back. The front door is made like a dutch door so that the top part can open seperately from the bottom section. The hardware we used on the coop and run doors are lock latches, bolts, key padlocks and draw clasps for four legged or two legged predators. Once again we buried the hardware cloth 12" down and 12" out and then poured concrete to reinforce around the run. The total dimensions of the run are 9 and 1/2' by 5 and 1/2'.
Inside the run we have made our chickens a water bubbler by gluing half round marbles on an old bowling ball. The water bubbles up out of the bowling ball due to the fountain pump buried under the rocks with a bucket. The chickens love to perch on the bowling ball and drink and preen themselves in the mirror I placed in the run.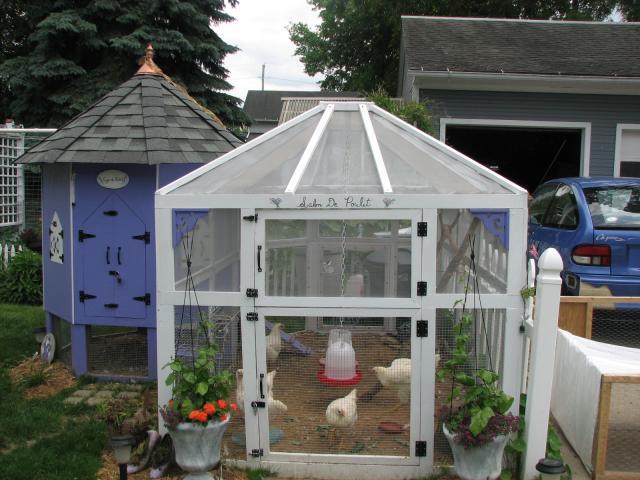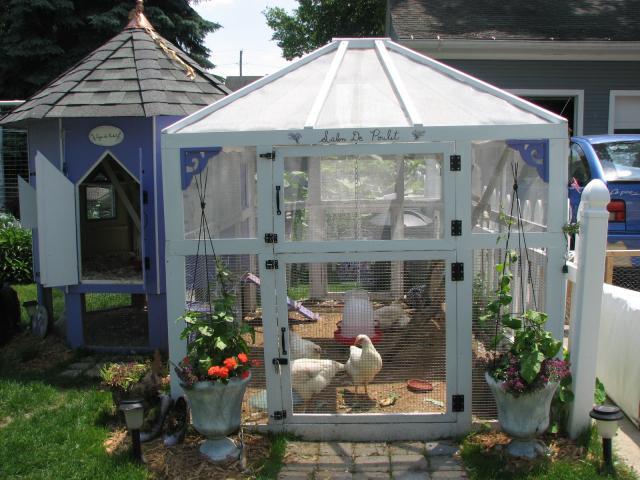 Things we like
I love everything about our coop and run! I think its unique but it was very difficult to build as we really had no specs to use and had to figure things out as we went. Learning to frame an octagonal roof and framing the run roof in the style we did involved alot of math, some four letter words like "ouch" and "drat". Two emergency trips to the ER and alot of redoing. If anyone wants to try this I would recommend the book Gazebos by Creative Structures. This book has nice detailed pictures for roofing octagonal buildings.
My husband is my hero, I think he did a marvelous job. The coop is perfect for our victorian home and our back yard garden. Our neighbors are happy with us and our chickens seem to be very content as well.
Things we would do differently.
Order an eglu..lol No! Seriously the only things we would do differently would be to build the run adult size right from the get go and perhaps use viynl sheeting instead of tiles. We used special glue on the tiles but we will have to wait for cold weather to see if they lift or stay put.
​