"Chicks Rule"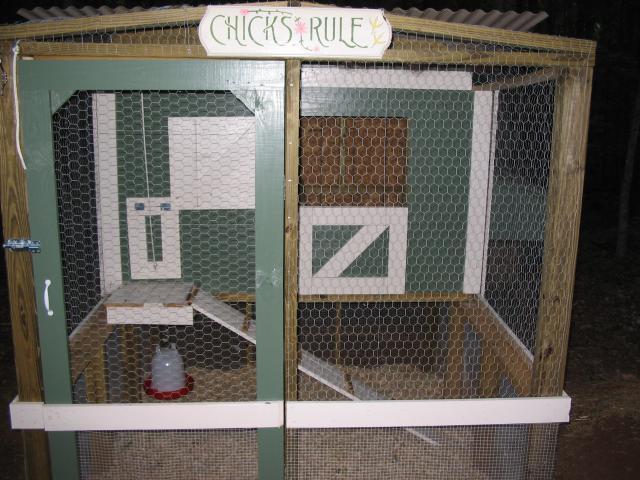 ​
* We finally finished our pen and just await our girls to arrive in their new home. This site has provided a great deal of information and I took many of the ideas found on here and made my own from "scratch".. (sorry for the pun.) The pen is 6x7 and as sturdy as my house with buried 4x4 treated posts set in concrete and hardwire mesh around the bottom three feet to keep out any pests hopefully. Framed in treated 2x4's and covered with 1x4's for the sorority house.
​
* The house is completely enclosed so we can clean the bottom of the pen when the birds are inside. The nest boxes are outside the right side of the house and I used paint roller pans that are metal and screwed to the floor. I then lined them with plastic paint tray liners which are about .50 each at the hardware store for easy clean up. The barn door on the top opens and I have decided to leave it without any wire behind it so it may become a summer time roost for the girls.
​
* The chickens can also be locked out of the house so we can clean inside there too. The back of the coop folds down to allow the pvc panels to be removed, hosed off and replaced for quick clean up and no compost wasted. Three roosts and two nesting boxes will be more than enough room for out tenants.
​
*We had to break the news to Pepper that unless she could start laying eggs the house was not for her. So we were forced to evict her back to our house. Dont know what she will think of the new neighbors yet. . . to be continued. . .
​
​