Orpington Palace​
We designed our chicken coop with future in mind. We wanted it to be able to work as a shed if we should ever move or give up chickens, as a result I get to hear about how expensive and overdone the floor and supports are. I searched through probably hundreds of coops online and on BYC looking for good ideas. We ended up with a basic 8x8 design that had ventilation from old bottom hinged windows, closing vent holes and a large clearance double pane window for the northern side. We live in the mountains of Western North Carolina and we felt that having a totally enclosed insulated coop with adjustable vents would be a good solution. We chose old plastic bags as the insulation because it seems like we had millions. The interior is closed up with Luaun sheeting to hold the bags and keep the chickens out of the crevices. The exterior is finished with Hardie panel so that rot wouldn't be an issue and the neighbors wouldn't complain about the aesthetics. I also built it with a floor drain in it to allow a good washdown when needed. We named it "Orpington Palace" as it contains Buff and Blue Orpingtons for the most part. I will add pictures of the birds as I get time and can sort through them. We have the Buffs from a couple days old through current and the Blues in the eggs until now.
Before Picture


Construction progress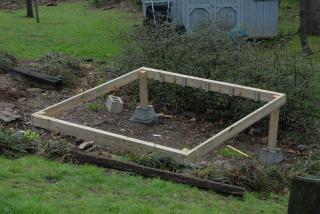 Floor construction was done to allow conversion to storage shed later, if the chickens should leave us.
1" X 1" wire put under coop floor to keep the chickens out of the short side.
Ventilation holes that can be opened/closed with a 5/4 board for the cold mountain winters.
Walls insulated with old grocery bags and covered with Luaun sheets.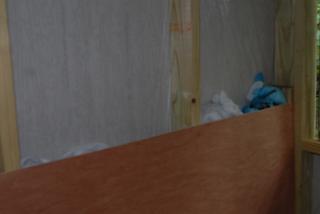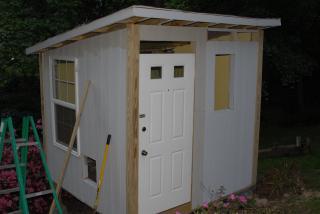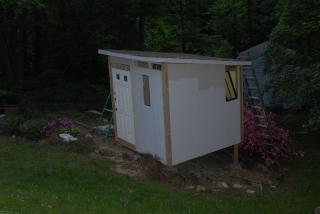 More ventilation, a drop down on the inside of the roof. If you look to the right you can see a recycled old window that we hinged at the bottom to allow draft free operation. It leans in to help direct any rain run off to the exterior while it is open.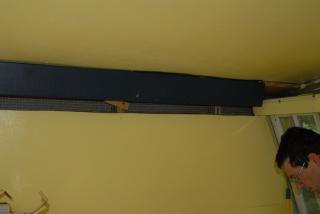 The kids at work in the coop.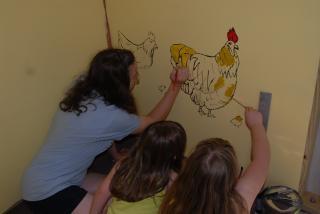 Finished mural ala kids.
Designed the coop with a 4" drain for clean out and used simple peel & stick tiles for the flooring under the litter.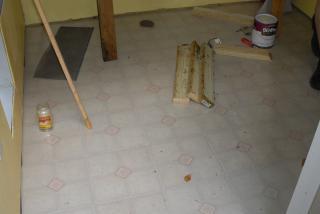 Floor plans for the coop are below. They were changed several times during construction to allow use of found materials and move items such as the door/windows

.
​
Floor layout
Short wall
Side Wall
Tall Wall